Paris Fashion Week Men's A/W 2023: Dior to Loewe
Paris Fashion Week Men's A/W 2023 highlights, as chosen by Wallpaper* – from Wales Bonner's ode to the city as a creative refuge to Saint Laurent's return to the menswear schedule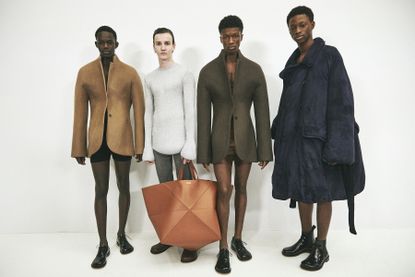 (Image credit: Photography by Molly Lowe, courtesy of Loewe)
Menswear fashion month concluded with Paris Fashion Week Men's A/W 2023, a packed six-day schedule that encompassed the city's storied names – among them Hermès, Dior and Givenchy – in a glimpse of the menswear's season ahead. Highlights include Anthony Vaccarello's return to the Paris menswear schedule at Saint Laurent having shown in Morocco and Los Angeles in recent seasons, KidSuper 'co-creating' Louis Vuitton's latest menswear collection alongside the house's design team (a full-time successor to Virgil Abloh is yet to be announced), and an appearance from Grace Wales Bonner, marking the British designer's Paris Fashion Week debut. Emerging names – from Bianca Saunders to Botter – showed alongside.
Here's the best of Paris Fashion Week Men's A/W 2023, as selected by Wallpaper*.
The best of Paris Fashion Week Men's A/W 2023
Kiko Kostadinov
Bulgarian designer Kiko Kostadinov said that he wanted to look outside the 'restrictive frame of menswear' this season; to do so, he referenced little-known, but nonetheless influential, avant-garde women designers Anne-Marie Beretta, Irene Lentz and Sorelle Fontana – 'the quiet superstars of the Italian canon'. He also noted the influence of his 'closest collaborators' Laura and Deanna Fanning, the designers who helm the womenswear arm of his label, and their Central Saint Martins graduate collection. As such, he noted a 'geometric rigour' and expansive use of colour across the vivid collection, featuring the off-kilter approach to cut and silhouettes – blouson-style jackets with V-shaped hems, caped sleeveless overcoats, wide-leg trousers puckered at the waistband – which has defined Kostadinov's work so far. Figurative illustrations by London-based Estonian artist Mariann Metsis also featured, while other 'decorative anomalies', like découpage, paid hommage to Kostadinov's maternal grandmother.
Ludovic de Saint Sernin
Sunday morning opened with another high-octane outing from Belgian designer Ludovic de Saint Sernin, who next month will show his debut collection for Ann Demeulemeester having been announced as the house's new creative director late last year. Titled 'Private Show', the eponymous collection drew from De Saint Sernin's childhood obsession with Fashion TV (clips from the show played over the soundtrack). As such, the collection mined the tropes of Y2K style – which has become something of a hallmark of the designer's approach – with mini handkerchief dresses in gleaming chain mail (for men and women), lace-up leather mini dresses (with matching chokers), and slinky unravelling knitwear. De Saint Sernin has always drawn inspiration from the figure of the supermodel, and a real one walked today here – Irina Shayk, who strode the runway in an LDSS denim two-set, trailed by a male model in nothing but a pair of denim underpants.
Sacai
Chitose Abe said that the inspiration for her A/W 2023 collection was Christopher Nolan's 2014 science-fiction film Interstellar, which charts a group of explorers as they seek to travel through a time-compressing wormhole in space. As such, she noted a play on the 'relationship between past, present and future' in the designer's typically hybrid forms, like a prim tweed twin-set with flared puffer jacket back. Other pieces were able to shape-shift, with zip fastenings which changed the silhouette of a dress, or a coat which merged into a backpack. The collection also featured collaborations with outerwear brand Moncler (with whom Sacai had first worked over a decade earlier) alongside Abe's take on Carhartt's signature workwear and a new sneaker created alongside Nike in a continuing partnership. 'The importance of learning from the past and a future informed with what's gone before', the accompanying notes elucidated of the cinematic inspiration, quoting one of Interstellar's memorable lines to capture the collection's sense of curiosity and experimentation: 'We used to look up in the sky and wonder at our place in the stars.'
Namacheko
'Middle Age Grunge' was the title of Namacheko's latest collection, the Sweden-based label of former civil engineering and art history student Dilan Lurr which draws on the designer's Kurdish heritage (Namacheko first began as a 2017 photography project documenting quotidian life in Kirkuk, Kurdistan, where he was born). The brief collection notes comprised simply a list of words – among them 'knights', 'punk', 'jousting', 'grunge' – suggesting inspiration from both contemporary counterculture and medieval dress. As such, a profusion of studs seemed to evoke chainmail, while lace-up elements and top-heavy silhouettes recalled historic menswear attire. Zips, acid-wash denim, and elements of leather, meanwhile, lent the energetic collection its rebellious undercurrent.
Bode
Introducing womenswear to her offering for the first time this season, Emily Adams Bode Aujla looked towards her family history for a transporting show which took place on the stage of the 19th-century Théâtre du Châtelet. Drawing inspiration from the Rice sisters – the designer's mother and aunts – the show's setting was the Crane Estate, a Massachusetts residence where her aunt Janet worked while in college (its exterior was recreated as the collection's backdrop). There, in the 1970s, she was introduced to 90-year-old Ms Long, its eccentric resident who would descend each evening for dinner wearing intricately constructed gowns from a century prior. This feeling of dishevelled glamour, and the idea of dressing across American eras, informed Bode Aujla's approach this season – from elongated flapper gowns, edged with tassels, and heavily embroidered velvet dresses, to Western-style shirting and a take on the tuxedo. Menswear continued Bode Aujla's homespun approach, with tasselled suede overcoats, collarless jackets and a selection of eveningwear featuring the brand's signature embroidered motifs and quilting. Together, the expansive collection marked a step forward for the designer, who is cleverly fleshing out the Bode world with her distinct vision of American style.
Hermès
An elegance permeated Véronique Nichanian's latest menswear collection for Hermès, shown in the curved ground-floor hallway of the modernist Maison de l'Unesco building. 'An attention to the sensuality of the clothes,' said the house of the A/W 2023 offering, which was rooted in the sense of intimacy which defines Nichanian's work – a pocket hidden at first glance, an unexpected flash of leather on a pea coat, or the feeling of being enveloped in shearling (of the last, a series of wide-shouldered shearling overcoats were some of the collection's standout pieces). Sensuality came too in the array of other fabrics Nichanian used this season – an obsession with the materiality of clothing is at the heart of her approach – from the 'caress of cashmere and flannels' to the mix of leather grains, or the silk foulards which were in-set into roll-neck sweaters and cardigans. Flashes of satin and the shimmer of jewellery lent the latter section of the collection a dressed-up mood, a sensual proposition for Hermès eveningwear with all of Nichanian's lightness of touch.
Loewe
Jonathan Anderson called his latest menswear collection for Loewe 'a reductionist act' in a continued line of thinking from his recent JW Anderson show during Milan Fashion Week S/S 2023, whereby the designer noted a desire for clarity ('I think we're going to head into a season of reduction and stripping things back,' he said at the time). Set in a vast white cube – the space interrupted only by two towering artworks by Washington-born Julien Nguyen of his muse Nikos – the A/W 2023 collection drew back the surrealism of recent collections towards a stress on singular garments and sharply defined silhouettes. The designer said he had been interested in the work of the Old Masters, here figured in the materials used throughout the collection: oversized jackets hammered from pewter and copper, spiked metal angel wings, shirts that appeared to have been moulded from paper and parchment. 'Capturing a moment and a movement in real time, using traditional means in non-traditional ways – shapes are moulded, bended, frozen, tailored,' said Anderson via the collection notes. Of the last, a series of elongated overcoats – some of which pulled over the head – or a rigorous single-breasted suit, grounded the collection in the reality of the everyday. As ever, Anderson said it was his visceral response to what he sees in the world around him. 'Fashion has never felt more exciting,' he said post-show. 'As a designer, you have to look at the culture and respond to it. Hopefully, we are entering a period in design where it is about feeling uncomfortable. It's good to be able to reinvent yourself.'
Comme des Garçons Homme Plus
Rei Kawakubo said that the theme of her latest Comme des Garçons Homme Plus collection was 'tailoring of the avant-garde'. Riffing on hallmarks of the designer's most memorable works – padded elements across the back of a jacket, for example, recalled her seminal S/S 1997 'Body Meets Dress, Dress Meets Body' collection – the concise outing provided a distinct take on the traditions of tailoring, whether elongated blazers which opened along the front with undulating zips, elements of fur, or jackets with sleeve-like appendages emerging from the body. A series of cage headpieces by Gary Card and Valériane Venance featured alongside, while the collection also featured a number of prints by Canadian artist Edward Goss, who is self-taught and works with found objects like newspaper, tape and photographs. Here, scrawled motifs by the artist vividly appeared across tailoring and T-shirts.
Dior
A monolithic grey box on the Place de la Concorde – surrounded by hordes of screaming fans for the phalanx of celebrity attendees, including K-pop star Jimin – provided the setting for Kim Jones' latest menswear collection for Dior. Inside, vast screens ran across its outer walls, flickering to life to show a dramatic reading of TS Eliot's The Waste Land by British actors Robert Pattinson and Gwendoline Christie (both were also in attendance), which provided the show's backdrop. It lent the collection a contemplative air, which Jones said was drawn from the 'great rivers of London and Paris', the 'eddies and flows of the water… in which flux, movement, ease and fluidity are central'. Jones also noted the inspiration of Yves Saint Laurent, who took over from Christian Dior at the house aged just 21, and the 'dynamism' of his work, which saw historical couture silhouettes reinterpreted in a time of change (Saint Laurent was head of the house only briefly, from 1958-1960). Such has been Jones' own aim at the house so far, to transpose the intricacies of Dior couture onto a contemporary menswear offering, here figured in a collection of extraordinary detail – delicate three-dimensional blossom-like motifs across tailoring and sweaters, a 'CD' monogram in lace on a neat pearl-buttoned cardigan, or juxtaposed technical elements, like the toggle fastenings on the sleeves of tailored jackets and shirts. Silhouettes were voluminous and poetic – billowing, wide-cut trousers, pleated kilts, sweaters pulled up on one side to reveal a shirt sleeve beneath – while others drew directly from the Dior archive, like an elongated smock which found inspiration in a marine ensemble created during Saint Laurent's tenure at the house, here 'transposed and transformed'.
Paul Smith
The vast American Church in Paris' 7th arrondissement provided the backdrop for Paul Smith's latest menswear collection, which the British designer said was inspired by the modernist movement (particularly those working in the field of architecture and design). As such, the collection featured sharply drawn silhouettes – like the top-stitch single-breasted suit which opened the collection – which morphed into softer, more amorphous styles, like cocooning puffer jackets (opening at the sides with popper fastenings) or colourful poncho-like knits. The brand called it a 'more erudite' outing for the designer this season, giving particular focus to his expertise in print; across the collection, bold graphic designs featured, inspired by modernist interiors (one was called the 'rug print', comprising a melange of floral and textural motifs). A re-examination of the three-piece suit, which began last season, continued with a crewneck vest serving as Smith's reimagining of the waistcoat, worn beneath a matching jacket or over colourful shirting.
Junya Watanabe
The brief notes for Junya Watanabe's A/W 2023 collection noted that the Japanese designer had 'no particular theme this season'; rather, he had become fascinated with Innerraum, the Berlin-based accessory label of Livio Graziottin and Sergio Eusebi. Their futuristic forms – created using polymer plating and the protective elements of motorsports gear – appeared across the collection, morphing with the looks like armour ('Every single object is experienced as an extension of the body and is a metaphor of the body itself,' Graziottin and Eusebi say of their designs). 'They create new things by assembling materials such as protective gear parts used in different fields,' the notes continued. 'Some of Watanabe's past clothes were designed with a similar logic. This is a reproduction of those archives.' The collection itself – nearly all black, and moving from narrow tailoring towards signature street- and workwear-inspired silhouettes – also featured a slew of other collaborations, including Palace, Levi's, Karrimor, Carhartt and North Face, reinterpreted in Watanabe's recognisable style.
Acne Studios
'When I work, it's sort of like therapy. I've been thinking a lot about the masculine baggage that we drag along as guys, boys, men and I wanted to explore it for fall,' said Acne Studios' Jonny Johansson of the brand's A/W 2023 collection, which imagined a 'modern caveman'. 'I felt inspired by the new man, the new way of looking at things, and by men who can show vulnerability aesthetically. I was intrigued by the thought of a caveman being the most masculine thing and I used that as a contrast.' As such, Johansson combined fabrics and cuts which 'traditionally skew feminine' – whether 'second-skin' miniature cropped T-shirts, lace trims emerging from the waistband of trousers, or crochet knitwear – with tough leather, shearling and elements of retro sportswear. 'The contrast I built the collection on is simple: ultra-masculine versus ultra-feminine.'
Louis Vuitton
A colourful imagining of a house provided the set for Louis Vuitton's latest menswear collection, which this season was co-created by the house's design team – many of whom worked under Virgil Abloh – and American designer and artist KidSuper, aka Colm Dillane. Known for an approach that attempts to recapture the wonderment and curiosity of being a child, Dillane brought a similar sense of levity to this collection, which began with one of his short films and was accompanied by a rousing live performance from Rosalía. In the collection notes, the house said this latest outing was about a feeling of collectivity; as such, the set had been created by cult filmmakers Michel and Olivier Gondry, while longtime Abloh collaborator Ibrahim Kamara styled the collection. It lent the spectacle an eclectic, in-it-together quality, which continued to find influence from Abloh – the various looks seemed to capture the late designer's desire for imaginative flights in his collections, seeing garments emblazoned with faces, or playful, idiosyncratic elements, like a suit and hat stitched with pages of paper – while new ideas emerged, like the hand-drawn motifs by Dillane which decorated the latter looks. Much of the collection hinged on tailoring: broad across the shoulder with wide pointed lapels, often featuring elements of embellishment – whether a ruffled trim, or zip fastenings that sliced diagonally across the body of a tailored jacket evoking the shape of a doublet. The show ended with a collective bow from Dillane and the entire menswear design team. What comes next is yet to be announced, though the search for a permanent menswear artistic director – a position unfilled since Abloh's death in 2021 – continues.
Homme Plissé Issey Miyake
The latest Homme Plissé Issey Miyake was directed by Adrien M & Claire B, a French visual and performing arts company that, for the occasion, created an immersive video installation that stretched across the walls of the Palais de Tokyo space. A series of projections also featured on the runway itself, seeing flitting lights – 'like an imaginary river of myriad particles' – undulating across the runway, and across pieces of sheer fabric, brandished by a group of dancers. As ever, the presence of such choreography was symbolic of the brand's desire to create clothing primed for movement, the spectacle this season evoking 'a world that blurs our perception of space and gravity', as the notes described. The collection itself was titled 'Upon a Simplex', an exploration of triangles and other simple geometric shapes, which when put together can develop into increasingly complex forms. As such, the 'Edge' coat was one of this season's new introductions, a cocooning style in high-density polyester pleats, which draws inspiration from the composition of triangles, while grid-like and triangle prints referenced the work of American architect and philosopher R Buckminster Fuller. Other pieces – like a skirt and pullover parka – were cleverly constructed from overlaid triangles of fabric. Such experimentations are the heart of Homme Plissé Issey Miyake's approach, an ever-evolving vision for the brand which continues to transform the way clothing is made and worn.
Givenchy
There was a feeling of reset to the stark optic-white show space erected in the École Militaire for Matthew M Williams' latest menswear collection for Givenchy, a mood reflected in the pin-sharp black tailoring of the opening looks – a nod to what Williams called 'a new formality' that could be traced in origin to house founder Hubert de Givenchy. As the show went on, these codes loosened up – a nod, Williams said, to the multiplicities of contemporary masculinity – from cleverly hyper-layered garments in a melange of colour and print (camo, cheetah and tartan among them) to unhemmed tailoring, a literal undoing of the formality of the opening looks. Part of the inspiration was a photograph of Hubert de Givenchy in the 1960s, wearing a jumper around his waist like a skirt: '[It is about] how you wear things... self-expression through the imbuement of personal gestures into clothes.' It led to Williams' most expansive menswear offering yet – at least in terms of the breadth of the collection – and a clear declaration of his vision for Givenchy as he enters his third year at the house.
Hed Mayner
Tel Aviv-based designer Hed Mayner's previous collection was an exploration of proportion, magnifying garments in size in an attempt to 'destigmatise [them] from class, gender and formality'. This season, he continued this exploration, though with a shift in focus, beginning the collection by imagining how a child's tuxedo jacket might look on an adult body. Mayner – who spent much of this season commuting from his Tel Aviv home to the Tuscan factory which makes his clothing – said the closeness to the production process had offered a 'more objective' approach to shape, moving from the expansive towards something 'more direct, more urgent, a little bit bent'. As such, pieces were distorted in shape, pulling and twisting around the body, while purposefully awkward fitting trousers were designed to give the impression that garments had been borrowed or passed between generations 'of fathers, grandfathers and younger brothers'. A new collaboration with Reebok followed a similar rationale, with a version of the sportswear brand's 'Classic Leather' sneaker washed and bent into shape, as if well loved.
Bianca Saunders
Andam Award-winning British designer Bianca Saunders continued her exploration of archetypal menswear garments with an A/W 2023 collection titled 'Playwork'. Saunders said she had drawn inspiration from Jamaican comedian Oliver Samuels, whose show 'Oliver at Large' saw sketches played out in quotidian settings – 'stripped-back set-up bars, bedrooms, corner shops' – transformed into the extraordinary by what Saunders called the 'amplitude' of his performance. '[He] tricks the eye into seeing a world far greater than what modest first impressions may imply,' she said via the collection notes. Set against the backdrop of a back-room bar – Saunders' own imagining of Samuels' humble sets – this same line of thinking informed the clothing itself, whereby classic tailoring, overcoats and denim were manipulated with Saunders' subversive approach to cut and silhouette, seeing garments hold structure as if scrunched or folded. The collection also featured pieces from Saunders' second capsule collection for At.Kollective – a collaborative project led by Ecco Leather – which saw the designer hone her burgeoning accessories offering with square-toed shoes and a series of slouchy handbags inspired by the shape of a tent.
Saint Laurent
In the vast central rotunda of the 18th-century Bourse de Commerce – formerly a place of trade for wheat and other commodities, now home to the Bourse de Commerce – Pinault Collection art gallery – Anthony Vaccarello made a return to Paris Fashion Week Men's, having shown his menswear collections for Saint Laurent outside of the house's native city in past seasons (most recently, in Morocco's Agafay Desert). Inside the space, black-leather seating lined the concrete walls of Japanese architect Tadao Ando's circular 'structure-within-a-structure', its shape providing a visual link to the glowing disk by Es Devlin that rose from the desert floor at the end of Vaccarello's Moroccan show. 'Almost inadvertently, the O shape, a symbol of perfection and purity of execution, becomes a recurring, pertinent thread at Saint Laurent,' said the house.
The collection itself was described as a 'sequel' to the designer's recent menswear collections, which have been defined by an aesthetic rigour and sharply drawn silhouettes – notably in severe, wide-shouldered tailoring – tempered by moments of fluidity and romance. Here, Vaccarello noted a desire for 'ample volume', figured in vast overcoats and wide-legged trousers inspired by the cut of sweat pants. A riff on the pussy bow ran throughout, while Vaccarello also talked of a 'reciprocity' between the masculine and feminine, including through a series of hooded pieces, reminiscent of Yves Saint Laurent's 'capuche' dresses of the mid-1980s.
While Vaccarello's womenswear collections typically end with the Eiffel Tower's shimmering light show as a backdrop, this finished with an altogether more restrained, but no less impactful, gesture: a single light hovering on Charlotte Gainsbourg, who provided the show's live piano soundtrack, the models fading into shadows as the composition reached its crescendo.
Wales Bonner
Following a triumphant show at Florence's Pitti Uomo in June 2022, Grace Wales Bonner continued her European tour with a stop in Paris, which marked her debut collection in the city. For the occasion, she selected a historic salon on the Place Vendôme, a place synonymous with Parisian luxury – having housed couture and jewellery houses, international banks and hotels, including The Ritz – to show a collection that looked towards those who have chosen Paris as creative refuge over the decades, from James Baldwin to Josephine Baker ('the rebel sojourners, arriving like a stream of stars, coming together in their uniqueness as if a constellation'). 'What I found most interesting about these international artists and writers being in Paris was what it opened up for them in terms of freedom of expression,' she said after the show. This sense of creative liberation came through in a rich amalgam typical of Wales Bonner's work: diaphanous silk shirting and scarves which featured works by British artist Lubaina Himid (an ode to 'the Black flâneur'), silk eveningwear created in collaboration with Savile Row tailors Anderson & Sheppard (conjuring Parisian nightlife of the early 20th century), and swathes of handcraft and embellishment (baroque pearls, Ghanaian beads and Swarovski crystals were inspired by the 'ceremonial wardrobe'). The collection also featured a preview of Wales Bonner's kit for the Jamaican national football team – in collaboration with Adidas – while the show's soundtrack featured 'original commissions' by Duval Timothy, Sampha and Kendrick Lamar.
Jack Moss is the Fashion Features Editor at Wallpaper*. Having previously held roles at 10, 10 Men and AnOther magazines, he joined the team in 2022. His work has a particular focus on the moments where fashion and style intersect with other creative disciplines – among them art and design – as well as championing a new generation of international talent and profiling the industry's leading figures and brands.