Introducing At.Kollektive, a new collective championing innovation in leather
At.Kollektive is a new collaborative project from prolific Danish tannery Ecco Leather, drafting four international fashion designers – Natacha Ramsay-Levi, Kostas Murkudis, Isaac Reina and Bianca Saunders – to create capsule collections spanning accessories, clothing and furniture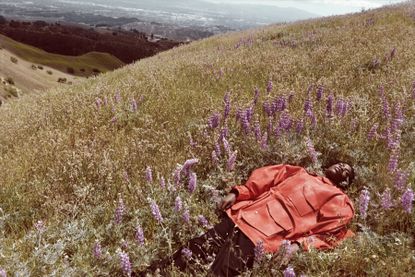 (Image credit: Glen Luchford)
'It's not about ego, it's about sharing,' says French designer Natacha Ramsay-Levi, who this month embarks on a new collaborative project with Ecco Leather, the prolific Danish tannery which provides the raw materials for some of the world's most esteemed houses and brands.
Ramsay-Levi – best known for her tenure as creative director of Chloé, which ended in 2020 – is joined on the project, titled At.Kollektive, by three other international designers, Kostas Murkudis, Isaac Reina and Bianca Saunders (hailing from Germany, Barcelona and the United Kingdom respectively). Each is known for a singular approach to design, and together, they span generations – Murkudis, for example, undertook his first job in fashion as first assistant to Helmut Lang in the 1990s, while ANDAM Award-winner Saunders graduated from the Royal College of Art just five years ago, in 2017.
At.Kollektive, a new collaborative project from Ecco Leather
Such contrasts give At.Kollektive a unique energy, as does its demand for participants to work across disciplines; utilising Ecco's vast library of leather, each designer was asked to create a nine-piece collection, spanning accessories, clothing and furniture (Ecco calls it 'a radically new way of thinking about the creation of fashion and the relationship between designer, object and consumer'). An interplay between the various designers was also encouraged – 'It felt like a family,' we says Murkudis – while a distinct focus on material distinguishes At.Kollektive from a currently collaboration-saturated fashion and furniture market.
'Everyone starts with just one material,' Murkudis continues. 'That is really the centre of the project and what makes it different from other collaborations… it really brings things back to the material, to the process of creating leather, modifying materials, shaping things. It's very unusual to have that focus on craft.'
'This project actually really reminded me of my time studying at the Royal College of Art, where you were encouraged to be really free and experimental,' adds Saunders. 'I liked the freedom of that, the focus on research. [Working on At.Kollektive] was about thinking: what would this guy's world look like? What kind of furniture would he buy? What kind of bag and shoes would he have? Whereas before, it was just: what kind of clothes will he have?'
As such, Saunders created not only a gamut of colourful accessories – including a series of structured bags that stand upright when placed on a table in order to be displayed to the room – but also her first piece of furniture, a white-leather armchair, its cushion creased along the middle to evoke the look of a mattress placed against a wall. Ramsay-Levi also marked her first foray into furniture, with a side-table and ottoman crafted from rock and vacuumed leather, a process that gives a unique vein-like texture to the surface. The designer also created a series of moulded-leather handbags with blown-up whipstitch detailing for the project, while a capsule of footwear riffed on the shape of a traditional clog. A biker jacket completed her contribution.
'I have started every single category of the project with an archetype, and inside that frame of a recognisable product, I have played either on proportions – the biker is very cropped and enlarged, for example – or confronted one archetype with another, like the clog with a sandal,' she says.
Elsewhere, Murkudis riffed on the folds found on the base of the paper bag in his own accessories offering; here, the same angular fold lines are subtly moulded onto bags in a feat of leatherwork. 'I liked the idea of combining this pioneering technique, that is hard to do, with an image or reference that is quite humble, a simple, day-to-day thing,' he says. 'I think that starting point – taking something that is quite known, familiar – but then trying to find my own take on it is a common thread within my work. I felt it was fun, as a concept, too.'
Reina comes to At.Kollektive with a wealth of experience in the leather medium – previously, he worked at Hermès' men's ready-to-wear studio and his eponymous Barcelona-based label focuses on leather goods – here creating a series of meticulously structured handbags, round at each end and gently narrowed in the middle (they are reminiscent in shape of a drum). A similar shape is achieved in an elegant leather-clad lamp and pair of side tables. 'Creating in different product categories gave me an incredible freedom to approach design with freshness,' he says. 'An overall vision came naturally, as all the products are imbued with a consistent taste, I hope.'
'We wanted to invite designers to enjoy the process of learning, of experimentation, and to create a collection in a pace and environment that was not pressured or didactic; an environment that was about dialogue and investigation, rather than immediacy or fixed results,' says Panos Mytaros, CEO of Ecco Group. In this spirit, each item is made in limited-edition numbers; those who purchase the items will own a significant piece of design that might be the only one in the world (Ecco also allies this with a desire to make the project zero-waste).
The collective nature of the project is completed with the participation of guest architect Bernard Dubois, who created a modular system in Ecco leather in order to display the various items at a presentation at Paris' Palais de Toyko during Paris Fashion Week Men's S/S 2023. A series of shapes that can be placed together into various different forms, they will afterwards make up an installation in a showroom in Copenhagen.
'The brief was precise – it needed to be transportable, modular, mountable, dismountable, easy to carry, and to produce as little waste as possible,' Dubois says. Like the designers, the distinct focus of At.Kollektive allowed for a broadening of his practice, for moments of play and experimentation. 'It's not every day that we can produce so many pieces in leather, especially a leather that they develop for us. It's really interesting to take these constraints and really use them for the project, to create something new.'
INFORMATION
atkollektive.com
Jack Moss is the Fashion Features Editor at Wallpaper*. Having previously held roles at 10, 10 Men and AnOther magazines, he joined the team in 2022. His work has a particular focus on the moments where fashion and style intersect with other creative disciplines – among them art and design – as well as championing a new generation of international talent and profiling the industry's leading figures and brands.