World View: Letter from South Africa
The World View series shines light on the creativity and resilience of designers around the world as they confront the challenges wrought by the Covid-19 pandemic. Working with our international contributors, we reach out to creative talents to ponder the power of design in difficult times and share messages of hope. As South Africa emerges from one of the world's strictest lockdowns, designers and artists are scrambling to revive small businesses and channelling their creative energies to analogue production, reports Sean O'Toole from Cape Town.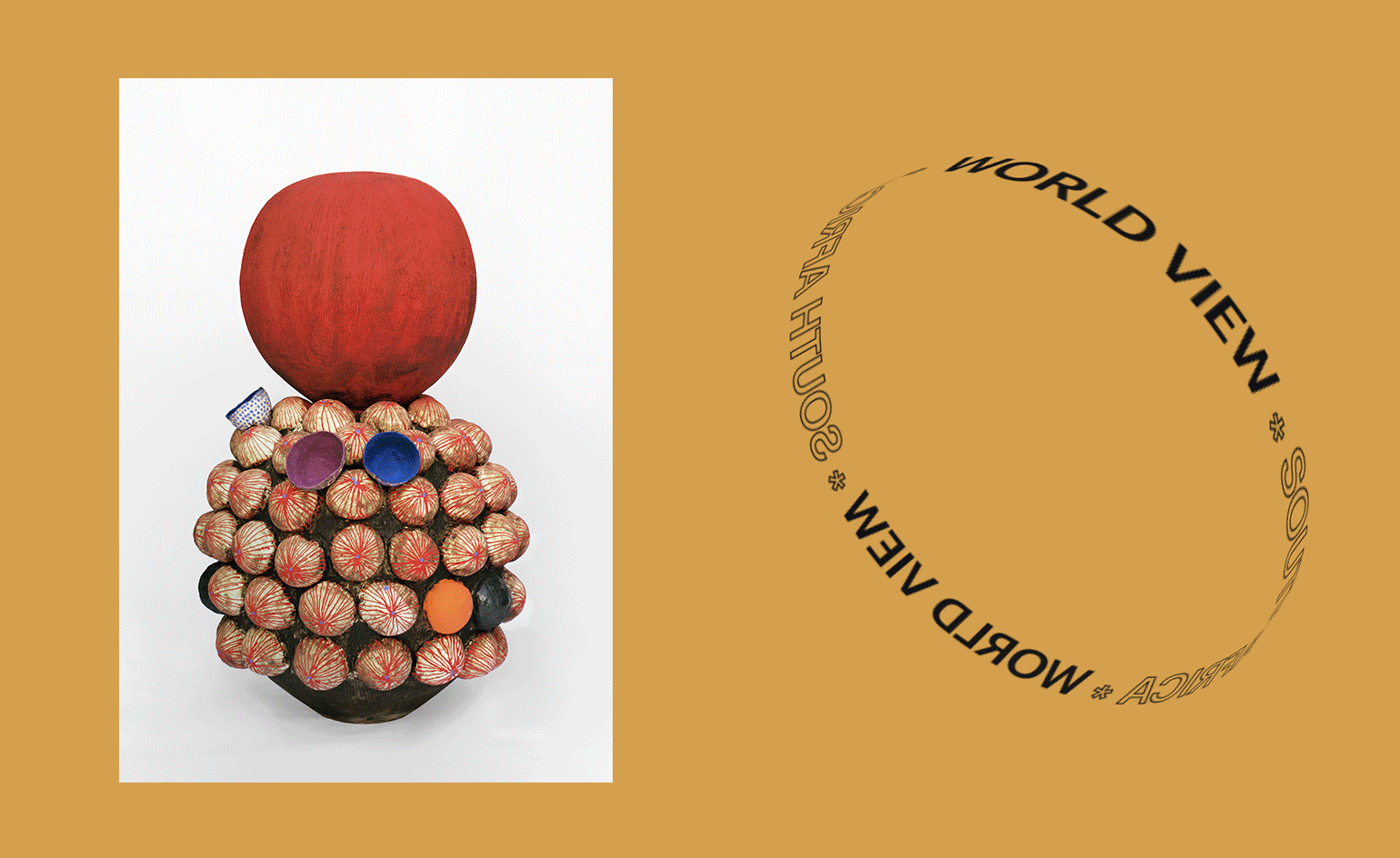 (Image credit: Jo Youens, Belinda Blignaut, Athi-Patra Ruga, Tiaan Nagel)
The statistical way in which livelihoods in faraway places are dispatched in daily pandemic updates would suggest that South Africa, which has registered roughly 230 deaths and 12,500 infections at time of publication, has been spared the worst. True, quick action by the national government has saved lives. But the current lockdown, one of the world's strictest, has severely impacted the country's creative community. The 1 May easing of a five-week ban on movement has not brought relief to designers and artists, who remain barred from accessing studios away from home.
The rapidity of the 26 March lockdown blindsided many, including Cape Town ceramicist Zizipho Poswa. 'I didn't get a chance to set up a studio at home,' says Poswa, who in 2006 founded Imiso Ceramics with Andile Dyalvane. The pair recently took occupation of a new studio located a short distance from their retail store in boho Woodstock. With both spaces currently shuttered until the lockdown lifts, Poswa has been exploring the feasibility of e-commerce and online workshops, as well as continued doodling on her phone (a preferred way of sketching). She is not panicked.
'I needed this, I've had not had a break in two years,' says Poswa, a former hair model whose vessels channel her interest in female adornment and labour. This year, in between her daily duties at Imiso, Poswa showed three new pieces from her Umthwalo series, inspired by the labours of rural women, at Southern Guild gallery in Cape Town, and was the central pillar of a March group show in nearby Stellenbosch.
Lockdown has pushed back a planned June residency at the Center for Contemporary Ceramics at California State University, Long Beach, where she would have worked on her largest pieces to date. 'I'm limited by the size of our kiln,' says Poswa, whose work will appear in a forthcoming exhibition of ceramics at SMAC Gallery, Stellenbosch. With galleries and museums shuttered for the foreseeable future, the virtual opening is scheduled for 23 May. The artist list includes Ben Orkin, an exciting new talent recently signed to Cape Town's Whatiftheworld Gallery, and Belinda Blignaut, whose experimental practice in the 1990s informs her current work with clay.
Over the last decade, Blignaut has produced vessels made with clay foraged from farms in the Cape region. Often roughly textured and eccentric in form, each of her vessels is an archive of place. 'I am absolutely in awe of how the earth was formed,' says Blignaut. During lockdown she has resorted to digging for clay on her property, which is adjacent a forest in Somerset West, outside Cape Town. 'That has been my sanity,' she says. 'It is so peaceful.' Blignaut is also working towards a European survey of her singular and underappreciated practice.
While social media can sometimes feel like the native habitat of the four horsemen of the apocalypse, it has offered a valuable window onto socially-distant creativity. Like Poswa and Blignaut, artist Athi-Patra Ruga is an Instagrammer. Cape Town-based Ruga is currently holed up with his partner, journalist Malibongwe Tyilo, in the mountain village of Hogsback in the Eastern Cape, where they own a house. Ruga is using lockdown to paint on canvas board, a new departure for him, as well as finish up tapestries for his solo exhibition at Whatiftheworld gallery.
One tapestry from the artist's postponed exhibition depicts a character from AC Jordan's Xhosa-language novel, The Wrath of the Ancestors, published in 1940 by Lovedale Press. This storied publishing house, founded by missionaries in 1823, is located in Alice, near Ruga's bolthole. 'I first read Lovedale books at school,' says Ruga. He has also been visiting Lovedale's print studio.
In April he posted an emotional plea on behalf of the employee-owned enterprise, which has struggled to capitalise on its pioneering work publishing formative black intellectuals. 'The situation is bleak – they don't even have electricity or water,' he says. 'We have started a GoFundMe campaign for the three remaining staff of the 18 who bought the company in 2001. They have worked there for five decades.'
While Lovedale teeters on the brink, in May two magazine publishers have folded in quick succession. Tiaan Nagel, who formerly edited now-defunct House & Leisure magazine before returning to fashion design and retail last year, enjoyed brisk trade at his eponymous Johannesburg store. Not only is the store temporarily closed during lockdown, orders for made-to-measure garments have been cancelled and interior-design projects placed on hold.
He is nonetheless developing a future range in collaboration with Cape Town painter Zander Blom, 'something a little more chaotic, something that seems collaged together, random bits of fabrics, silhouettes "stitched" together to create something new and removed from trend'. Using online tools to make what used to be haptic and artisanal decisions is, he says, 'extremely difficult'.
In mid-March, young sculptor and muralist David Brits received good news: his collaborative proposal, developed with Raiven Hansmann, to host a choir parade in the rural town of Graaff-Reinet received a thumbs up from the judges of the inaugural Social Impact Arts Prize. Drawing on the region's choral traditions, Tears Become Rain, as the project is known, will see various local choirs assemble at a local square in a gathering of song. 'The project attempts to answer one of the great questions of our age: how to use culture as a way to bring cohesion in a society like ours, which is very disparate,' he said at the award ceremony.
But then lockdown happened. Overnight, the artist's mural business, which pays his bills, collapsed. He has had to move home with his mother. 'I've done none of the linocuts, carbon-fibre sculptures or drawings I grandly envisioned myself creating when I packed my car and locked my studio over a month ago,' he says. 'All of my art equipment is still in boxes.' Like Blignaut, he has found consolation in Cape Town's often-parched earth, producing dry-pack stone earthworks in the firebreak at the back of his mother's house. 'The act of building dry-pack stone rock walls is about as old as architecture itself. For me, this is a heavy brand of physically-embodied emotional release.'
Read more from Wallpaper* World View
Letter from Milan
Letter from Spain
Letter from Middle East
Letter from Japan
Letter from Hong Kong
Letter from Canada
INFORMATION
@zizipo_poswa, imisoceramics.co.za
@belinda_blignaut, belinda.co.za
@athipatra, whatiftheworld.com/artist/athi-patra-ruga
@tiaannagel, tiaannagel.co.za
@davidbrits_, davidbrits.com
Sean O'Toole is writer, editor and curator based in Cape Town. He has published two books, most recently a 2021 monograph on the expressionist painter Irma Stern, as well as edited three volumes of cultural essays, including 'The Journey: New Positions on African Photography', which received a New York Times critics' pick for Best Art Books 2021. His exhibition projects include 'Photo book! Photo-book! Photobook!' at A4 Arts Foundation, Cape Town.