World View: Letter from The Netherlands
Our World View series shines light on the creativity and resilience of designers around the world as they confront the challenges wrought by the Covid-19 pandemic. Working with our international contributors, we reach out to creative talents to ponder the power of design in difficult times and share messages of hope. Dutch designers have taken the opportunity to reset and move towards a more sustainable future, writes Yoko Choy from Amsterdam.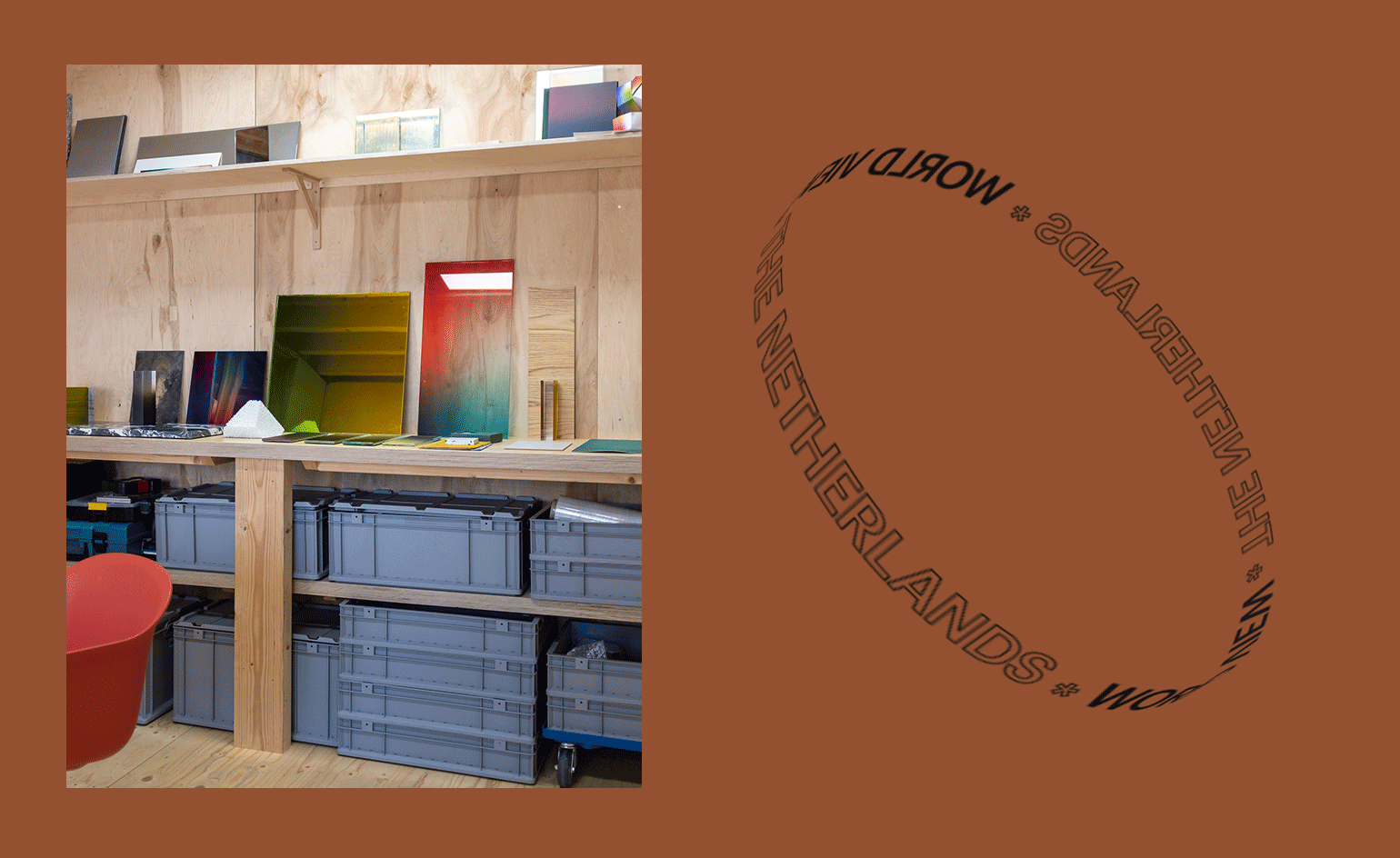 (Image credit: press)
As much of the world begins to ease itself out of pandemic-related restrictions brought about by Covid-19, the Dutch have channeled their entrepreneurial and creative spirit towards a unifying goal – a more sustainable future.

For Wallpaper* Designer of the Year Sabine Marcelis, the shock of the pandemic coincided with another momentous event: the birth of her first baby. 'I had already planned to be at home, and in a way this baby timed itself perfectly and allowed me to enjoy life as a new family,' she says. 'We decided the team should also work from home, and the situation has taught us to work smarter and to spend time more efficiently.'

'It's crazy that it takes an emergency like this for an industry to realise that it's out of control,' she adds. 'I don't think it's necessary to keep launching so many products all the time.'

The interruption in the global fair and exhibition schedule has given Marcelis' team a chance to diversify the way in which they work. This year sees many long-term interior projects finally coming to fruition: the redesigned study centre at Het Nieuwe Instituut in Rotterdam; a feature bar with Space Copenhagen for The Jane restaurant in Antwerp; an apartment building with MVRDV in Moscow, and another with OMA in Tokyo's Roppongi Hills. Marcelis has also received a lot of private commissions – 'I feel a lot of people have gained a new appreciation for their home environment,' she says.
For Germans Ermičs, the pandemic also coincided with a decision to re-evaluate his output. 'I was actually planning to slow down this year and take some time off, step back and reflect; to research ideas I've accumulated over the years and think of different directions.' Last year was highly productive for the Latvian-born designer – the technicolour pavilion Where the Rainbow Ends (opens in new tab) for Instagram in the French Riviera; the musical sculpture The Circle of Fifths (opens in new tab) with Bang & Olufsen for Wallpaper* Handmade.

'It just feels like we've all been overworking and overproducing. Frankly, I've never been in favour of that, but you sort of have to play the game,' he says. 'Now we realise how fragile everything is and how it can paralyse the way we work and live. We have to work differently from now on.'
Just before the March outbreak in Europe, Ermičs returned from Seoul, where he is due to present his first public art installation in Asia. The project was unveiled in Wallpaper's Summer Issue (opens in new tab). He's also found time for a new hobby: 'I got into fermentation,' says Ermičs, 'I brewed a really nice kombucha recently.'
MORE FROM WALLPAPER* WORLD VIEW
Jouw Wijnsma and Martin Kullik of Steinbeisser are known for their 'Experimental Gastronomy' project, which gathers chefs and artists in unconventional dinner settings to explore new ways to eat mindfully. Previous collaborations have seen celebrated names such as André Chiang from Raw Taipei and Yoji Tokuyoshi from Tokuyoshi Milan. The next one – moved from June to November – will involve Netflix's Chef's Table sensation, Korean chef and Seon Buddhist nun, Jeong Kwan.

'Does it still make sense to fly chefs all over the globe to create dinner experiences?' ponders Kullik. 'I find it difficult to just say yes or no, but I think it is still meaningful. The message that Kwan conveys in her cooking can bring something special into people's lives,' he says.

For Kwan, cooking is meditation; food that has a close connection to nature is best for both the palate and one's wellbeing. If pandemic recovery goes to plan, she will arrive in Amsterdam preceding the event to create a final menu inspired by local biodynamic ingredients. Meanwhile, the 20-plus invited artists have already started prototyping unique cutlery and dishware for the occasion; Steinbeisser may offer its gourmand followers a sneak peek over the summer to make the waiting easier.
There has been no slowing down for Elza Wandler, who founded her eponymous fashion accessories brand only in 2017. 'I don't think I've ever worked so hard,' she says. 'If you have a young business you need to act quickly. I look at the situation weekly and try to manage whatever comes along.'

Wandler's supply chain and material sourcing are based in Italy, and she has a significant list of Italian retail partners. Despite contracted factories being closed for two months, they have managed with minimal delays and her buyers have also been accommodating. 'It is about working together and making sure that we all survive this tough time,' she says.

Crafting its online presence is another immediate challenge for Wandler. 'I believe there will be a bigger shift towards online business. We were lucky because we literally launched our new website the week that the crisis started here.' The team has since been experimenting digital content on social media – a conversation series between Wandler and her fellow female creatives; and launched its 2020 pre-fall footwear collection in a digital campaign with French artist Sophie Dherbecourt.
On the upside, the pandemic has raised environmental awareness. Taco Carlier, founder of the Dutch/Taiwanese bicycle brand VanMoof recalls, 'The first fortnight into the crisis was complete silence for us. And then a worldwide search began for a new solution to urban commuting, and that's when we got overwhelmed with demands for our new e-bikes. It was a complete madhouse – sales are going through the roof.'

Carlier founded the company 11 years ago with his brother Ties, who heads their design and production team in Taipei, while he is based at the headquarters in Amsterdam. The Netherlands is famous for its cycling culture and Taiwan currently holds a central position in the global supply of bicycles. VanMoof surely stands in good stead to redefine and reshape the global mobility future.
On 21 April, Vanmoof launched the new S3 and X3 e-bike models, the very day that it secured €12.5 million in fresh funds. Its next step is to triple the output to up to 10,000 units a month, and to open new markets outside of the US, Europe and Japan. 'The best news is that everything that we predicted for e-bikes for the next decade has now happened in three months,' Carlier explains. 'People are now seeing the advantages of cities with fewer cars – healthier, greener and less air and noise pollution.' A future that we all deserve.
INFORMATION
@sabine_marcelis, sabinemarcelis.com (opens in new tab)
@germansermics, germansermics.com (opens in new tab)
@wandler, wandler.com (opens in new tab)
@steinbeisserorg, steinbeisser.org (opens in new tab)
@vanmoof, vanmoof.com (opens in new tab)