Instagram taps Germans Ermičs for Technicolor pavilion in the French Riviera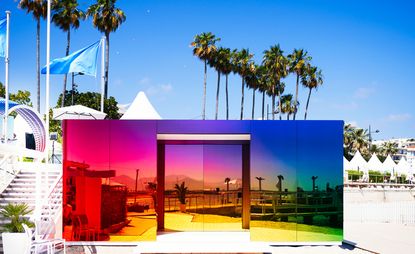 (Image credit: Jim Fenwick)
We're seeing the French Riviera in a new light this week. On the sun-kissed Cannes Promenade lays a Technicolor pavilion, powerfully mirroring the palms, sea and sand, courtesy of Instagram and Latvian designer Germans Ermičs.

Made for the Cannes Lions International Festival of Creativity, the experiential edifice follows last year's commission by Es Devlin – a filmic structure of storytelling. Ermičs' brief from Instagram was relatively simple: follow the theme of 'Where The Rainbow Ends' (the title of the work). This came rather naturally to the Amsterdam-based designer, given his affinity for poetically incorporating gradient hues into his work. In his signature slant, Ermičs offers a taste of the rainbow with a mammoth 50 sq m glass cabin.

Part artwork, part architectural endeavour, the installation marks the first time Ermičs has worked on this scale – 'this is a properly engineered structure,' he tells us. 'It is very different scale-wise, which meant I had to collaborate with an engineer. The structure is not temporary, its watertight and air-conditioned, not just cladding'.
Intended as a holistic experience, the strong gradient tones have a faded effect with a 360-degree perspective, so technically you can reach the end of the 'rainbow'. Step around the structure and see the spectrum's effect on your own body, and step inside for something more minimal. 'I wanted to evoke a sense of discovery and wonder,' Ermičs explains. Light effects by London based Urban Electric deliver this, and guide visitors into the cove where lies a white bench, with an electronic soundtrack of Domenique Dumont playing in the background.

The multisensory showcase offers new dimensions to Ermičs' work, and as a free festival, it takes his ombre edge to the next level. 'I have been waiting for this moment, where I can bring my work to this new scale. In terms of size and public space, it's not just a design event for an exclusive audience, it's very accessible.' While technically complicated to engineer, Ermičs and Instagram made sure the experience could effectively communicate with human senses.
For Instagram, the project anchors its support of diverse cultural entities. 'The rainbow has long been a symbol of new life and hope across cultures,' the brand says. The use of glass alludes to The Glass Lions too – a cooperation recognising work that has a positive impact on the world.

In the flurry of beachfront installations popping up during the festival, the eternal reflection, prismatic presence and Instagram-worthy snap of 'Where The Rainbow Ends' is sure to last beyond the week.
INFORMATION
Cannes Lions Festival is open until 21 June. For more information visit the website
Receive our daily digest of inspiration, escapism and design stories from around the world direct to your inbox