World View: Letter from India
Our new series shines light on the creativity and resilience of designers around the world as they confront the challenges wrought by the Covid-19 pandemic. Working with our international contributors, we reach out to creative talents to ponder the power of design in difficult times and share messages of hope. In Mumbai, Bangalore and New Delhi, studios and designers have been connecting with team members through craft, while stepping back to appreciate local sources, writes our design editor, digital, Sujata Burman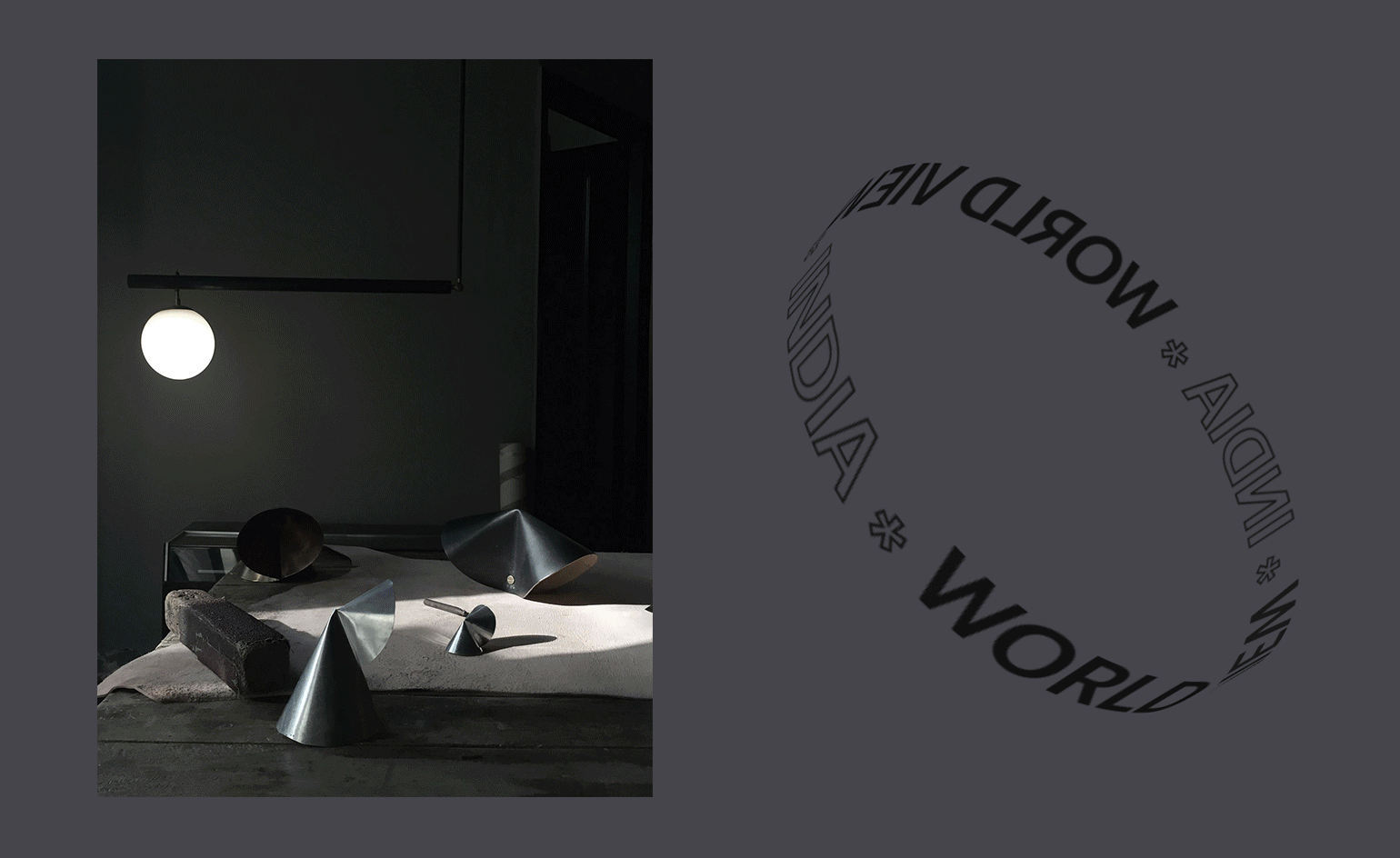 (Image credit: Samuel, Suhani Parekh, Khanmuh Sasa, Nikhil Paul)
As a country, India's cultural verve is built on human interaction with its soaring population size and social heartbeat, so the dramatic lockdown and current distancing rules feel like a paradox. The design community has had to be particularly resourceful in navigating this shift by connecting digitally not physically, cultivating through craft, and uplifting eachother with discoveries on the doorstep.
Nikhil Paul, founder of New Delhi-based lighting design studio Paul Matter has been rooting through materials during this time. A lamp design that he had intended to cast in metal had to be revised due to the temporary closure of the cast unit, so he turned to leather. 'Leather is something that I have been eager to introduce to the collection and it finally got its moment. We have been collecting hides and experimenting with the material since a year but never got the time to sit down and make an entire piece'.
India's fertile ground of natural source has been key for Paul's team during lockdown. 'My colleague Ragini is exploring the same form in bamboo and cane as she has access to these materials in her hometown. Another designer from our team has access to copper sheets and is exploring the hardware to go along with the leather piece in copper and glass enamel.'
Adapting the creative output has called for some experimental techniques for the new Paul Matter leather lamp – 'the 3D prints take a bubble bath before they are put to use. The studio has suddenly transformed into a small leather atelier, which I am loving,' Paul muses.
Nikhil Paul's initial mock-up of a leather lamp with brass hardware, shot inside his studio
Communication has been crucial in Spandana Gopal, founder of product design studio Tiipoi's business. Run from both London and Bangalore, the team has unified through a WhatsApp 'drawing room' to lift spirits. 'I didn't know when the lockdown was going to lift in India and I didn't want everyone to get bored and unmotivated,' Gopal tells me over the phone.
This ignited her team to search locally too – her ceramicist Khanmuh Sasa who is from Longpi, Manipur, north east India found inspiration during a trip to the market. 'He came back and drew the pumpkin he bought, and sent it to me,' says Gopal. 'The next day he made it into a into a sculpture, he made it so beautifully and so easily into a little pumpkin pot. He sliced off the top and made it like a lid.' This grew into a creative dialogue in the Whatsapp group – Tiipoi's accountant then sent a drawing of a bird, which Sasa made into a pen pot.
Above, Tiipoi's ceramicist Khanmuh Sasa's pumpkin pot. Below, Spandana Gopal and the team at the Longpi Black Pottery before lockdown
Gopal has been using her brand's platform on social media to reveal these maker stories, and since lockdown, she has been hosting talks with craft communities – '[we are about] investing in people. And I think that that's central to any craft-based business, which operates in this way, where you're working remotely with artisans. But you have to invest in them. And you have to invest in resources, you have to invest in space.'
Like Gopal, founder of Mumbai-based jewellery brand Misho, Suhani Parekh has also channeled energy into her craftspeople. 'We've worked with the philosophy that the welfare of our craftsmen must align with our brand interests. This situation has definitely created several challenges to the craft and artisanal communities in India, with vulnerable workers being left impoverished.' Parekh is positive that this moment in time will shine a brighter spotlight on helping those unprotected workers.
Suhani Parekh says 'I've been playing with and prototyping in any material I can get my hands on, from wax and clay to whole wheat flour! These amphoras were inspired by my Aquarius medallion'
In these moments of confusion and uncertainty, Parekh has been working with jewellery that has extra sentiment – 'be it personal or spiritual. I wore my Zodiac medallion on repeat, layered with a citrine stone my mother had gifted me. As a brand MISHO has always tried to create timeless pieces that feel like modern heirlooms and that's definitely the direction that we will continue to focus on.'
In the north of Mumbai, I asked Case Design co-founder Sam Barclay what challenges the pandemic has posed for India's design industry, he explains, 'the shortage of designers compared to both the scale of the population and the diversity and complexity of the challenges. For a practice like ours that is based in Mumbai that creates a tremendous number of exciting opportunities but also an overwhelming sense of responsibility to meet those challenges with mindful, appropriate, and responsible solutions.'
A model that Samuel made of the house Case Design are designing outside of Mumbai
Case Design is gearing up to launch a new website for their furniture, lighting and objects, which it hopes will reaffirm its core values of quality, contemporary craftsmanship and sustainability. While most of the team has taken on the digital transition with aplomb, Barclay says that he has 'also enjoyed sitting at my desk and making physical models all by myself.
Read more from Wallpaper* World View
Letter from Canada
Letter from Middle East
Letter from South Africa
Letter from Mexico
Letter from Hong Kong
INFORMATION
@misho_designs mishodesigns.com
@paulmatter www.paulmatter.com (opens in new tab)
@tiipoi www.tiipoi.com (opens in new tab)
@casedesign.in www.casedesign.in (opens in new tab)