The camera never lies: Tony Chambers toasts photojournalist Sir Don McCullin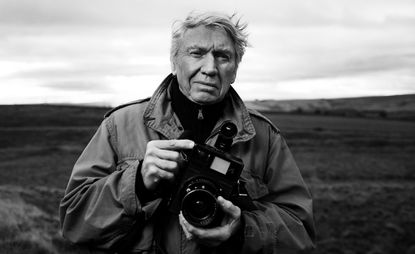 (Image credit: Tom Stoddart)
'The camera never lies'. This overused phrase – dating back to the mid-19th century and the earliest days of photography – seems rather naïve today. Then, a photograph, especially when compared to the subjectivity of painting, was seen as the faithful representation of a scene. The image that fell on the photographic plate was precisely what the camera was pointing at. But even back then, darkroom manipulation could alter the mood and content of the original image significantly.

Today – with sophisticated computer retouching and all manner of digital doctoring – it's hard to know what to trust. And in this post-truth era, trust is more important than ever. And that brings me to a man who has had a profound influence on me and, I would imagine, millions of others – the photojournalist Don McCullin. Or, I should say, Sir Don McCullin, as he was recently (rather belatedly in my opinion) knighted for his services to photography.
See more of our Design Directory special – out now
To celebrate this achievement, and his 60-year-long career, it was suggested by a colleague that I should arrange a dinner in his honour and bring together the great and the good of the photography and art world.

We chose Mark's Club in Mayfair, as it had recently undergone a thoughtful overhaul. Under the leadership of a dynamic duo, the Birley Group's executive director Guillaume Glipa and club director Darius Namdar, Mark's has regained its footing as the favoured romping ground of London's bold and beautiful.

Collaborators and admirers came out in full force to celebrate the Don, among them William Klein, David and Catherine Bailey, Sarah and David Burton, Martin Parr, Sølve Sundsbø, Mat Collishaw and Polly Morgan. Drinks on the covered terrace were followed by dinner in the Garden Room, during which Don revealed, serendipitously, that Mark's Club is one of his all-time favourite restaurants. More importantly, it was just a couple of doors away from the building in which he printed his first published photograph, The Guvnors, which appeared in The Observer, 15 February 1959.
For bringing us images of such power and veracity with unfeasible courage from war-torn Vietnam, Biafra, Northern Ireland, Uganda, Lebanon, Afghanistan and El Salvador, I think Don's knighthood should also be for services to telling the truth.

Wallpaper's front-line reporting calls for less in the way of raw valour, though some grace under pressure is required. And in this issue, our annual Design Directory precisely frames the best of this year's Salone del Mobile. The truth is out there and we'll always need people to bring it back.
As originally featured in the July 2017 issue of Wallpaper* (W*220)
INFORMATION
The July 2017 issue of Wallpaper* is out now. Subscribe here (opens in new tab)