Club captains: the duo bringing sparkle to the dusty crown jewels of Mayfair's social scene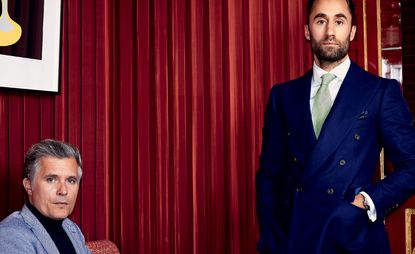 (Image credit: Roger Dekker)
Many urban legends have been born behind the closed doors of London's private members' clubs. From Churchill to the Stones, Princess Margaret to Groucho Marx, Rupert Murdoch to the Spice Girls, myths abound about high-jinx happenings that occur away from prying eyes and flapping ears.

Today, the London members' club scene is a more crowded, complicated landscape than it was last century. It started with the rapid expansion of Nick Jones' Soho House & Co group through the 1990s and 2000s, which brought membership to mainstream creative and media folk. These were clubs with artfully distressed interiors designed for mild decadence and debauchery, trainers and T-shirts. Lately, the start-up generation has been serviced by an explosion of co-working members' spaces that borrow the language, operation and programming of Silicon Valley. Clubs dedicated to art, travel, food, wellness and fitness have all found their niches.

The Ned, the gargantuan new Soho House and Sydell Group joint venture set in a former bank, brings contemporary club life to the heart of the City. Against this backdrop, some of the older establishments that once serviced rock 'n' royalty have been getting a bit dusty, banking on exclusivity and ignoring the ever-changing needs of their members. The Birley Group is addressing this head on. Richard Caring, the restaurant mogul behind Caprice Holdings and a shareholder in Soho House & Co, bought Mark Birley's prized triumvirate of Mayfair hangouts – Annabel's, Harry's Bar and Mark's Club – back in 2007. And for a few years it was business as usual.
But The Birley Group is now playing catch-up, and at some pace. This is largely thanks to a particularly dynamic duo: Guillaume Glipa, who was appointed executive director of The Birley Group last year, and Darius Namdar, who has been the director of Mark's Club since 2015. Glipa and Namdar met while working together at the Chiltern Firehouse (as director of food and beverage and head maître d' respectively).

'We ran Chiltern Firehouse as if it was a members' club, even though it was a hotel, and we realised we are complementary to each other,' Glipa explains. 'Darius has an extremely rare sixth sense: he notices every detail and anticipates every need. For my part, I like to tell a story – one that I believe in myself and that I want others to be seduced by.'

Over a cup of Earl Grey tea in the Circus Room at Mark's (which in 2015 had a light nip and tuck from Paris-based Greek-Irish designer Tino Zervudachi, of Milinaric, Henry & Zervudachi), Glipa and Namdar discuss the alchemy of operating a successful members' club in 21st-century London. Alongside the importance of charm, quality, celebration and discretion, they return time and again to the crucial tone of service.

'Comfort is more than just comfortable furniture,' says Namdar. 'We are here to provide the opportunity for our guests to have a good time. We need to treat our members as people. It's about creating a comfortable atmosphere that delivers their needs in a natural way. The feeling here is of being entertained not just in any old place, but in someone's house.' He uses the analogy of the swan to describe how he does it – pedaling furiously underwater but maintaining an air of calm serenity on the surface.
Mark's Club has re-emerged in the past year as one of the capital's most hallowed hotspots. It has become the perfect home for today's crossover of creative and business elites – a powerful intersection of two crowds that, until recently, mixed like oil and water. Namdar has added a dash of fun to proceedings, too: 'Last week our bartender gave a masterclass on how to make classic cocktails from the contents of a standard hotel minibar,' he says. 'Our programming is all about bringing members together and offering something imaginative that they can't get anywhere else – whether it's Raymond Blanc or Michel Roux cooking dinner, or Dame Harriet Walter reciting Shakespeare on the terrace. My role is club director, party planner, events organiser and busboy,' he chuckles.

Glipa's current charge is overseeing the highly anticipated reincarnation of Annabel's, which is moving to a spectacular Grade I-listed Georgian townhouse at 46 Berkeley Square. Designed by Martin Brudnizki, it is due to open in November this year. 'Over four floors there will be three restaurants, six bars, a cigar shop, a wine shop and a terrace seating 100 people under a glazed roof. It will feel like the Centre Court of Berkeley Square,' he proudly claims. 'Annabel's was one of the most famous nightclubs of the last century, and in its new home we are making it a day club, too – it will be open from 7am to 4am. Like its original, it will be grown up – a place for dignified decadence and sophisticated hedonism.'

A former mentor of Glipa told him that 'you have the clientele you deserve', words that the Frenchman has taken to heart. 'It stands to reason that the better our team is, the better the clientele we will attract. Hospitality is not something you can easily teach – you either have it or you don't. It is a visceral quality, a sparkle of the eyes that is genuine.'

As if on cue, Namdar adds that pride is everything. 'If we take pride in everything that we do, then members feel proud of the club and proud to be a part of it,' he says. 'It's a reciprocal relationship that fosters a sense of belonging, and it's in that feeling of belonging that the magic lies.'

As originally featured in the July 2017 issue of Wallpaper* (W*220)
INFORMATION
For more information, visit the Mark's Club website (opens in new tab)
ADDRESS
Mark's Club
46 Charles Street
London W1J 5EJ
VIEW GOOGLE MAPS (opens in new tab)