Follow the vin: Tony Chambers checks into Villa La Coste in Provence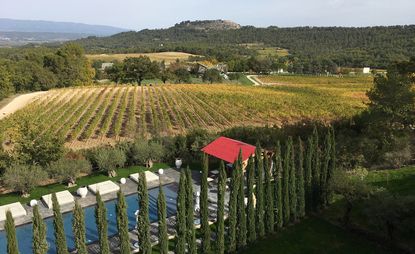 (Image credit: Antonio Camera)
In last month's letter, I chronicled Wallpaper's 20th anniversary dinner with Dom Pérignon – an elegant, dignified affair at London's Claridge's. What I forgot to mention, however, was how the rest of the night and the subsequent weekend unravelled. It was a night I'll never remember.

As is customary at the conclusion of such a joyful soirée, a number of guests (not egged on by me... honest) fancied another beverage. This has become known in our circle as 'a cheeky one'. So the hardy few headed downstairs to the legendary Fumoir Bar. My wife Georgia and I were joined by architect Amanda Levete, London Design Festival director Ben Evans, artist Joseph Kosuth, designers Peter Saville and Jay Osgerby, and Dom Pérignon's chef de cave Richard Geoffroy. Wallpaper* stalwarts Malcolm Young, Sarah Douglas, Gabriella Karie and Lloyd Lindo ensured the conversations were lively and the drinks flowed freely.

The bar closed as the clock struck one, but the world had not yet been set to rights, so off we went to Amanda and Ben's place in Islington, a former dress factory renovated in the sleek, futuristic style for which Amanda is known. Their first-rate wine cellar kept us hydrated and happy for a further few hours. Discussions swung from architecture to economics and politics to, of course, soft furnishings. We even managed to cajole Amanda into being a judge for our 2017 Design Awards. Unfortunately, such excitement made me completely lose track of the time.
It had been a long time since I'd done a straight-to-plane. But Georgia and I had a 7am flight for an unmissable appointment in France, so at around 4.30am we dashed home, grabbed our passports and headed straight to Heathrow. A hazy flight to Marseille later, we were whisked to Château La Coste, an extraordinary organic winery and expansive art and architecture park in the heart of the Luberon, Provence. We'd come for an exclusive preview of a new luxury hotel opening on the estate, Villa La Coste – the perfect material for the wine- and design-obsessed Wallpaper* reader.

We did our best to style out our lack of sleep, but the bleary eyes, groggy demeanour and slight whiff of eau de DomPom was too much of a giveaway, so we had no choice but to confess to our night of shame. Fortunately, our hosts Paddy and Mara McKillen and their team could not have been more gracious or welcoming. The stunning accommodation at the Villa, the breathtaking landscape and the exceptional art and architecture of the estate soon had us feeling tip-top. Oh, and a cheeky glass of Château La Coste Grand Vin Rosé didn't hurt either.
INFORMATION
The January 2017 issue of Wallpaper* is out now! Subscribe here (opens in new tab)