Heavenly staircases, chocolate faucets and more in our Design Awards 2018 issue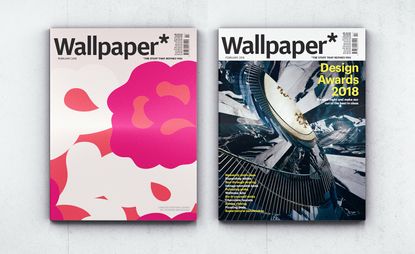 (Image credit: Hélène Binet)
Left, having served on the jury for this year's Judges Awards, architect Farshid Moussavi also designed our special, limited-edition cover (available to subscribers), featuring an original pattern for a wallpaper concept inspired by a Simone Rocha dress. Right, newsstand cover. One of two staircases designed by Gwenaël Nicolas for Dolce & Gabbana's Mayfair store, in which a multitude of marbles are patchworked together with millimetre precision, among them Indian Black Lightning; Brazilian Nordic White and Copacabana; French Nero Grand Baroque; and Chinese Panda White.
Welcome to our annual Awards issue, where we honour the year's highest achievements in design, architecture, fashion and beyond. This is our round-up of the best products and brightest talents that have raised our pulse and kept our pecker up.

Regular readers will be familiar with the format, but for the newcomers, I'll explain. The issue is split into two perfect parts. Part one is essentially the Wallpaper* love list – a compilation of our favourite things, debated, deliberated upon and ultimately decided by Wallpaper* staffers together with our global network of editors, photographers, writers and stylists. Enjoy the fruits of a year's worth of globetrotting, researching and polite bickering.

Part two is the Judges' Awards. Eleven major award-winners have been selected (from a shortlist put together by Team Wallpaper*) by an international panel of judges – all experts in their fields. This year we were blessed with the sharp minds and sagacity of architectural force of nature Farshid Moussavi, culinary world champs René and Nadine Redzepi, the always rakish environmental artist Daan Roosegaarde, model, fashion entrepreneur and campaigner Liya Kebede, and the ultimate designers' designer (and 2017 Designer of the Year), Jasper Morrison. A big thank-you for your time and impeccable judgment.
As seen at Design Miami, the Core Pavilion by Philippe Malouin, a contender for Wallpaper* Designer of the Year. Did he win? See the Judges' Award winners here
Also look out for our Next Generation Designer award. This particular prize honours a promising design tyro who has impressed us over the last year and looks set to make an impact in the future. Last year's winner, Gustavo Martini, has had a fruitful 12 months and his furniture collection 'The Grove' even made our 2018 hit list.

Special thanks go to our sponsor, watch manufacturer Officine Panerai (opens in new tab). Its design acumen, aesthetic heritage and skilled combination of technology and craftsmanship make it the perfect partner.

Finally, our annual celebration of the exemplary usually closes with the naughty page. A playful rummage through the year's design stinkers. This issue, though, we have added an analytic edge and historical perspective to our list of misadventures. In the first of an ongoing series we are snappily tagging History's Worst Design Decisions, we look at fatal, or at least commercially injurious, missteps in the tech sector, from the $400 Wi-Fi-enabled smoothie maker to Snapchat's spooky specs. Next Generation designers: look and learn!

Tony Chambers, Brand & Content Director

As originally featured in the February 2018 issue of Wallpaper* (W*227)
What better way to kickstart the Design Awards celebrations than with Hussein Chalayan's party popper-inspired fashion collection.
Inspired by the latest mania for modern interiors, we settle down with superior sake.
Catch some rays with this blast of coloured designs.
Wicker is slicker for the ins and outs of modern furnishings, scooping our award for Best Weaves.
The Best Descent award goes to the 'Vidra' slide, by Eckersley O'Callaghan and Cricursa.
We celebrate Kengo Kuma & Associates' undulating façade of the V&A Museum of Design in Dundee.
Chanel clinches the shining prize for Best Metal Gurus, with its Gallery Collection.
Our interior inspiration comes in waves, as we go deep-sea diving for design finds.
Making its debut, we bring you the furniture of Christophe Delcourt, for Minotti.
Both Dior and Dior Homme feature in our celebration of 2017's best fashion collections.
INFORMATION
The February 2018 issue of Wallpaper* is out now. Subscribe here (opens in new tab)