Jasper Morrison explores infinite possibilities of bamboo in London exhibition
London Design Festival 2023: Jasper Morrison collaborates with Japan Creative to showcase the versatility of bamboo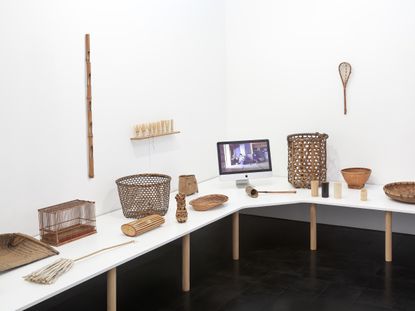 (Image credit: JM Office)
'Infinite'. This is the word Jasper Morrison uses to describe the creative potential of bamboo.
This natural material – alongside its qualities of strength, versatility, beauty – is the under the spotlight at the exhibition Bamboo, currently taking place at Jasper Morrison Shop in east London.
Dozens of works designed, crafted and woven by mainly anonymous specialist artisans from across the archipelago are on display in the show, produced in collaboration with Japan Creative, an organising promoting the values of Japanese craftsmanship, as part of London Design Festivl 2023.
A quiet curation of bamboo items spans the spectrum of the quotidian, such as clean-lined cups, intricate baskets, hanging flower vases and delicate tea whisks. A film also depicts scenes of Japanese bamboo craftsmanship – from the material being harvesting in bamboo forests in southern Japan to the intricate weaving techniques of artisans.
Bamboo has long been a key material for making, designing, crafting and building in Japan, a country which is home to as many as 600 different types of bamboo, out of an estimated total of 1,300 species globally.
For Morrison, the material is synonymous with craftsmanship and versatility. 'It's a poor material, easily grown without any effort and yet it can be used to make incredibly well crafted and beautiful objects,' he tells Wallpaper*. 'I mostly love it for that.'
A focus on the daily use of bamboo, created using an array of processing methods, connects the pieces selected for the exhibition, which is a specially edited version of Our Bamboo: Exploring Materials by Japan Creative, which was shown during Salone del Mobile 2023.
'In Japan, there are still two main types of bamboo crafts,' says Japanese designer Wataru Kumano, creative director of Japan Creative. 'One is bamboo crafts used as tools for daily life, and the other is basket weaving called hanakago, which is used in tea ceremonies. At Japan Creative, we chose bamboo crafts as tools for daily life from a design perspective.'
Threaded through the exhibition concept is also the timeless idea that bamboo, with its craftsmanship traditionally rooted in the rhythms of nature, is still a "relevant" material for modern life.
'Most bamboo crafts were created during the agricultural off-season,' Kumano adds. 'Such seasonal pieces are almost gone; they are made all year round, and with the advent of plastic and other substitutes, items with the same functionality are now available at lower prices. However, I think there is a need to reconsider bamboo, which has a very high contribution both culturally and environmentally, to discover new charms, and to continue using it.'
Bamboo is on view until 22 September 2023
Jasper Morrison Shop
24b Kingsland Road
Receive our daily digest of inspiration, escapism and design stories from around the world direct to your inbox