Leading light: Daan Roosegaarde reflects on judging the Wallpaper* Design Awards 2018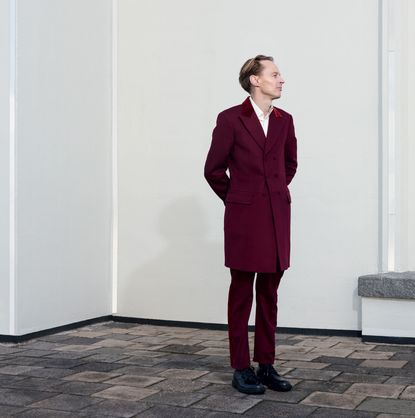 (Image credit: Lonneke van der Palen)
Wallpaper* Newsletter
Receive our daily digest of inspiration, escapism and design stories from around the world direct to your inbox
Thank you for signing up to Wallpaper. You will receive a verification email shortly.
There was a problem. Please refresh the page and try again.
The Dutch, given their tenuous topography, have a special relationship with nature. As Daan Roosegaarde points out: 'Who lives below sea level? We must be a little crazy for that.' The nation lives with the constant threat from water, but this has also encouraged a unique capacity for engineering nature. 'Without design, we would all drown,' Roosegaarde says, and that proactive relationship with nature is central to his work, a kind of environmental art, often massive in scale.

Last year, he finished one of the most significant projects of his career, the Icoon Afsluitdijk, commissioned by the Dutch government. This three-part design project, part of a restoration programme for the 32km dike built in the 1930s, celebrates the nation's leading role in hydraulic engineering works while looking ahead at more advanced and energy-efficient technologies.

To Roosegaarde, design should be genuinely life-enhancing. In 2016, his studio brought the Smog Free Tower to China. The 7m-tall smog vacuum cleaner, as much provocation as practical pollution killer, caught the attention of young, progressive Chinese entrepreneurs. Together with Ofo, the leading Chinese bike sharing programme, he developed the Smog Free Bicycle, which is now being tested on the ground – the bike inhales and filters polluted air and returns it clean to the cyclist. Large-scale usage would create a large-scale impact and Roosegaarde insists that smog-free cities are not a distant dream but achievable in the near future.
The 'Gates of Light' is a series of historic floodgates painted by Roosegaarde with a new retroreflective material that glows in the headlights of oncoming cars. See the winners of our Judges' Awards here

His picks for this year's Judges' Awards were informed by his own modus operandi. And perhaps a certain jealousy of other people's MOs. Outlining what he was looking for in the fashion category, he says, 'I love experiments, the notion of play, but it has to be pragmatic as well, it needs to enhance a certain character, sophisticated without being too much. When I do a project it takes years, and the speed at which fashion houses keep on producing and delivering fascinates me. I envy their speed, but maybe they envy my time for research.'

For the Best Men's Fashion Collection A/W17, Roosegaarde voted for Alexander McQueen. 'It's fascinating that his spirit is still seen and he is still alive in a way, in some of the sketches and final pieces which are out there. But at the same time, the current studio knows how to update and not only rely on the past. The collection is very ornamental, which could have a tendency to go kitsch, but every time McQueen does it, it feels powerful yet very elegant, I think these are collectors' items,' he says. 'And I am a happy buyer!'

Max Núñez's Ghat House in Cachagua, Chile, conveys the harmony Roosegaarde searches for between artificial and natural landscapes. He voted it as the Best New Private House of the year, as he finds it 'intriguing, special'.

'It's a completely ungeneric space,' he says. 'Those pillars, the staircases – some difficult choices were made, which is always good. There is a story there which needs to be told. I am not sure what it is yet – and it is exactly what makes it so beautiful.'

A version of this article originally appeared in the February 2018 issue of Wallpaper* (W*227)
INFORMATION
For more information, visit the Studio Roosegaarde website
Receive our daily digest of inspiration, escapism and design stories from around the world direct to your inbox
Yoko Choy is the China editor at Wallpaper* magazine, where she has contributed for over a decade. Her work has also been featured in numerous Chinese and international publications. As a creative and communications consultant, Yoko has worked with renowned institutions such as Art Basel and Beijing Design Week, as well as brands such as Hermès and Assouline. With dual bases in Hong Kong and Amsterdam, Yoko is an active participant in design awards judging panels and conferences, where she shares her mission of promoting cross-cultural exchange and translating insights from both the Eastern and Western worlds into a common creative language. Yoko is currently working on several exciting projects, including a sustainable lifestyle concept and a book on Chinese contemporary design.