The finest Google Doodles of all time
On 20 August 1998, a week before a two-year-old Google become an incorporated company, founders Larry Page and Sergey Brin were heading to Burning Man festival. To mark themselves 'out of office' on their email signatures, they decided to overlay the famous Burning Man stick-figure on the Google logo (which then came with a Yahoo-style exclamation mark, as if it needed to announce itself). The idea lay dormant until 2010, when then-intern Dennis Hwang (who went onto become Google webmaster, amongst other more recent titles) was tasked with decorating the logo for Bastille Day, sparking eight years of marking important moments in history with a graphic, digital ephitaph. What started as an 'out of office' scribble has become an artform, celebrating Calder to Kadinsky; Zaha Hadid to Mies van der Rohe.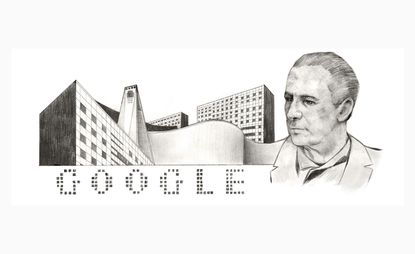 (Image credit: Hannah Silver)
Mario Pani's 107th birthday
29 March 2018

Mario Pani played a large part in shaping the design of Mexico City in the twentieth century, with this Doodle - created by his son, artist Knut Pani - paying tribute to them. Pictured is his extensive residential complex, the Tlatelolco Urban Centre in Mexico City, which houses 12,000 apartments in 102 buildings and is characterised by its curved element and triangular tower.
Saloua Raouda Choucair's 102nd birthday
24 June 2018

Lebanese sculptor Saloua Choucair explored mathematical patterns in her artworks which interlocked together in intricate forms. Her series, 'poems', could be dismantled, the movable pieces comparable to the verses of a Sufi poem. Acclaimed throughout her life, at age 97 she was honoured by London's Tate Modern who put on a retrospective celebrating her long career.
Wilder Penfield's 127th birthday
26 January 2018

Montreal's first neurosurgeon, Wilder Penfield's work in mapping the brain led to new techniques to treat epilepsy. In experiments using electrical probes, he discovered stimulating certain parts of the brain prompted memory cues - such as the smell of burnt toast the Doodle depicts.
Gabriel García Márquez's 91st Birthday
6 March 2018

Google bring the mystical world of Gabriel García Márquez to life with this Doodle which draws the lush tropical world of Macondo in the Amazonian jungle, the famous setting of his book, One Hundred Years of Solitude. Márquez combined fiction with political activism in a long and distinguished career.
Pi Day
14 March 2018

If you haven't been marking Pi Day with a slice of pie - why not? The mathematical concept of Pi was recognised in 1988 by Larry Shaw, and represents the ratio between a circle's circumference to its diameter. This Doodle, baked by Cronut creator Dominique Ansel, pays homage to a mathematical constant which is much more interesting to us when constructed in pastry.
Marga Faulstich's 103rd birthday
26 June 2018

Next time you grab your shades on the way out the door, spare a thought for German scientist Marga Faulstich who devoted her life to glass chemistry, making your favourite specs possible. She found a way to change a gas directly to a solid without it becoming a liquid, meaning small glass objects could be coated with a vapour, allowing for a glass with anti-reflective coating which blocks UV light.
30th anniversary of the World Wide Web
12 March 2019

'Mesh' was Sir Tim Berners-Lee's working name for the world wide web application, the invention which forever changed life as we know it. Originally a flowchart, it soon became a working model complete with the HTML language, HTTP application and the first Web browser and page editor. Two billion users now use it, hopefully for purposes in addition to reading about Google Doodles.
Erich Ohser's 115th birthday
18 March 2018

German cartoonist Erich Ohser acted out his political ideology through cartoons and caricatures which depicted his disgust with the National Socialists. Throughout the twentieth century, he balanced his more politically-dangerous pieces with a popular and light-hearted comic strip about a father and son.
Stanisław Moniuszko's 200th birthday
5 May 2019

Warsaw-based illustrator Gosia Herba paid tribute to Polish musician Stanisław Moniuszko on what would have been his 200th birthday. The director of the Warsaw Opera House, Moniuszko oversaw the production of many of his own works including Halka, which went on to become a classic of Polish culture.
Celebrating Seiichi Miyake
18 March 2019

In 1965, Seiichi Miyake invented tactile blocks to help a friend suffering with their sight. The blocks - one kind which came with dots, the other with bars - let the user know when they were approaching danger, and which way to go. Two years later, they were introduced onto the street in Japan and soon made their way into urban environments around the world, transforming the lives of the visually impaired.
Nowruz
20 March 2019

Google marked the spring equinox and Nowruz, the Persian New Year, with a floral tribute. The festivities, lasting for 13 days, begin on the first day of Farvardin, the first month in the Iranian Hijri calendar.
Parveen Shakir's 67th birthday
24 November 2019

Pakistani poet Parveen Shakir won Pakistan's President's Award for Pride of Performance in 1990 for her Urdu poetry. The first poet to use the word larki (girl) in her work, she subverted male traditions by honestly depicting the female experience.
Nicholas Winton's 111th birthday
19 May 2020

Sir Nicholas Winton organised the escape of over 600 children from German-occupied Czechoslovakia in the months before the Second World War, a fact he never revealed to anyone. It was only when his wife discovered documents in the attic in 1988 she learnt of his efforts in finding homes, raising money, forging documents and bribing officials, saving the primarily Jewish children from almost certain death.
Celebrating Falafel
18 June 2019

We all love a falafel - why not celebrate it? As India entered high season for the majority of the world's chickpea crop, Google clearly agreed. Whatever you do with it - Egypt grind down fava beans and fry them, Germany top theirs with sauerkraut - it cannot fail to be delicious.
Tatyana Lioznova 96th birthday
20 July 2020

In a move rare for a female Russian director, Tatyana Lioznova achieved huge success in the twentieth century with her popular programmes, including the 12-part 'Seventeen Moments of Spring.' which followed the adventures of Russia's answer to James Bond, Maxim Isayev.
Julius Lothar Meyer's 190th birthday
19 August 2020

One of two scientists to discover the periodic law of chemical elements, German chemist Meyer's periodic tables are ubiquitous in every school in the world.
Barbara Hepworth
25 August 2020

English sculptor Dame Barbara Hepworth hammers away at Google in her Doodle which marks the day she arrived in St. Ives in 1939. The seaside town would be instrumental in a career which saw her embrace natural, abstract pieces which were sensitive to the qualities of the raw materials she transformed.
Doodle for Google US winner
23 September 2020

Ten year old Sharon Sara was the winner of 2020's Doodle for Google competition which invited tens of thousands of students in America to illustrate the prompt: 'I show kindness by..' Sara, with her Doodle showing how kindness can be shown through friendship and inclusion, was the lucky recipient of a $30,000 college scholarship, with her school benefitting from a $50,000 technology package.
Dr. Harold Moody
1 September 2020

Charlot Kristensen, a Dublin-based guest artist, depicted Jamaican-born British doctor and racial equality campaigner Dr. Harold Moody for his Doodle, marking the day Moody arrived in the UK from Jamaica in 1904. Moody went on to become the founder of the UK's first civil rights movement after facing racism which denied him work. His kindness is represented by the children in the illustration, signalling the countless deprived young Moody would treat for free.
Google's 22nd birthday
27 September 2020

Well if you don't let everyone know it's your birthday, how will they know to celebrate you? Google marked 22 years of Larry Page and Sergey Brin deciding to rethink the way people interacted with information on the Web with an appropriately restrained lockdown Doodle - never mind, we're sure the real celebrations were saved for offline.
Professor Udupi Ramachandra Rao's 89th birthday
10 March 2021

Professor Udupi Ramachandra Rao's spearheading of India's satellite programme led to the 1975 launch of India's first satellite, one of almost two dozen satellites which addressed poverty by increasing communication to rural areas. In 2013, he became the first Indian to be inducted into the Satellite Hall of Fame, an accolade which coincided with the launch of a satellite which orbits Mars today.
Kuzgun Acar's 93rd birthday
28 February 2021

Kuzgun Acar's artworks in wire, nails and scrap metals rethought modern sculpture in Turkey in the twentieth century. After learning his skills at ship-dismantling workshops, he went on to produce classic pieces such as 'Turkey' - a relief in bronze - as well as producing steel and rubber masks for German theatre play 'The Caucasian Chalk Office'.
Sir Giles Gilbert Scott's 140th birthday
9 November 2020

Guest UK-based artist Jing Zhang paid tribute to one of the smaller creations from British architect Sir Giles Gilbert Scott. Scott worked on many large designs, including the Battersea Power Station and his first project, the Liverpool Cathedral, but it is the red telephone box he designed in 1924 which captures Zhang's imagination.
Celebrating Johannes Gutenberg
14 April 2021

Lovers of the written word have German craftsman Johannes Gutenberg to thank. His fifteenth century movable type printing press, which replaced the wooden letters of traditional printers with metal type, made books affordable for the first time. Two decades later, his printing press was the largest in Europe, kickstarting a new direction for mass media.
151st anniversary of the Metropolitan Museum of Art
13 April 2021

Founded in 1870 by a group of American citizens, the Metropolitan Museum of Art was established in 1870, quickly collecting a Roman sarcophagus as its first work. Parts of its extensive eclectic collection can be seen in the Doodle, from a Byzante floor mosaic to the armour of Emperor Ferdinand I and a Tetin Sioux beaded dress.
David Warren's 96th birthday
20 March 2021

Although his first prototype was in red, Australian research scientist Dr. David Warren's life-saving invention is better known as the 'black box.' In the Fifties, he invented an almost indestructible recording device for aircrafts which caught conversations in the cockpit in real time, preventing recurring tragedies.
30th anniversary of Pac-Man
21 May 2010

'Pac-Man seems like a natural fit for the Google homepage,' said Marcin Wichary, senior UX designer and developer at Google, in May 2010. 'They're both deceptively straightforward, carefully hiding their complexity under the hood. There's a light-hearted, human touch to both of them.' The Doodle, which he created with in-house 'Google Doodler' (as they have become known)
Ryan Germick was the first-ever playable doodle, and was on the homepage for 48 hours, because, said Wichary, 'it's too cool to keep for just one day'.
The Great Wave of Kanagawa
31 October 2010

It's an odd thought: a 17th-century Japanese century woodcut going viral. The Great Wave was first circulated the old-fashioned way, via traders and tall ships in the 19th century. Since then, it has inspired Claude Debussy's orchestral work La Mer, appeared in poetry and prose by Rainer Maria Rilke, and was animated by teamLAB at London gallery Pace. Levi's and Patagonia used it in marketing campaigns. In 2011, it was preserved in cyberspace as a Google Doodle, and has since been turned into an emoji. Thanks, in no small part to the uncompromising powers of Google Search, it is an image that is as globe-spanning, and enduring, as the ocean itself.
Happy Valentine's Day from Google and Robert Indiana
14 February 2011

This iconic Doodle (if you can call it that) was created by renowned artist behind 'LOVE', and it broke the trend of month upon month of interactive doodles, reverting back to a simpler, stationary symbol. Robert Indiana – poster artist of pop culture – is no stranger to having his work seen in unconventional settings by millions: the US Postal Service carried reproductions of his works on stamps in 1973 as part of its 'love series', and he created a work for Barack Obama's presidential campaign depicting the word 'HOPE'.

Courtesy of the Morgan Art Foundation / ARS, NY
First Day of Winter by Takashi Murakami
21 June 2011

In the San Francisco Bay Area where Google is based, its typically pretty mild all year round. Craving some seasonal differentiation, it turned to Japanese art superstar Takashi Murakami to ring in the summer and winter solstice in 2011 with a pair of doodles for the Northern and Southern Hemisphere, respectively. Google's Ryan Germick said at the time, 'The doodles feature some of Murakami's quirky characters and signature bold colors. It was a great honor to collaborate with Murakami-san and his Kai Kai Kiki team, who create what must be some of our most "kawaii" doodles yet.'
Mies van der Rohe's 126th birthday
27 March 2012

Along with Le Corbusier (opens in new tab), Walter Gropius and Frank Lloyd Wright, Ludwig Mies van der Rohe is widely regarded as one of the pioneers of modernist architecture. To honour what would have been his 126th birthday, Google created this colourful interpretation of his Crown Hall at the Illinois Institute of Technology (1956). The glass windows are coloured like Google chars, in a way which also nods to Le Corbusier's use of primary colours in the windows of Unité d'Habitation in northern France.
Jan Kaplický's 75th birthday
18 April 2012

Only originally displayed on the Google homepage in Czech Republic, this Doodle depicts neo-futurist Kaplický's highly controversial Prague National Library (nicknamed 'the octopus') which he designed before his death in 2007 at the age of 71. The commission, however, was canceled in 2008. As the octopus never got to stretch its legs, its with love that Google remembers its creator in this digital epitaph.
Keith Haring's 54th birthday
4 May 2012

In 2012, one-time subway graffiti artist Keith Haring was presented on a different kind of much-trafficked wall. The late-80s pop artist, whose work currently fills the sky-lit lobby of Amsterdam's Stedelijk Museum, is here copied by in-house Google Doodlers. Widely recognised as creating his own visual language, his famous figures are here bent out of shape, to form a wobbly Google logo.
150th anniversary of the London Tube map
9 January 2013

Frank Pick's London Tube Map is a unique accomplishment of graphic innovation, and has become the subject of many artistic endeavours since its creation in 1863 – like Langlands & Bell's renowned memorial unveiled at Picadilly Circus in 2016. This Google Doodle, a simplified version of the map, rendered in Google's typical Sans Serif typeface, was only shown in the UK, so we hope its inclusion in this round-up gives the rest of the world pause to acknowledge this beloved symbol of British design prowess.
Luis Barragán's 111th birthday
9 March 2013

Even in the midnight hue of the sky, this Doodle transports us to Mexico City. It depicts the brightly coloured pool and pink stable block of Mexican architect Luis Barragán's Cuadra San Cristobál, an equestrian and estate which is privately owned by the Egerström family since its completion in 1968.
Saul Bass' 93rd birthday
8 May 2013

Here's where things get meta. In 2013, Doodler Matthew Cruickshank was given the tricky task of creating a logo celebrating the logo design master Saul Bass. Cruickshank took Bass' motto – 'symbolise and summarise' – to task with a short animated sequence that reimagines Google's logo in the designers' unmistakable brand of title credits, set to an upbeat jazz tune composed by David Brubeck. During his 40-year career, Bass, who died in 1996, collaborated with many of the industry's most influential filmmakers: Stanley Kubrick (opens in new tab), Martin Scorcese, and Otto Preminger (opens in new tab), to name a few. He single-handedly revitalised title sequences in his work for Alfred Hitchcock's films, devising a revolutionary type of kinetic typography that characterised the openings of classics such as North by Northwest, Vertigo and Psycho.
Kenzo Tange's 100th birthday
4 September, 2013

Depicting the renowned Structuralist architect stringing up Google bunting across the Yoyogi National Gymnasium in Tokyo (1961-64), this doodle celebrates the life and work of Kenzo Tange, and was only displayed on the Google homepage in Japan.
Niki de Saint Phalle's 84th birthday
29 October 2014

Niki de Saint Phalle's 'Nanas' took over the Google homepage for the French sculptress's 84th birthday in 2014. Inspired by her pregnant friend, the 'Nana' sculptures were de Saint Phalle's artistic rendition of the everyday woman and became a symbol of femininity. De Saint Phalle described her first 'Nana' house as a 'doll's house for adults, just big enough to sit and dream in.'
Wassily Kandinsky's 148th birthday
16 December, 2014

This doodle was inspired by the work of Wassily Kandinsky – the man credited with creating the first ever purely abstract works of art – and was used with special permission of the Estate of Wassily Kandinsky, which is represented by Artist Rights Society. It depicts his pioneering use of expansive coloured masses, cluttered with near-spiritual irreverence, geometry and abstract lines, perhaps best described by The Rider, (1911). In typical Kandinksy fashion, it barely says 'Google' at all.
Lygia Clark's 95th birthday
23 October, 2015

Famed Brazilian painter, sculptor and teacher, Lygia Clark co-founded the Neo-Concrete movement, which sought to change art from a passive viewing experience to an engaging interaction. Her art pieces, specifically the 'bichos', were designed to be modified, re-positioned and folded into new configurations by participants – the participant here being Google. The logo has been stripped of its primary colours, and rendered in greyscale shades favoured by Clark, each letter folding in on itself like origami. These 'critters' represent Clark's early attempts to bridge the gap between artist and viewer, alongside Google's attempts to bridge the gap between searcher and host.
121st anniversary of the first published timetable in Japan
5 October, 2015

One of the seemingly obscure commemorative Doodles – the 121st anniversary of the publication of the first Japanese railway timetable – is actually more all-encompassing than it looks. It represents, says Google, 'the advent of time consciousness, and the beginning of efficient and reliable mass transit'. That told us. Google continues: 'To celebrate this achievement, we decided to create our own, unique schedule with invented names, destinations and times in homage to the humble train timetable. We wanted to reference as many traditional design elements, symbols and typographic styles as possible. To help out, we gathered as many "timetable geeks" as we could find in our Tokyo office. Our team of experts had many brainstorming sessions and came up with more ideas than we could possibly include in the final artwork.'
Yps Magazine's 40th anniversary
13 October, 2015

Germany's Yps Magazine published its first comic in 1985. Filled with tales of mystery, peril, and adventure, many would agree that the most irresistible aspect of the slim publication was the toy that came with it, and each subsequent edition. They ranged from the simple (spinning tops) to the sophisticated (kits to build functioning radios), and often the slightly bizarre (a package of Brine Shrimp eggs that young readers were encouraged to hatch and grow themselves). Artist Nate Swinehart endeavoured to recapture this sense of anticipation and mystery with a Doodle that changes each time you see it.
The 42nd Anniversary of Rio–Niterói Bridge opening
4 March, 2016

Brazil's Rio–Niterói Bridge exemplifies the ingenuity of the human spirit – as captured by guest Doodler Patrick Leger, who crafted a recreation of the bridge on the bay with the Brazilian coast visible in the background, and shadowy Google lettering stretching out across the water. The structure met with great international praise when it opened in 1974 as the second-longest bridge in the world, spanning the vast Guanabara Bay. Its greatest accomplishment is connection. Carrying over 100,000 passengers daily, it unites Nieterói and Rio de Janeiro, cities with populations of 487,000 and 6.5 million respectively.
Juno Reaches Jupiter
5 July, 2016

On 5 July 2016, a NASA satellite built like a tank settled into polar orbit around Jupiter, the mysterious gas giant two doors down from Earth. Juno's five–year, 500–million–mile journey will culminate in a treasure trove of new pictures and measurements taken by its nine instruments. The latest Juno images were delivered back down to earth successfully on February 7, 2018. Google celebrated this incredible moment of human achievement the best way they new how: with Space Invadors references. The emoji-tastic GIF captures the moment mission control received news Juno had entered orbit.
80th anniversary of the opening of the Moscow Metro
May 15, 2015

Matt Cruickshank's Doodle celebrates the railway that shaped a city. The 'Google doodler' drew inspiration from vintage russian posters. He started with the map in the metro's current lines colours and distinctive radial-circle structure but decided to combine the old with the new and ended up using sepia-toned fashion of a vintage Russian poster. He also added a classic train with '80' on the front to pay homage to the anniversary.
Celebrating Zaha Hadid
31 May, 2017

The Heydar Aliyev Center, depicted behind a cartoon-style portrait of the late, great Zaha Hadid (opens in new tab), sets itself in contrast to the block-like structures that surround it in Baku, Azerbaijan. The architects' signature fluid style is captured in the endlessly curving lines of the drawing, and the almost-unreadable Google typeface. At the same time, this cultural centre takes inspiration from historic Islamic designs found in calligraphy and geometric patterns to create something entirely new. The building takes an open form to invite the public into its space. The centre has played host to modern art by Andy Warhol and Tony Cragg, and world-class performances from Kitaro and Alessandro Safina.
Meret Oppenheim's 104th birthday
6 October, 2017

Created by guest artist Tina Berning, this Doodle celebrates Meret Oppenheim on what would have been her 104th birthday. The Doodle nods to one of her most known works, 'Object' – a famously fur-covered bracelet which is in the Gems and Ladders collection – and honors the surrealist tradition of combining unexpected elements to create something new.
Celebrating the Studio for Electronic Music
18 October, 2017

Google felt the beat as it celebrated the 66th anniversary of the Studio for Electronic Music with this neon Doodle, by Berlin-based illustrator Henning Wagenbreth. It celebrates the noisy diversity of thought and imagination that built this studio, which was to transform the possibilities of music. Known as the first modern music studio, it became a haven for innovative musicians and producers from its base at the West German Broadcasting facility in Cologne, to the rest of the world.
Hokiichi Hanawa's 271st birthday
23 June, 2017

When Helen Keller visited the memorial house of Hanawa Hokiichi in 1937, she said of the revered scholar, 'I believe that his name would pass down from generation to generation like a stream of water.' This Doodle celebates the intergenerational legacy of the thinker. Like a river originating from humble beginnings in Tokyo in 1746, his influence has stretched through law, politics, economics, history, and medicine.
Virginia Woolf's 136th birthday
25 January 2018

Subject of many ponderous, self-absorbed English Literature dissertations (mine included), and subject of a new exhibition at Tate St Ives, Virginia Woolf is an icon of Modernist literature, and has sparked two centuries of artistic renderings. This year, a Google Doodle was penned by London-based illustrator Louise Pomeroy. It salutes with grace and symbolism Woolf's minimalist style. Not tonally disimilar to the bust found outside her Bloomsbury residence, the portrait is surrounded by falling autumn leaves (a frequent visual theme in her work). In Woolf's words: '
The autumn trees gleam in the yellow moonlight, in the light of harvest moons, the light which mellows the energy of labor, and smooths the stubble, and brings the wave lapping blue to the shore.'
Elly Parsons is the Digital Editor of Wallpaper*, where she oversees Wallpaper.com and its social platforms. She has been with the brand since 2015 in various roles, spending time as digital writer – specialising in art, technology and contemporary culture – and as deputy digital editor. She was shortlisted for a PPA Award in 2017, has written extensively for many publications, and has contributed to three books. She is a guest lecturer in digital journalism at Goldsmiths University, London, where she also holds a masters degree in creative writing. Now, her main areas of expertise include content strategy, audience engagement, and social media.
With contributions from