Year in review: Wallpaper* editor-in-chief Sarah Douglas' top 10 highlights of 2021
Prince Charles, Jony Ive, the Apple Design Team, and Hermès clogs all feature in editor-in-chief Sarah Douglas' 10 defining Wallpaper* moments from 2021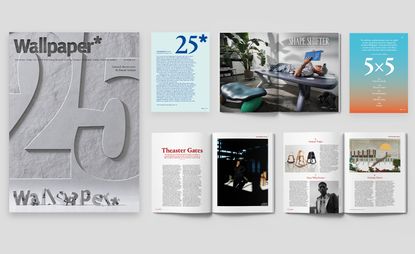 (Image credit: press)
From celebrating Wallpaper's 25th Anniversary, to taking an exclusive first behind-the-scenes look at the Apple Design Studio; from tackling the climate crisis with Prince Charles and Jony Ive at COP26, to championing the next generation of design talent with American Hardwood and the Design Museum – editor-in-chief Sarah Douglas selects her 10 defining Wallpaper* moments from 2021. Here's her year in review.
Wallpaper* turns 25
We celebrated our quarter century with fitting fanfare, starting with a 316-page blockbuster anniversary issue (October 2021) featuring a limited-edition cover by leading artist and longtime friend Daniel Arsham (right). We welcomed back former editors-in-chief Tyler Brûlé, Jeremy Langmead and Tony Chambers, alongside Wallpaper* friends and family to share their fond memories of the last 25 years. Then positively stepping forward, we launched our flagship anniversary project, '5x5', where we invited five creative visionaries – Formafantasma, Frida Escobedo, Theaster Gates, Nendo and Michèle Lamy – to each nominate five leaders of the future. The result was a fascinatingly eclectic and global mix which gives us every cause for optimism and inspiration for the next 25 years!
COP26: HRH Prince Charles and Sir Jony Ive discuss Terra Carta Design Lab
It was an honour to join HRH Prince Charles and Sir Jony Ive in conversation at COP26. A longtime champion of environmental causes, the prince collaborated with the Royal College of Art to launch the Terra Carta Design Lab in July 2021, with the aim of bringing together young and emerging architects, designers, scientists, engineers, historians, writers and artists to help repair the planet and give back to nature. The prince observed we are living in a watershed moment when the climate crisis has reached urgent proportions, but expressed his optimism for the next generation, and said that we are finally seeing the necessary public, private and political will to collectively tackle the environmental crisis. Ive was also inspired by the positivity and engagement of the next generation, and urged audience members to be curious and inquisitive: 'Very often, just looking at a problem in a curiously different way can make a whole range of solutions immediately clear.'
Discovered: Wallpaper* x American Hardwood Export Council x The Design Museum
Continuing the theme of next generation, I was delighted to present 'Discovered', our latest partnership with American Hardwood Export Council (AHEC) and The Design Museum, London. This project is very close to my heart, and was born out of my editor's letter 'From Wallpaper* with Love', written at the start of the pandemic, which triggered a conversation with David Venables at AHEC about what more we could do to promote and support the next generation of design talent. We subsequently invited 20 young designers from 16 countries to create objects that represent our functional and emotional connections to everyday items. Under the guidance of four design mentors and working in collaboration with leading furniture workshops in the UK, Portugal, Malaysia and Australia, our participating designers transformed American red oak, cherry, and hard and soft maple into unique creations. From a suspended mobile to a cabinet of keepsakes to a multifunctional stool whose backrest doubles as a writing surface (pictured), their designs spoke to values that we hold dear: touch, reflection and strength.
John Lautner's Garcia House makes an epic return in Wallpaper's April 2021 Global Interiors issue
John Lautner's Garcia House, perched like a spaceship on the Hollywood Hills, is an icon of the midcentury modern movement, with a parabolic roof and nimble supports that have sparked the imaginations of architects and filmmakers alike. It originally featured in Wallpaper's January 2009 issue, when owners John McIlwee and Bill Damaschke were first enjoying the fruit of their restoration efforts. Twelve years on, Wallpaper* US director Michael Reynolds and US editor Pei-Ru Keh returned to the house with photographer Roger Davies to witness its latest transformation, including a new pool (part of Lautner's design, but never built because the Garcias ran out of money), the addition of a burgeoning art collection, and otherworldly landscaping courtesy of environmental designer John Sharp. More alluring now than ever, Garcia House is testament to the enduring appeal of midcentury architecture and made the perfect cover star of our April 2021 Global Interiors issue.
Cao Fei's dystopian fantasies take over Wallpaper's November 2021 Art Special issue
Headlining our November 2021 Art Special was the Chinese artist Cao Fei, one of the most groundbreaking creatives of our time, a creator of dystopian fantasies and a prophet of the promises and pitfalls of technology. For her 20-page portfolio, the artist presented stills and exclusive behind-the-scenes photography from her recent works Nova, 2019, and Asia One, 2018 (pictured); respectively, the tale of a scientist who accidentally sends his son into a virtual limbo, and a disquieting vision of an industrial facility of the near future in which robots have replaced human workers. As our Singapore editor Daven Wu writes in his interview with Cao, her work is 'firmly balanced by a sense of impermanence – in the positive sense that, whatever else may be troubling us, it won't last'. Similarly, her limited-edition cover for the issue, an image of passengers waving at a ferris wheel from an abandoned train carriage in a tourist area in Inner Mongolia, reflects on the post-Covid world while offering a subtle suggestion that better days lie ahead.
In the market for... chairs, with photographer Leandro Farina
We teamed up with Leandro Farina, a Wallpaper* contributor since 2006 and a maestro of still life photography, for an epic In the Market for… shoot in our October 2021, 25th anniversary issue, presenting our ultimate edit of commendable chairs. Combining timeless midcentury designs by the likes of Vico Magistretti, Pierre Jeanneret and Børge Mogensen, and contemporary standouts such as Per Holland Bastrup's strikingly geometric 'Triangolo' for Frama and Tom Dixon's charmingly tubular 'Hydro', the shoot involved transparency film, the darkroom, enlargers, photograms, and multiple exposures, all a celebration of the creative process. We liked the results so much that we chose one of the images – featuring Gio Ponti's 'Round D.154.5' chair – for the newsstand cover.
Hermès' calfskin clogs headline our March Style Issue
We marked the arrival of spring with a March Style Issue that saluted the fashion industry for its remarkable resilience, and considered the ways in which lockdown living brought a renewed emphasis on styles that endure. Front and foremost was a pair of Hermès clogs, featuring an 'H' on the calfskin upper and palladium-finish metal stud details. Hermès creative director Nadège Vanhee-Cybulski had paired the clogs with every look in the brand's womenswear S/S 2021 runway show, proving that shuffling around at home can be chic. We put the clogs on our newsstand cover, in a striking image by photographer Josh David Payne and fashion director Jason Hughes that garnered the most Instagram likes of any Wallpaper* cover this year.
Inside Apple Park: Wallpaper* presents a first look at the design team shaping the future
Our biggest story of the year landed in December, with an exclusive first look behind the scenes of the Apple design studio, combined with a joint interview with Evans Hankey and Alan Dye, who together have led Apple design since 2019. The studio is one of the most faithfully guarded places of our time, so we're honoured that the Design Team made an exception for Wallpaper*, letting us into their inner sanctum to witness design discussions, prototyping processes, and the making of small but integral elements that make every Apple product intuitive. Jason Schmidt photographed it all with warmth and personality, capturing the team's collaborative spirit, culture of experimentation, and the sense of joy in creation. The Design Team also created the limited-edition cover of our January 2022 Next Generation issue, a rainbow graphic nodding to their 'many voices, disciplines, cultures and perspectives', which has already become one of the most sought after in a series of artist covers that has been 15 years in the running.
First-ever profile of Counterspace's Sumayya Vally, architecture's fastest-rising star
Counterspace's Serpentine Pavilion, celebrating the gatherings of peripheral communities, was one of the most anticipated architectural events of the year. We were delighted to present the first ever magazine profile of its founder Sumayya Vally, within our May 2021 issue and on wallpaper.com. To go with the interview, by architecture editor Ellie Stathaki, we asked Magnum photographer Mikhael Subotzky to accompany Vally on a tour of their adopted hometown of Johannesburg. Journeying from the landmark Ponte City skyscraper, to a trade hub for the Ethiopian and Eritrean diaspora (pictured), to a mine dump in the city's periphery, and a dinner club for new African cuisine, they showed how the evolving urban landscape has shaped Vally's practice. It was a full-circle moment for the architect, who earlier in her career had researched Subotzky's archive to understand the lives of migrants.
'Found: Objects with Meaning' – Wallpaper's first podcast series, in collaboration with Vodafone Smart Tech
We launched our first ever podcast series, 'Found: Objects with Meaning', in collaboration with Vodafone Smart Tech. Designer Yves Behar, designer Nipa Doshi of Doshi Levien, fashion designer Roksanda Ilinčić, musician Nile Rodgers, ex-professional cyclist David Millar, and artist Polly Morgan each joined our transport and technology editor Jonathan Bell on the podcast, to discuss the creative and emotional force of the objects they have, and the ones they've lost. We relished the opportunity to connect with our audience in a new medium, and get up close and personal with our podcast guests – watch this space for hopefully more audio projects to come.
INFORMATION
Subscribe to Wallpaper* (opens in new tab)
You might also like
2017 in review: the year in 100 pictures

At Wallpaper* HQ, we do a lot of forward-thinking. With the year drawing to a close, it's a rare chance to pause, reflect, and celebrate the people, places and things that have rocked our world over the last year. We soon realised it would be near-impossible to whittle down all of the spirit-lifting architecture, design, fashion, art and more, that had inspired us – and you – in 2017. Wallpaper* celebrated 21 years of life-enhancing stuff; launched Precious Index, our new watches and jewellery supplement; hit the global design and art fair circuit, from Milan to Miami, Buenos Aires to Brussels; and went inside Apple Park, just to name a few things. Here, we pick out some of our favourite highlights, all 100 of them...

By Jessica Klingelfuss • Published
View More ▸