Culture shock: Jeremy Langmead on his days as Wallpaper* editor-in-chief
Jeremy Langmead, former Wallpaper* editor-in-chief (2003 – 2007), remembers the spotless office and flawless staff who introduced him to the wonderful world of design and architecture. Langmead's recollections feature in the '25 Years of Wallpaper*' series, published in our October 2021, 25th anniversary issue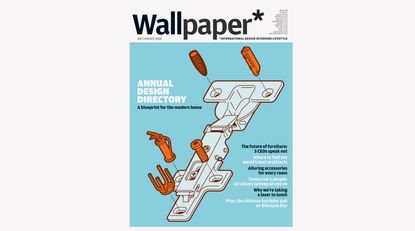 (Image credit: TBC)
It was an intimidating office to first step into. Here was a perfectly dressed team – not too fashion, not too street – perched in front of perfectly placed Vitsoe shelving systems by Dieter Rams. There were no coats hung on the backs of chairs, no clutter on the simple white desks and no readable expressions on the faces of the team (this was nothing to do with Botox; they were far too young). The staff embodied the pages of the magazine: stylish, global and a tad aloof.
Having been poached from a position at the Evening Standard – where you were sat at your desk from 7am to 9pm five days a week, typing with one hand, making phone calls and eating a sandwich with the other – the first few months were a culture shock. I had to sign off giant pieces of furniture being shipped from São Paulo to Shoreditch and back again for two-day design shoots; was presented with expenses claiming back the cost of sun creams worn for stays at five-star hotels in Thailand; and waited months before meeting some members of the team who preferred not to travel into the central London office.
And then there was the annual trip to the Salone del Mobile in Milan. A sensory overload of extraordinary new furniture design, warehouses displaying the latest sanitary ware innovations or lighting concepts, and evening after evening of parties and openings and exhibits. It was at least a year until it felt normal.
The team changed and settled and smiled a little more, packing for a three-day trip once a fortnight to visit clients, sponsors and collaborators everywhere from Manila to Moscow felt humdrum, and the sight of armchairs constructed from teddy bears (Campana Brothers) or a lamp poking out of a life-sized horse (Moooi) being carefully carried past my glass-walled office each week barely earned a second glance.
RELATED STORY
It seemed normal, too, to visit Zaha Hadid at her offices and ask her to design an exhibition for us (she agreed) in Giorgio Armani's show space (he kept peering around the door to watch it being built); to persuade Bombardier to sponsor the building of a full-size Wallpaper* bullet train that somehow resembled Dippy the Diplodocus from the Natural History Museum (W*80); and to collaborate with Phaidon to publish over 100 Pantone-coloured, pocket-sized Wallpaper* City Guides.
By the time I left, I had grown to love the bonkers world of grand design and big business; the fact that on Friday nights the core team would swap green tea at their pristine desks for messy pints at the grotty pub behind the offices; and to understand and respect the dedication to, curiosity for, and admiration of the new, beautiful and clever design that emanated annually from across the globe that the magazine's team was there to find, share and celebrate.
Tyler Brûlé cleverly created a magazine and a brand that was strong enough to survive numerous incarnations, navigate many twists and turns in taste and demand, and survive 25 years that have seen the media landscape change beyond recognition. I feel very fortunate to have played a small part in that sometimes minimal, other times colourful, but always eventful journey.
INFORMATION
A version of this article appears in the October 2021, 25th Anniversary Issue of Wallpaper* (W*270), on newsstands now and available to subscribers –12 digital issues for $12/£12/€12.
Receive our daily digest of inspiration, escapism and design stories from around the world direct to your inbox