When Karl Lagerfeld met Zaha Hadid: Suzanne Trocmé on Wallpaper's most memorable shoot
Contributing editor Suzanne Trocmé, who has worked for Wallpaper* since 2003, on celebrating our magazine's tenth anniversary, in 2006, with a creative match made in heaven. Trocmé's recollections feature in the '25 Years of Wallpaper*' series, published in our October 2021, 25th anniversary issue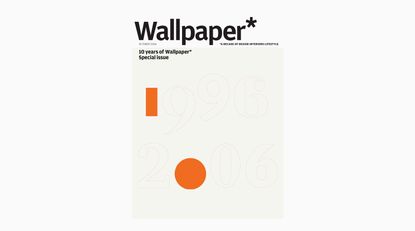 (Image credit: press)
There are so many memories over a quarter of a century – from the young talent we as a team have nurtured between the pages, to some of the most extraordinary creative minds in the world. But my personal favourite moments have been those where serendipity has had its play. The most memorable was the tenth-anniversary shoot (W*92) across a few double-page spreads, where the idea was to ask fashion designers whom they most admired in architecture, and then to have the pairs photographed together by an art photographer, bringing together as many disciplines as possible that the magazine addresses.
My first call was to ask Karl Lagerfeld, and he came back saying his answer would be Zaha Hadid; he knew her show was opening at the Guggenheim that week. I wanted to know if he was in New York, and he was, staying at the Mercer hotel. I then found out that Zaha (whom I knew well) was also in New York for her show, also staying at the Mercer. They were both there together, literally in the same building at the same time. So within an hour we found Roe Ethridge at the Gagosian, and he hot-footed it to the Mercer to photograph the pair.
When Karl Lagerfeld met Zaha Hadid
They had never met before: that first photograph for the tenth-anniversary edition marks literally the first moment Karl met Zaha; they became firm friends and subsequently worked together. It was raining that day and the doormen put up umbrellas as the pair walked out – we had no time for lighting inside, so it had to be a daylight shot. I will never forget that moment nor the photograph and the story behind it – a bit of history in the making.
In the same story, Alexander McQueen elected Norman Foster as his most admired architect – Tom Ford, Donna Karan, Ralph Lauren, Paul Smith all followed. I guess what I am trying to say is that Wallpaper* marks quite some history, and has taken its responsibility within the industries very seriously, but it has been a lot of fun too being a cog in the wheel.
INFORMATION
A version of this article appears in the October 2021, 25th Anniversary Issue of Wallpaper* (W*270), on newsstands now and available to subscribers – 12 digital issues for $12/£12/€12 (opens in new tab).