Tony Chambers, former editor-in-chief, on Wallpaper's greatest journeys
Adventures in Brazil, Russia, India and China – Tony Chambers, Wallpaper's former creative director-turned-editor-in-chief (2003 – 2018), reflects on epic journeys during his tenure. His recollections feature in the '25 Years of Wallpaper*' series, published in our October 2021, 25th anniversary issue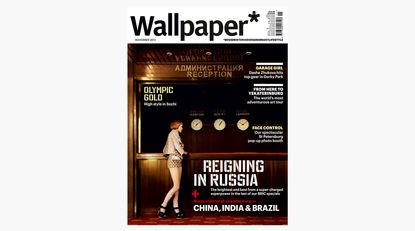 (Image credit: press)
Wallpaper* is the most extraordinary and unique publication, and during my 16-year stint, there was never a week without adventure. Picking one highlight from so many is tough, but I'll go for our epic BRIC Nations project, which spanned 2009 to 2012.
Four epic journeys – to Brazil, Russia, India and China – to produce four epic issues. Transferring the majority of the editorial team en masse to report on the cultural and creative explosions behind the economic booms of what were then known as the emerging territories. Setting up pop-up offices in the two major cities of each territory. Observing and absorbing their ways of living and methods of working. Hanging out and mixing it up with the countries' movers and shakers. Seeing things from their perspective. The mission was always to look out as well as look in.
In 2009, we set up shop in Shanghai and Beijing and produced Made in China (W*123). Next up, 2010 saw us land in São Paulo and Rio de Janeiro to be Born in Brazil (W*135). Then in 2011, we found ourselves in Mumbai and Delhi being Reborn in India (W*147). Finally, in 2012, from outposts in St Petersburg and Moscow, we were Reigning in Russia (W*164).
We profiled and collaborated with the leading designers, architects, artists, photographers, chefs, gallerists and cultural entrepreneurs in each of these countries, and reported on emerging and re-emerging and re-energised art, architecture, food, media, fashion and design cultures. We made our pilgrimages to Le Corbusier in Chandigarh and Melnikov in Moscow. We conversed with Oscar Niemeyer in Rio and Ai Weiwei in Beijing. We commissioned the countries' leading artists to design our front covers and to reveal their favourite recipes for our back page. We made lots of friends… and one or two enemies.
RELATED STORY
But most importantly – we grew as a team. From senior editors through to juniors and even interns, there was no hierarchy. All went and all rolled up their sleeves. These were life-changing experiences. And most of those juniors and interns went on to run departments at Wallpaper*.
When the project was complete, we wondered, 'What next?' How could we fill this BRIC-shaped hole the following year? 'How about Made on the Moon?' we joked at the time. Well, perhaps that's not such a fantasy anymore. Go on Sarah – give Jeff or Elon a call – nobody dare say no to Wallpaper*. And I'll be an intern!
INFORMATION
A version of this article appears in the October 2021, 25th Anniversary Issue of Wallpaper* (W*270), on newsstands now and available to subscribers –12 digital issues for $12/£12/€12.
Receive our daily digest of inspiration, escapism and design stories from around the world direct to your inbox