Book: Knoll Textiles, 1945-2010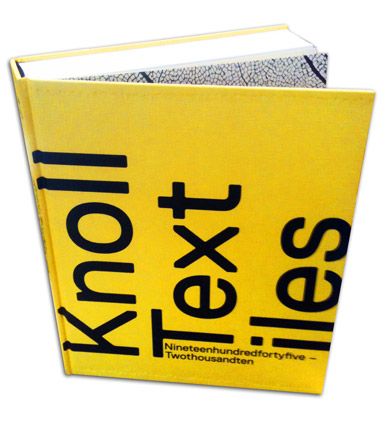 (Image credit: Knoll Textiles)
With works by an illustrious roll call of designers such as Jens Risom, Ludwig Mies van der Rohe, Eero Saarinen and Harry Bertoia lining its archives, Knoll (opens in new tab) has long been known as one of the great furniture manufacturing pioneers of postwar America. What few are aware of, however, is the profound impact the textile arm of the company had on the industry. Using what little material options were available in the early 1940s, Hans Knoll and his wife Florence blazed a trail with an approach that combined innovative designs with the latest technologies.
Founded in 1947, the aim of the textiles division was to provide chintz-free fabric solutions for the growing needs of Knoll's modern interiors range, focusing on colour and texture as key elements. In its early days, it used a mixture of leading textile names and fledgling designers. The division quickly began to thrive, and in the 1970s and 80s, it turned to fashion designers and architects to boost the brand.
Textile development tends to be seen as part of a bigger design history within the industry, and 'Knoll Textiles, 1945-2010' is first comprehensive book to delve beyond the surface at the company. Here, the many ideas, production techniques and textile designers that made up the brand sit alongside the context with which fabrics contribute to the history of design and the decorative arts.
Published in association with the Bard Graduate Center (opens in new tab) for Studies in the Decorative Arts, Design and Culture, New York, the book is edited by Earl Martin, with essays by Paul Makovsky, Bobbye Tigerman, Angela Völker and Susan Ward making for insightful reading. Visually, it's a winner too. Beautifully designed by graphic maestro Irma Boom (opens in new tab), the blending of Knoll's textile story with page-turning layouts makes the brand's works practically pop out of the page, putting it head and shoulders above your standard reference book.