Terra Carta Design Lab announced by Jony Ive and HRH Prince Charles
Ahead of the 26th UN Climate Change Conference (COP26), designer Jony Ive and Prince Charles' Sustainable Markets Initiative are inviting students from the Royal College of Art to design high-impact, low-cost solutions for nature, people and planet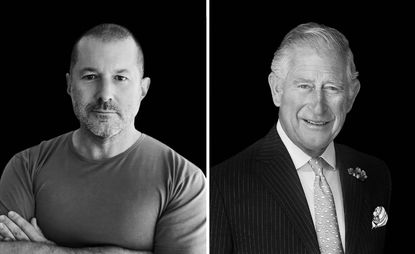 (Image credit: press)
The Sustainable Markets Initiative – an organisation created by HRH Prince Charles in 2019 to address the threats posed by climate change and biodiversity loss – is launching a new programme to create small designs with a big impact, which facilitate the world's transition to a sustainable future.

Called the Terra Carta Design Lab, the programme is a collaboration between Prince Charles, Sir Jony Ive, and the Royal College of Art (RCA). It will bring together young and emerging architects, designers, scientists, engineers, historians, writers and artists to repair the planet and give back to nature.

These include 2,300 RCA students drawn from the college's four schools: architecture, arts & humanities, communication, and design. They represent over 70 countries and will collaborate in multidisciplinary teams, also joined by RCA alumni from 2011 to 2021.
Terra Carta Design Lab aims to inspire solutions
According to the launch statement, lab participants have the opportunity to explore 'local initiatives to restore biodiversity, reduce greenhouse gases, support developing countries, and catalyse a new economic and social model that realigns people with their environment.'
Their projects will be assessed by a panel of the RCA's senior academic staff based on a trio of metrics: feasibility, measurable impact, and potential to present engaging and inspiring solutions to urgent problems.

A shortlist of up to 16 concepts will be presented in November to a jury that includes Prince Charles, Jony Ive, and Paul Thompson (the college's vice chancellor), alongside strategic and supporting partners of the Terra Carta Design Lab and the Sustainable Markets Initiative.
RELATED STORY
The winning designs will be announced in 2022, and their creators given strategic and financial support to transform their ideas into reality. Winners will also have the opportunity to be mentored by Ive, who served as chief design officer of Apple before launching his own creative collective, LoveFrom.
Chancellor of the RCA since 2017, Ive calls the Terra Carta Design Lab 'a visionary and imaginative way of helping to address the world's increasingly urgent environmental problems.'
The design lab follows on Prince Charles' Terra Carta, launched in January 2021. Deriving its name from the Magna Carta, which inspired a belief in the fundamental rights and liberties of people, Terra Carta 'aims to reunite people and planet, by giving fundamental rights and value to Nature'.

'Small ideas can have a big impact if they are supported with the right design, science and engineering and that is the key idea behind today's Terra Carta Design Lab,' says the prince.

The lab's launch announcement comes at a pivotal moment for global cooperation to fight the climate emergency. 'We only have 100 days until COP26, the big UN conference in Glasgow to tackle the climate and biodiversity crisis,' continues the prince. 'We will all need to play our part, old and young, if we are to change how we look after the Earth, making it sustainable for Nature, People and Planet.'
Announcement video for Terra Carta Design Lab, produced by Sustainable Markets Initiative, an organisation created by Prince Charles in 2019 to address the threats posed by climate change and biodiversity loss.