Loewe Craft Prize 2018 winner announced as Jennifer Lee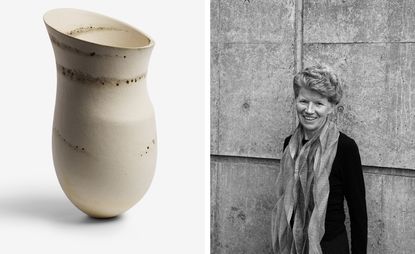 (Image credit: Jennifer Lee)
Jennifer Lee has been crowned this year's winner of the Loewe Craft Prize 2018. The Scottish ceramicist and RCA alumna was selected from a diverse range of 30 global finalists originating from 18 countries. Works on show include a Japanese straw wallhanging, Belgian folded ceramics glazed with red Ferrari paint, a shingled wooden screen from the United Kingdom and intricately engraved Singaporean paper.
Lee is known for utilising traditional techniques, but has developed her own method of colouring by mixing metallic oxides into clay. The hand-coiled vessel that scooped her the prize features planetary bands of these oxidised pigments, some coloured decades before creation – to capture 'a sense of frozen time'.

Dame Helen Mirren followed in the footsteps of Charlotte Rampling, who presented last year's inaugural award in Madrid, presenting the €50,000 prize to Lee at the award's cerermony at London's Design Museum. She was selected by a jury led by Loewe's creative director Jonathan Anderson, together with the director of the Design Museum Deyan Sudjic, former director of the National Museum of Korea Hong-Nam Kim, industrial designer Patricia Urquiola and winner of last year's prize Ernst Gamperl. In addition, Takuro Kuwata and Simone Pheulpin received special mentions, winning €5,000 each.
Anderson, who inaugurated the prize last year to 'help modernist craft and make it more accessible', has a longtime passion for artisanal technique. Loewe began as a collective craft workshop in 1846, and since taking the helm of the Madrid-based house in 2013, Anderson has been working to unite its contemporary aesthetic with its craft heritage. Take 'Loewe Blankets' an exhibition presented as part of last month's Salone del Mobile celebrating the skill and innovation of blanket and tapestry makers worldwide, from Senegal to Salasaca. 'The prize is about presenting craft in the now,' Anderson said after the prize giving ceremony. 'We don't have to make it nostalgic, with images of a man sewing in a dark room. It's about telling these craftspeople's stories.'
'I have a store of clay which I keep in my studio,' Lee explained of the 30-year-old elliptical bands which featured in her winning design, also referencing old nails, river clay pipes and bucket handles from her family's Aberdeenshire farm as objects of inspiration. 'I leave it to mature and it changes over time. I'm not decorating or glazing, my work is all done as you make it.'
Pheulpin, a Nancy-based French textile sculptor was hailed for her layered cotton sculptures, which are created from folds of monochrome industrial cotton and secured using countless pins. Her winning entry 'Croissance XL (XL Growth)' took four months to create, and its densely packed folds resemble the crevices of a rock or the rings of a hewn tree, and nodded to the enormity of the earth's topographic history.
Experimental Japanese potter Kuwata's 'Tea Bowl' comprised of a bold green glazed vessel layered with cracked splodges of platinum and steel, which appeared to drip over the lip of the bowl like molten metal. Fascinated with dysfunction, Kuwata uses stones and needles during the kiln process to disrupt his ceramic designs, finding a joy in the spontaneous and imperfect approach to creation

The work of the 30 global finalists will be displayed in an exhibition at London's Design Museum as part of London Craft Week. Loewe will also present a series of 'Craft Conversations' with the museum, in an exploration of how today's digital-focused world is affecting the concept of craft. 'There can't be a better time to look at craft,' Sudjic said. 'The digital age is destroying whole categories of objects, our cameras and smartphones do all sorts for us, but there's something essentially human about making, touching and feeling, and that's what this award is all about.'
Loewe's champion of craft, and a keen collector himself, Anderson added 'It's more exciting to see, feel and touch. It's important today that we are more emotionally connected.'
INFORMATION
The Loewe Craft Prize Exhibition is on view from 4 May - 17 June 2018. For more information, visit the Loewe website (opens in new tab)and the Design Museum website (opens in new tab)