Through the woods: Ernst Gamperl's oak vessels win the inaugural Loewe Craft Prize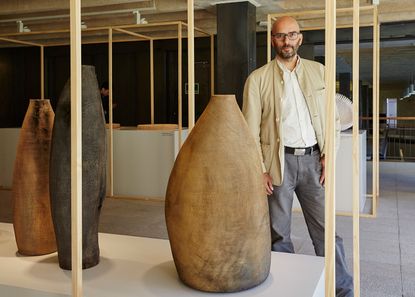 (Image credit: press)
'The story started seven years ago when I found a huge oak tree that had fallen in a storm,' explains German-born Ernst Gamperl of his collection of carved and clay-treated hollowed oak vessels that were awarded the first Loewe (opens in new tab) Craft Prize on Monday. 'After my idea was born, I kept all of the objects I made from the wood, with the intention of presenting them as a complete exhibition.'

At the awards ceremony at COAM, the Official College of Architects of Madrid, Gamperl's winning entry, 'Tree of Life 2' – crafted to represent the story of an uprooted tree – was exhibited alongside the work of 26 global finalists (opens in new tab). The works range from colourful hand-embroidered tapestries to inflated gold rings, folded paper structures to dark porcelain vessels, whittled down from nearly 4,000 entries.

'When I came to Madrid I thought "We've got this amazing country with this inherent idea of making,"' says creative director Jonathan Anderson, who began devising the Loewe Craft Prize three years ago. Since taking the helm of the Spanish house in 2013, one renowned for its artisanal approach to leather goods, Anderson has worked to emphasise its connection to craft. The new Loewe home collection, which debuted at Salone del Mobile last week, and featured in our May 2017 issue (W*218) (opens in new tab), includes oak fruit bowls, ladders and candlesticks carved with mice.
The pieces were created by Simon Cartwright, a descendant of the Yorkshire woodworker Robert 'Mouseman' Thompson, who after opening his workshop in the 1920's, used to carve them onto pieces as his signature. 'For me the prize was about bringing in a new vocabulary and support,' Anderson says. 'It's about building the idea of creating cultural brands rather than luxury brands.'

This support was emphasised by Anderson and a panel of renowned judges – including Naoto Fukasawa, Deyan Sudjic and Patricia Urquiola (opens in new tab) – who awarded not just one grand prize of €50,000, but two special mention awards of €5,000 each. Runner-up Yoshiaki Kojiro, a glassmaker from Japan, impressed with an ocean blue glass bowl, crafted from glass powder and copper oxide, featuring a bubbling liquid-like centre. Artesanías Panikua also earned a special mention, the family basket weaving business from Mexico was represented by husband-and-wife Antonio and Verónica Cornelio and their intricate wheat piece 'Tata Curiata' has been created from hundreds of weaved fibres, denoted a sun deity.
'What made sense for all the jury members, was that Gamperl's wooden vessel, crafted from a 300-year-old tree, which has fallen down because of lightning, and then is put into something else, really defines everything in this moment,' Anderson says of Gamperl's work. 'We have to shape the past for the future.'

This reconfiguration of the past was a theme throughout the exhibition, which will also tour to New York, Tokyo and London. Leo Chiachio and Daniel Giannone, a couple in both work and life, presented a triptych of hand-embroidered tapestries, made from printed material which had been erased with stitches depicting jungle animals and tropical palms, their pet dachshund, and strips of equestrian print Hermès scarves. 'Our education is in painting, but we are translating the knowledge of the painter, using another language, in this case embroidery,' they explain.

Meanwhile, Canada-based Brendan Lee Satish Tang created a figurative ceramic vase, inspired by both 18th century gilded ormolu and robotic forms in Japanese manga. 'The piece became a kind of a meditation on how technology interacts with tradition and how it shifts and changes it,' he says.

'Things have to be real. We want things that speak to us emotionally,' Anderson muses on the impact of the digital world on human interaction. 'We want things that make us happy.' In contrast to the perfection presented across social media, finalists expressed a joyfulness in imperfection. Preoccupied with the concept of mending, London-born artist Celia Pym, submitted a once tattered hand-knitted sweater, given to her by the Norwegian textile designer Annemor Sundbøis, repaired using white thread. 'I make it visible because I don't think you can hide damage,' she says. 'It's so tender working with something handmade.'

Gamperl too finds beauty in imperfection, his oak vessels visible with knots and the wood's natural grain, then carved with his own hands. 'The oak is naturally deformed – it's a mixture of perfection and imperfection,' he says. 'The parallel grooves I have made add a deepness to the piece. For me, craft is about that personal union.'
The Loewe Craft Prize's impressive panel of judges included, from left, architect Benedetta Tagliabue; designer Naoto Fukasawa; Design Museum London director Deyan Sudjic; designer Patricia Urquiola; jewellery designer Gijs Bakker; Vitra chairman emeritus Rolf Fehlbaum; Loewe creative director Jonathan Anderson; Loewe Foundation honorary president Enrique Loewe; author Anatxu Zabalbeascoa; and W editor-in-chief Stefano Tonchi
Japanese glassmaker Yoshiaki Kojiro was presented with a special mention award for 'Structural Blue' (2015) a bowl crafted from copper oxide and glass powder with a liquid like bubbling centre
Husband and wife Antonio and Verónica Cornelio from Mexican family basket-weaving business Artesanías Panikua also received a special mention for their weaved piece 'Tata Curiata' (2016) that depicts a sun deity
Interested in the dialogue between repair and mending, London-born artist Celia Pym's 'Norweigan Sweater' (2010) comprises a tattered hand-knitted sweater repaired using visible thread
INFORMATION
For more information, visit the Loewe Craft Prize website (opens in new tab)