Fashion's finest findings at Design Miami and Art Basel Miami Beach 2021
It wasn't only art and design aficionados that descended on Miami this week; the fashion crowd also flocked to city, including luxury houses such as Loewe, Saint Laurent and Fendi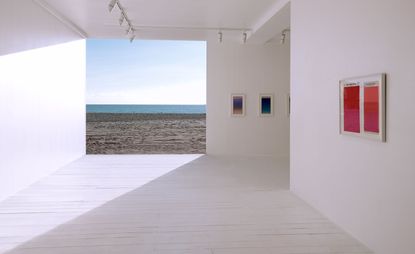 (Image credit: Robin Hill )
Sunset-inspired scenes on the Miami beachfront, kaleidoscopic Sol LeWitt artworks wrapping interiors, rippling wooden furniture produced by artisans across Botswana – a host of activations, events and exhibitions were evidence of fashion brands at Design Miami and Art Basel Miami Beach 2021. Houses including Saint Laurent, Loewe and Fendi were all on hand to inspire in the city synonymous with mammoth art sales and art deco. Here we present the Miami marvels of the fashion world.
Fashion brands at Design Miami and Art Basel Miami Beach 2021
Saint Laurent Rive Droite
Sho Shibuya's globally renowned Sunrise from a Small Window series, which began as the world entered its second month of lockdown in April 2020, features abstract gradient blocks of colour, painted obscurely over the front page of the The New York Times. The series was born out of a daily meditation on the contrast between the stable morning sky and the increasingly chaotic news cycle. Poignant pieces include a newspaper with the headline 'Biden Beats Trump' accented with an optimistic rectangle of colour, evoking an orange sun illuminating a serene blue sky; and a front page bearing the headline 'Trump Incites Mob', next to a bloody red rectangle, the outline of a punch through the paper.
A host of works from the Sunrise from a Small Window series are housed inside a futuristic red box on Miami Beach, as part of Saint Laurent's '55 Sunrises' exhibition. The show – which includes two new artworks by New York-based Shibuya, founder of brand design studio Placeholder – commemorates the 55th anniversary of the opening of Saint Laurent's first Rive Gauche ready-to-wear boutique in Paris. The new works are inspired by the brand's original logo and evoke a window through which the tones of the sunrise filter through.
Loewe
Loewe's Miami Design District store, which opened in 2015 and has played host as a gallery space to artists including Anthea Hamilton, Paul Nash, Lucie Rie and Rose Wyli, Ian Godfrey, Andrea Büttner and Anne Low, has reopened as a renovated space, with a large-scale artwork by American conceptualist pioneer Sol LeWitt.
The graphic acrylic bands of Wall Drawing #1138 (2004) wrap the interior walls of the boutique's interior in bold hues, marking Loewe's commitment to creating striking retail spaces that showcase its collection of art and design. Similarly, pieces by Erika Verzutti, Loewe Foundation Craft Prize 2021 finalist Takuro Kuwata, and Sir Edwin Lutyens populate the brand's newly opened Lisbon store in Portugal. The Miami boutique's glass façade offers passers-by a glimpse of the large-scale Sol LeWitt work, alongside 20 black ceramic vessels by Japanese artist Kenta Anzai.
Fendi
Designed by Peter Mabeo and produced by artisans across Botswana, the Fendi Mabeo collaboration is a ten-piece collection exploring local craft and pushing traditional techniques and materials in new directions. The collection includes the Gabi-Gabi sculpture, a large-scale centrepiece made of galvanised metal sheet, and recreated in a smaller version in the 'Gabinyana' brass table lamp; and the 'Shiya' seat, made of panga panga wood and plywood. Reaching into different experimental territories is the 'Foro' chair, which moves away from the idea of a clay object being a monolith and instead uses the material to create an archetypal seat (an additional version is made of panga panga wood).
Looking at the pieces in this collaboration is like exploring a map of craft in Botswana, as Mabeo called upon an extended network of artisans to bring each design to life. 'We've travelled all over the country, we've engaged basket weavers, metal workers, people practising ancient techniques, as well as our local wood and metal artisans,' he explains. Human connections were key to bringing the pieces together, he adds: 'I didn't want to just employ the materials for the sake of it, but to create an opportunity to engage with the craftspeople who are still custodians of these techniques, going back so long.' Writer: Rosa Bertoli §