Maria Porro: 'We are pouring our hearts into Supersalone'
Newly appointed Salone del Mobile president Maria Porro is the first woman in the role. She talks to Wallpaper* Milan editor Maria Cristina Didero, a Supersalone colleague, about her plans to focus the fair on design, sustainability and creative encounters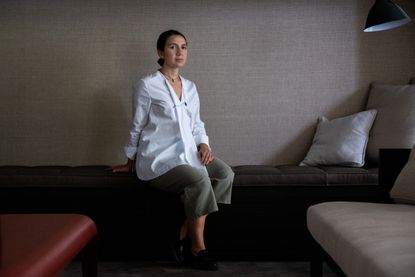 (Image credit: Press)
In July 2021, Maria Porro was nominated to lead Salone del Mobile (opens in new tab), the first woman in the role. It is a solid and happy choice: born in Como in 1983, she is former president of Assarredo (the trade association for Italy's furniture manufacturers), and head of marketing and communication of design brand Porro, co-founded by her great-grandfather.
'We are pouring our hearts into organising Supersalone because we believe it's crucial to go back to meeting each other, to conduct relationships and see for ourselves the products that our companies have carried on creating.' This is how Maria introduced the upcoming edition of Salone del Mobile, a 'Supersalone' curated by architect Stefano Boeri. In the expression 'pouring our heart', we can find the desire and strength to restore optimism after the pandemic.
Maria Porro: a life in furniture
Maria has always been close to the creative world at-large; having graduated from Milan's Brera Academy of Fine Arts with a degree in set design, she worked within the fields of theatre, events and curation, and conceived Porro's Salone presentations, to which she brought a personal passion.
Her relationship with design is well rooted: her great-grandfather Giulio co-founded the family brand in 1925, and it was developed further by her grandfather Carlo and her father Lorenzo. The latter studied alongside Giulio Cappellini and Piero Lissoni, and through his work at the company, combined the concepts of architecture and space with furniture design.
I grew up with Salone del Mobile. It was a feast
Maria recalls: 'I grew up with Salone del Mobile. When I was a kid, my grandfather used to take me along to the fair at the old venue. It was a feast.' She joined the family company in 2014 as director of marketing and communication, crucially focusing on sustainability and quality.
Maria Porro and Salone del Mobile: focus on sustainability
'Design, sharing and sustainability are the key words for this supersalone edition,' says Maria. For the 2021 edition of Salone del Mobile, the plan is to recycle installations, saving 1.2 million kilograms of CO2. 'We have to commit to a better world as soon as we can; this year we are all facing this Salone with a great sense of responsibility.'
You get the sense that her commitment to protecting the natural world is a personal, as much as a professional one. 'To me, nothing is more important than culture, and to be in direct contact with nature. I like to differentiate experiences in my personal life and share them with my family: I love to bring my three children to the Scala in Milan, but also to camp in woods with them.'
When asked what she would like to pursue with her new appointment she says: 'I have come to the fair since I was a child, and I have always been impressed by the fact that Salone is actually about encounters. You meet people walking down the halls, you talk to those you don't know, you get to know some others, you (sometimes literally) bump into an architect or a designer.
We have to commit to a better world as soon as we can; this year we are all facing this Salone with a great sense of responsibility
'For Porro, this particular fair has represented an opportunity for business as well as creative dialogues,' she continues. 'The fair has always had a key role in the world of Made in Italy, as well an international scope. While I'm covering this position I would like to invest in quality, to keep the leadership that Salone established within the industry for many years.'
Maria describes collaboration as a key aspect of her approach. 'I have always worked in events, so I learned that team work makes the difference. It is a special feeling. I particularly enjoy the association of energies of different roles in order to reach a mutual goal. I tried to bring into my company this idea of collective effort, and I'd like to do it at Salone.'