Mothers and sons on generational wisdom and self-care
Hear from the founders of Ormaie, Melyon, and Guy Morgan, who all created brands inspired by their mothers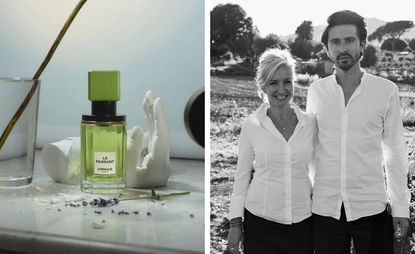 (Image credit: press)
Mother knows best, the saying goes, and in the case of three beauty brands, Ormaie, Melyon, and Guy Morgan, that's certainly the case.

Here, we speak to the brands' creators and their mums, learning more about the generational wisdom that inspired each brand and the lessons they've learned from each other along the way.
Ormaie
French fragrance brand Ormaie was founded by the mother and son duo Marie-Lise Jonak and Baptiste Bouygues. The brand began when Bouygues approached Jonak with the idea of creating an entirely natural perfume made without any synthetic ingredients. Jonak, who has her own illustrious background in fragrance-making, agreed to take on the challenge and after two years of production trial and error the pair launched Ormaie.

Since then, the brand's distinctive fragrances and Brâncuși-inspired bottles have quickly garnered it a dedicated following and a Wallpaper* Design Award nomination.
W*: Baptiste, how did you and your mother come up with the idea for Ormaie?
Baptiste Bouygues: I always wanted to create. And my family had always been in the fragrance world. With the Ormaie fragrances, I wanted to talk about moments or people that were for me charged with emotions, that were poetic. I believe that's why today people are touched when they smell our fragrances.

When you talk about things that are so personal it speaks to everyone. Yvonne [an Ormaie fragrance] is the name of my grandmother for example, and Le Passant [another fragrance] is the smell I remember from my father.

My mother is one of the best directors of creation in the world for fragrances and I knew I needed to work with her if I wanted our fragrances to go that far. What is amazing when you work with your mother is that she knows the smells I am talking about. We have the same olfactive history. We lived in all of the same places. I can tell her, this smells so much like the soap in my grandmother's house and she will know exactly what I am talking about.
W*: What is one lesson you've learned from your mother about beauty or self-care?

BB: She has always told me to hydrate my skin but frankly, I never do it. I think it is more in the lifestyle, of eating well, the fruits and vegetables from the garden. I think there is such an elegance in exceptional natural products. That is probably what was the most influential.
W*: Marie-Lise, what have you learned from your children about beauty or self-care?

Marie-Lise Jonak: I think the main beauty routine Baptiste told me is to laugh a lot and cook for a lot of people. That constant creativity also. My daughter taught me some skincare beauty routines but it's not really Baptiste's area of expertise.
Melyon
Roger Dupé launched Melyon last year as a skincare brand made with people of colour in mind, offering vegan formulations that target conditions commonly found in darker skin tones while still being suitable for all.

Dupé was born in Västerås, Sweden to parents who had immigrated from West Africa. It was his mother in particular who taught him the importance of skincare and, as Dupé has noted, although his parents 'with their working-class background, struggled to provide [me] clothing that was up to the latest trends', they always ensured his skin was impeccably taken care of, 'a form of love that transformed into a feeling of excellence that no one could take away'.

With Melyon, Dupé hopes to pass on the same confidence skincare gave him.
W*: How did your mother influence the creation of Melyon?

Roger Dupé: She told me quite early that there was a lack of beauty products created for her needs. I decided to create products that targeted her needs and people with darker skin tones but without excluding anyone. I wanted to lift a minority that is the majority globally, developing products for their needs and showcasing their beauty visually.
W*: What is one lesson you've learned from your mother about beauty or self-care?

RD: My mother influenced [my understanding of] taking care of yourself. You can always feel good and look good without expecting that expensive material things are necessary for that. It gave me a form of self-love that I'm looking back on as I become older. In Western Africa, where my parents come from, skincare is also a form of self-love that my people have been doing for generations. Taking care of your skin is more than a daily routine, and silk-soft skin is seen as an affordable status symbol.
Guy Morgan
Guy Morgan began experimenting with making skincare in his teens, taking the lessons he learned from his botanist mother, Chrissy Morgan, to create organic creams and ointments. By 22, Morgan had launched his eponymous line of vegan skincare, using ethically sourced and wild-grown ingredients. The brand's tight edit of seven products is hand-blended in Morgan's east London studio to ensure it's always fresh and up to standard.

Wallpaper* readers can create their own Guy Morgan mask from home with this simple to follow recipe.
W*: How did your mother influence the creation of Guy Morgan?

Guy Morgan: She introduced me to the concept of cleansing with grains, which I believe was in vogue back in the 1970s. As an acne sufferer I'd tried many commercial solutions and found them to be stripping on my inflamed skin. This led me to experiment with ingredients like clays and botanical powders, beginning the journey of Guy Morgan.

W*: What is one lesson you've learned from your mother about beauty or self-care?

GM: Certainly a paired-back approach. Sometimes leaving things alone really is the best approach!
W*: Chrissy, what is one lesson you've learned from your son about beauty or self-care?

Chrissy Morgan: Guy opened my eyes to modern thinking when it comes to skincare. The thought of using oils on your skin seemed counterproductive, now I love using a good face oil, or even just a raw plant oil, like rosehip or argan. Bellissimo!
INFORMATION
ormaie.paris.com
melyon.com
guy-morgan.com
Receive our daily digest of inspiration, escapism and design stories from around the world direct to your inbox
Writer and Wallpaper* Contributing Editor
Mary Cleary is a writer based in London and New York. Previously beauty & grooming editor at Wallpaper*, she is now a contributing editor, alongside writing for various publications on all aspects of culture.