Introducing the Swedish fragrance brand inspired by high-rise architecture
Founded in Sweden by emerging creative Haisam Mohammed, fragrance brand UNIFORM is gaining momentum internationally. Here, Mohammed walks us through his creative process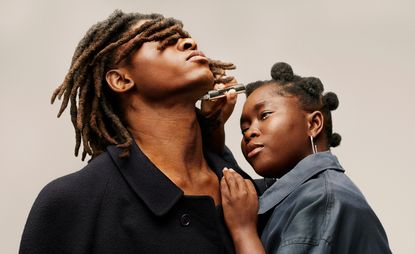 (Image credit: press)
Haisam Mohammed often found himself drawn to the stairwells of the Swedish high rise buildings he grew up in. It was in these meeting points between homes that the scents from the different households would cascade – from cooking, incense burning, and spices.

The son of immigrants who had escaped the conflict in Eritrea, Mohammed's upbringing saw him surrounded by many different cultures – inspiring a passion for design, architecture and beauty.
Fast forward to 2018, and he would channel this inspiration into his independent fragrance brand, UNIFORM – a vegan, cruelty-free range of perfume oils produced in France.

Blending the minimalism of Scandinavian design with transportive scents drawn from around the world, the brand recently captured the attention of A-COLD-WALL* founder, Samuel Ross, who selected it to receive a grant from his foundation supporting Black-owned businesses.

We caught up with Mohammed to talk about developing the range, how the beauty industry can become more inclusive, and why the future of luxury is sustainable.

Wallpaper*: How did UNIFORM come about as a brand?
Haisam Mohammed: Throughout my life, I have always sought for new formats to express and communicate different cultural messages, but the one format that always stuck in the back of my head, was scents.

So UNIFORM began as a passion project. My interest in scents started in the stairwells of the high-rises in Sweden. Both the one I grew up in, and the ones that I visited throughout my upbringing. The smell of food cooking, incense being lit and spices being blended used to sip through the cracks of the doors of these families and accumulate in a special scent that I have had with me throughout my life. Hence the name UNIFORM.
Talk us through your three signature scents in the range.
Maghrib, which means sunset in Arabic, is our first creation. It was inspired by the experiences of watching the sunset from the rooftops of the high-rises during summer nights. It has cedarwood and tobacco in it, and is the scent that I most clearly recognize from my childhood home and, as I later came to realise, the homes of many more ethnic families as they were cooking, burning incense, and blending spices in their home.
Limbo is inspired by my personal experience of the conflicting emotions that I experienced while commuting between the city center and its outskirts where I live. You either feel like it is an escape or a refuge – therefore the name Limbo. It's our most complicated scent, with a combination of rhubarb, hay, and sandalwood.
Cassis is inspired by the first-millisecond of scent you experience when disembarking a plane at a new destination, preferably in the south of France. It's a fig-scent with elements of sandalwood and coconut.
What was your experience of growing up in Sweden?
My experience growing up was split between two places. A small town in the northern part of Sweden and Stockholm. There were kids from the diaspora in both places, and we managed to build our own culture, way of life, and language to communicate based on our parent's heritage and the cultures we now resided in.

We were probably the first generation that grew up with the internet, so I managed to discover things within music, arts, and even food that the previous generation could only dream of. During this time I also understood the power of culture and that it sees no geographical borders. I began to understand that a person living 4000 miles away in a city like New York could still be interested in the same things I was.
How does this mix of cultures express itself in your scents?
Not only does the mix of culture express itself in our scents, but also the format that is presented in. Perfume oil is not as big of a deal in the West as it is in some parts of Africa and in Asia. I wanted to introduce the format to a new audience but I have great respect from where it came from. I discovered perfume oil from my father's collection, which was made up of scents he bought from the mosque and carried with him at all time.
How have architecture and design shaped the vision for UNIFORM?
They are a huge part of the vision. For our first installation display inside the department store NK, we commissioned the designer Simon Skinner to translate our brand into a physical art piece and the outcome became a structure inspired by the high-rises made out of limestone blocks.

In an architectural sense, the brand stands on the idea of the stairwell, not only just being a place where you move between different levels but also a gathering location. A place where great conversations are taking place about everything from art to science to politics.

In Sweden, a defunding of youth centers has been going on for years. Every winter when the youth centres were closed and we had nowhere to go, we always used a random stairwell as our meeting place/office/think centre until we got kicked out.
Redefining what luxury means is a key part of UNIFORM. Is this a shift you see happening in the world right now?
Definitely. In our case, we want to redefine what luxury must look like or where it comes from. In a standard measure, UNIFORM would not be considered luxury based on our background, where our story stems from, and how accessible we want our products to be. But luxury for us means high-quality products that are produced with a lot of care and attention to details. Luxury has nothing to do with heritage or who stands behind the brand.

The shift I see happening is that younger people's aspiration has gone from wanting to buy luxury products to aspiring to buy sustainable products that they can show off. Sustainability is now the new luxury.
The packaging and design for the scents are very distinctive and minimal. How did you develop these?

UNIFORM was designed to be sleek and a product that you could carry around in your pocket or handbag at any time. It should be so convenient that you pick it up and apply a small amount throughout the day to feel your best. When it came to the bottle – the process was that it needed to be a statement piece to the degree that when you pull out the UNIFORM in public, everyone is intrigued.

Because the bottle draws a lot of focus, I wanted to keep the packaging very minimal and just include the essential information. I enlisted the help of my friend Fredrika Larsson who designed the logo and helped with the packaging.
How do you think the beauty industry can be more representative? Do you feel that any progress is being made?
In two ways. Either we hire people who truly get the need for representation and are going to make a difference. Or we start our own brands like Fenty.

The beauty world has been getting better at showing diversity in front of the camera, but behind the camera there is a long way to go. Directors, photographers, make-up artists, and more important – clients still lack knowledge about why representation is important. I'm starting to think that people who do not work towards more representation, just don't want to see improvement for under-represented groups. In this day and age, it is no longer about not knowing how to go about it. There is plenty of information online that only requires a Google search. For example, my friend created the platform Afripedia which is a curated database that connects clients and individuals with top African creatives around the world.

To be able to create innovation and further an industry you need more perspective. That is scientifically proven. You need to be open to listening and trying to understand people who don't come from the same walks of life as you. Inclusivity should not be seen as goodwill or something charitable. It should be seen as a crucial part of an industry or a brand that wants to survive in the future.
You recently received a grant from Samuel Ross and A-Cold-Wall's foundation to support Black-owned businesses – how do you plan to use this to develop the brand?
I am very grateful to Mr. Ross that he is using not only his platform but also his brand's capital to inspire and uplift Black-owned businesses. That is admirable. As somebody who has financed this brand solely from my pocket, I plan to use the grant towards the expansion of UNIFORM to different parts of the world.

I said to Samuel that the plan is to pass it forward. My philosophy is that when somebody opens a door for you, you must do the same for the next person. This grant is no different. I plan to give back the same amount to the next creative entrepreneur that I meet in the near future.
What is coming next for UNIFORM? Do you have plans to develop the product range further?
We are excited for UNIFORM to be accessible in new markets and sharing our work with a lot more people across the globe. We are also looking forward to collaborating with cross-disciplinary artists to find ways to experience our perfumes in different contexts that will challenge their perception of scent.
INFORMATION
barbican.org.uk
Receive our daily digest of inspiration, escapism and design stories from around the world direct to your inbox