Boy Smells on queer history, The Trevor Project, and celebrating Pride at home
Candle brand Boy Smells' co-founder Matthew Herman and artist Richie Shazam discuss their mutli-platform celebration of Pride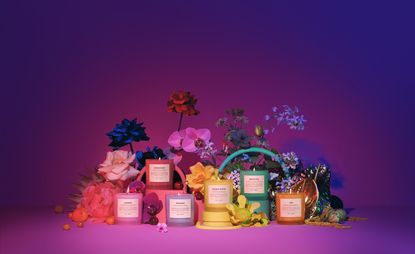 (Image credit: press)
Matthew Herman and David Kien launched Boy Smells in 2016 with a mission to revolutionise the market. Recognising that most products were advertised as either male, female, or genderless, the duo created a range of 'genderful' candles designed for a full spectrum of identities that extend beyond binary definitions.

Blending the traditionally 'masculine' scents of heady musk and smoke with stereotypically 'feminine' florals, their black and pink candles illuminated the need for a new, non-homogenous market that offered products to people of all identities.
Now, four years later, Boy Smells has launched its first-ever Pride campaign, with a collection of multi-hued candles championed by a variety of recognisable voices in the LGBTQ+ community- including drag star Naomi Smalls, R&B musician Rileyy Lanez, actor Alex Newell, Houston Ballet Soloist Harper Watters, and singer Vincint.

Every week, a different ambassador will host a social takeover on Boy Smells' platforms, with the aim of generating meaningful dialogues around inclusivity and diversity. Proceeds from the campaign will be donated to The Trevor Project, a non-profit organisation focused on suicide prevention and crisis intervention for LGBTQ+ youth.

To celebrate the campaign, we spoke to Boy Smells co-founder Matthew Herman and brand ambassador, artist, photographer, and model Richie Shazam about the project and what they'll be doing for Pride this year.
W*: Why did you develop these particular 6 scents for PRIDE and what do they represent?
Matthew Herman: The PRIDE series features six of our best-selling scents, including some re-releases of past limited editions – Damasque, Cedar Stack, Prunus, Cameo, Anjelica, and LES – they are presented in limited-edition, hyper-natural hues to represent our vibrant Boy Smells universe.

Each scent has complex, diverse ingredients and fragrance profiles that we hope represent the diversity and uniqueness of the LGBTQ+ community. No one Pride flag can represent all of us, and we wanted the candles to mirror that and to celebrate uniqueness and differences.
W*: Tell us about Boy Smells' relationship with The Trevor Project and how this came about?
MH: We're proud to provide critical funding to The Trevor Project to lessen the mental and economical strain the pandemic has on youth and adolescents.

Especially now, The Trevor Project's platform is essential to the LGBTQ+ community. As the world's largest suicide prevention and crisis intervention organization for lesbian, gay, bisexual, transgender, queer & questioning (LGBTQ) young people, The Trevor Project reports that since the pandemic began, calls to their organisation have at times more than doubled, with at least 25 per cent of users mentioning coronavirus. We're proud to support the nonprofit's incredible initiatives with a digitally native campaign at a crucial time.
W*: What was it about Boy Smells that made you want to collaborate with the brand?
Richie Shazam: Boy Smells is a strong ally and advocate and their partnership with The Trevor Project is a vital and powerful tool.
W*: What will you be doing for your Boy Smells 'Colour Takeover' this week?

RS: I am continuing to activate my platform with the images that I am shooting at the rallies and marches that are fighting for us and our community. I feel a sense of responsibility and empowerment to use my platform for raising awareness and to show the world that we will be no longer be silenced.
W*: Are there any resources you'd like to suggest for those seeking to educate themselves more about the philosophy and history around the Pride movement?
MH: I follow @LGBTHISTORY a great archiving of the history of the queer community.
RS: At this moment, we are fighting for survival. I believe that everyone should be utilising their resources to amplify our voices and to fight for our rights and our existence, by any means necessary. To attend rallies and marches to show your support in solidarity— this is a powerful moment in our history! Continue to donate, spread awareness, and have those essential conversations within your circles.
W*: How will you be celebrating Pride this year? Any ideas for keeping at-home Pride celebrations vibrant?
MH: Pride is the anniversary of the Stonewall riots. Its history is based on revolution. Get involved, write your elected officials, donate to the causes you believe in. We have inherited so much privilege from the generations that stood up before us, let's now stand up for those who still suffer inequality within and outside of the LGBTQ+ community. Much of that work can be done from the comfort of your own home.

RS: Pride has always been a celebration. We are now able to rally together to provide access to resources and use social media to educate others, especially since this is a time where we have the attention and support of so many allies
INFORMATION
boysmells.com (opens in new tab)
Mary Cleary is the Beauty & Grooming Editor of Wallpaper*. Having been with the brand since 2017, she became an editor in February 2020 with the launch of the brand's new beauty & grooming channel. Her work seeks to offer a new perspective on beauty, focusing on the pioneering personalities, product designs, and transformative trends within the industry.