West Side Story: Hauser & Wirth's new Chelsea outpost is big, clever and inclusive
An exclusive first look of Hauser & Wirth's forthcoming new building on Manhattan's West Side, headlines our May 2020 issue (W*254). Designed by architect Annabelle Selldorf, 542 West 22nd Street is the first purpose-built, ground-up space for the Swiss mega-gallery. We went behind-the-scenes earlier this year, while the building was in its final stages of construction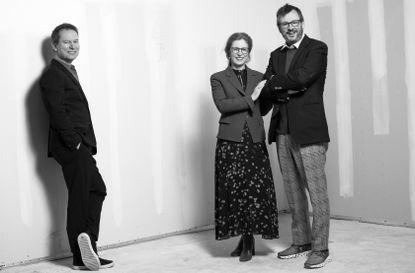 (Image credit: Brigitte Lacombe)
Few neighbourhoods in New York have undergone a transformation as striking or significant as Chelsea. Once an industrial district, its gas stations and warehouses gave way to the inevitable tide of gentrification in the 1990s, after decades of neglect. An influx of art dealers decamping from the bubble of SoHo cemented its designation as the city's artistic epicentre – though traces of its history still reverberate in the column-free spaces and red-brick façades that make up its warren of high-end commercial galleries and luxury residential developments.
On a grey day during Armory Week, it's the tony neighbourhood's newest addition that has us braving New York's fickle weather. Taking shelter in Hauser & Wirth's West 22nd Street bookshop from the sputtering drizzle, we don the necessary safety gear before the brisk walk next door. Inside, the air is coloured with dust and the lingering balm of freshly dried paint. Nearly every sight line out of Hauser & Wirth's still under-construction new home by Selldorf Architects leads to buildings cocooned in scaffold netting. Chelsea seems poised to emerge anew.
Swiss husband-and-wife team Iwan and Manuela Wirth have maintained a close relationship with Annabelle Selldorf since the gallery's inception in 1992. Past collaborations with Selldorf 's firm have seen the creation of galleries in a former brewery complex in Zurich; the Roxy roller rink on West 18th Street and an Upper East Side townhouse in New York City; a listed bank building in London; and an abandoned flour mill in Los Angeles (see W*205). Until now, the Wirths had mostly sought out buildings with rich architectural histories, drawing on their 'innate character'. But this latest project, notably, is the first purpose-built, ground-up building for Hauser & Wirth.
The new five-storey building sits next to Hauser & Wirth's current Chelsea space in the former Dia Center for the Arts, although the two galleries won't be physically connected. Its ground and first levels feature sliding concertina-style glass doors that completely fold away – a first for Selldorf in any of her projects, she notes – opening the façade up to facilitate the installation of larger artworks, as well as enticing passers-by with the art on view. The building's masonry façade will stand in stark contrast to the original red-brick buildings that line West 22nd Street. Selldorf has conceived a grey palette comprising sustainably-sourced concrete blocks and zinc panels, punctuated by generous glazed openings.
A multipurpose bar and event space on the second level will be used for a programme of artist talks and public gatherings. Private offices and viewing rooms (with interiors outfitted by Rafael de Cárdenas to evoke domestic interiors) and more exhibition spaces occupy the upper levels, including a cathedral-like gallery – high-ceilinged with clerestory windows – at the top. Even unfinished, and strewn with construction debris instead of the art that will eventually be shown here, this expansive space speaks of the Wirths' ambition.
The new building offers Hauser & Wirth new levels of flexibility. It offers its artists space big and smart enough to match their ambitions, to display large-scale works and larger-scope exhibitions. And offers visitors a museum-quality viewing experience. Selldorf explains: 'When we work with a gallery or with a museum, we think: "What kind of art are you showing? How do you engage the visitor? What are the requirements to provide the greatest flexibility, but also the greatest balance between spaces?" And thinking about how people circulate in that space, what their perception is, with or without daylight – it's a process that's not entirely objective.' As such, the column-free gallery spaces lend themselves to a wide range of mediums and installation approaches, easily adapted with temporary walls or the sealing of windows to accommodate both smaller showings and blockbuster-size surveys.
Still, the anticipation lies in the space being activated by visitors. 'It is the people who bring a space to life,' Manuela explains. 'We see this again and again in the communal atmosphere of the gallery spaces we create. It has been a constant motivator since the earliest days of the gallery. The building complements the art, but should never dominate. If anything, we prefer that the building is serene and understated – a place in which our artists and team will feel at home. This is deliberately not about a grand architectural gesture.'
As with other Hauser & Wirth locations, art is integral to the fabric of the building. 'For me, the architectural experience not only supports the art experience, but is part of it,' Selldorf explains. To that end, artists Martin Creed, Rashid Johnson, Mary Heilmann and Mark Bradford are plotting permanent interventions in the stairways, lifts, and elsewhere, engaging directly with her architecture. 'Making good art spaces is an iterative process,' she adds. 'You start with an idea, then it gets thoroughly discussed, and so many factors play into it that eventually you don't even see them.'
In the interest of public health, the new gallery's opening has since been pushed back to the autumn, and Hauser & Wirth has shifted its focus to digital initiatives in the meantime.
Hauser & Wirth is not the only gallery upsizing in Chelsea. A combination of soaring rents and rampant construction has sparked an exodus of midsize Chelsea galleries in recent years. In contrast, a handful of blue-chip stalwarts and new-generation power dealers are doubling down with architecturally driven, museum-worthy spaces to attract blockbuster crowds. In 2018, Lehmann Maupin and Kasmin moved into purpose-built galleries by architects Peter Marino and StudioMDA respectively. This past autumn, Pace Gallery opened the doors to its eight-storey, 75,000 sq ft flagship designed by Bonetti/Kozerski Architecture. Meanwhile, Gagosian has expanded its 26,000 sq ft West 24th Street space into an adjacent site (vacated by Mary Boone Gallery and Pace Gallery last year), and David Zwirner is planning a Renzo Piano-designed tower on West 21st Street. But it's not just size and space that matters, it's what you do with it.
RELATED STORY
Hauser & Wirth has always challenged accepted practices, but it was its reimagining of a farmhouse in the English West Country in 2014 that proved the full stretch of its ambition. The Somerset art centre in Bruton (see W*176) has become a model for its dynamic approach to exhibition-making. 'Galleries were intimidating spaces when I was starting out,' Iwan recalls. 'I strongly believe you can have the highest calibre of exhibitions combined with an informality that feels inclusive. Although our art centres are a different model of commercial gallery, they are not institutions.' Selldorf, whose own museum projects include the forthcoming Frick Collection expansion in Manhattan, adds, 'With Hauser & Wirth, there is a kind of confluence because there is a degree of service to people by incorporating hospitality and educational programmes.'
Inevitably there is concern that the march of the new model mega-galleries in Chelsea is stifling opportunity for smaller galleries and the emerging artists they represent. Hauser & Wirth partner and president Marc Payot, who has worked with the Wirths for two decades, has been the driving force behind the gallery's growing US presence since he relocated to New York in 2008. Payot stresses that 'smaller galleries are essential to artists and to the public, and to the ecosystem of art sites where new ideas and expressions evolve', citing Hauser & Wirth's collaborative efforts with its 'great friends' Karma in New York, and Foksal Gallery in Warsaw as examples. 'We all learn from each other.'
Hauser & Wirth's blistering growth notwithstanding – in the last decade alone, it launched spaces in Somerset, Gstaad, Los Angeles, Hong Kong and St Moritz, with Menorca slated for next year – the partners insist the artists remain their priority. 'The evolution of the gallery has been gradual and based on a combination of instinct and strategic thinking. We have set out to create a diversity of spaces which mirrors the diversity of our artists' practice,' says Iwan. 'We respond to the artists' needs, rather than our spaces dictating the way they work.'
Payot adds, 'In that sense, this new building is just like all Hauser & Wirth locations: its design and development were informed by an overarching principle of creating community. We have often described Hauser & Wirth's spaces as "energy centres" where visitors can stay for a while to see exhibitions, explore books, have a coffee, participate in public programmes, and so forth. It's a way of life for us, for our team, and for our artists. And we, of course, hope it is a way of life for those who visit.'
The new gallery will open with 'The Bride of God', a group exhibition curated by New York-based writer and curator Philip Larratt-Smith. Taking Daniel Paul Schreber's 1903 book Memoirs of My Nervous Illness as a point of departure, the ambitious survey spans painting, sculpture, installation, and video art by Hauser & Wirth artists including Isa Genzken, Jenny Holzer, Paul McCarthy, Pipilotti Rist and Lorna Simpson. The roster is complemented by works by artists not in the gallery's stable, among them Francis Bacon, Agnes Martin and Andy Warhol. Payot expands: 'This breadth is a manifestation of Hauser & Wirth's global perspective and of a desire that guides our programme all the time: to connect the dots across an amazingly complex terrain of art history and intellectual history.'

One word is used repeatedly by the Wirths and Payot: 'home'. It's a thread that runs through their locations worldwide, reflected in gallery additions from the artist-designed Somerset guest house to the Los Angeles restaurant. Iwan, a self-professed bibliophile, has been instrumental in expanding the gallery's book publishing operations. Come for the art, stay for a drink at Roth Bar, and peruse the high-gloss publications on display. At its core, Hauser & Wirth is a tight-knit family affair. After all, Iwan established the gallery in 1992 with Ursula Hauser – Manuela's mother. 'Our gallery's origin as a family business touches every aspect,' says Manuela. 'We acknowledge that, as with family, relationships are very important to all of us. From this stable base, we feel free to innovate.'
A version of this article originally featured in the May 2020 issue of Wallpaper* (W*254) – on newsstands now and available for free download here
INFORMATION
Due to open in autumn 2020, 542 and 548 West 22nd Street, New York. hauserwirth.com