Review: K-style takes centre stage at 'Hallyu! The Korean Wave' at the V&A
'Hallyu! The Korean Wave' at V&A South Kensington celebrates South Korea's cultural soft power through K-art, K-pop, K-drama, K-film, K-fashion and K-beauty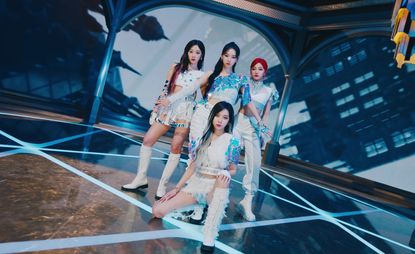 (Image credit: © SM Entertainment)
South Korea is feeling very much loved in London this autumn. Not only has the V&A South Kensington opened its highly anticipated exhibition, 'Hallyu! The Korean Wave', the Coronet Theatre, an old cinema turned international arts venue in Notting Hill, is running a month-long Korean festival (until 1 October) with an impressive line-up, aptly titled 'Tiger is Coming', and Korean artist Choi Jeong Hwa's spectacular installation of giant inflatable fruit hangs on its façade.
'Hallyu! The Korean Wave' show, the first international exhibition to celebrate South Korea's colourful and dynamic 'K' culture, is a great introduction for a Western audience. The result of painstakingly extensive research, this ambitious show attempts to cover a vast range of topics from K-pop, K-drama, K-film, K-fashion and K-beauty.
No matter your knowledge of Korean culture (opens in new tab), this is a show where you cannot avoid learning something new, whether that be the foundations of K-Pop prior to the generally acknowledged forefathers Seo Taiji and Boys, or how K-beauty capitalised on YouTube to deliver three minute-manuals for transforming your skin.
Koreans are particularly excited about the selection of Berlin-based Na Kim as the lead space designer for the show. Kim, who is known for her bold, boundary-busting approach and wishes to provoke diverse perspectives on Korean culture, picked contemporary hybridity as her key theme. To illustrate hybridity, she adopted a combination of squares and rooms to illustrate hybridity in the spatial identity of Korean culture.
The exhibition begins with a relatively small section titled 'From Rubble to Smartphones'. Exhibition curator Rosalie Kim explains that in order to illustrate South Korea's history, she selected items which would make sense as visitors move between sections exploring K-pop, K-drama, K-fashion, and K-beauty. Shin Gwang's 'We live in Seoul' poster captures poor Koreans' yearning for a more affluent urban life and an uplift in social status. There are exhibits relating to the fascinating early days of Korean Chaebols, the conglomerates which have worked so closely with the government to build modern South Korea. The country's first mass-produced car, the Pony by Giorgetto Giugiaro for Hyundai Motor Company, occupies a small space next to a little jar of Lucky Cream by Lucky Chemicals, the first product of the brand which went to become tech giant LG. A monumental 1986 video sculpture by Nam June Paik, the founder of video art, featuring 33 TV monitors, hints at how young Koreans would become the masters of a new digital era.
Section two, entitled 'Setting the Scene', focuses on the remarkable success of K-drama and film, through multimedia, installations, posters, storyboards, props and costumes. The iconic pink guard costumes and green tracksuit from the hit Netflix series Squid Game, and a recreation of the bathroom set from Bong Joon-ho's Oscar-winning film Parasite are both highlighted here. Delightful details abound, such as the grooming kit and a handwritten letter from Sook-hee, the main character of Park Chan-wook's The Handmaiden along with prop photographs of the family in the acclaimed independent film Minari.
RELATED STORY
The show seems rather shy about sharing certain beliefs on what shaped Korean culture's success. For instance, an example of Chaeekeori, a folding screen showcasing books, scholarly equipment, and precious items, so emblematic of the knowledge, self-cultivation and refined taste of the scholar-gentleman during Joseon dynasty (1392-1910), is displayed here merely to reflect academic pressures often represented in K-drama. Koreans' unquenchable desire to acquire new knowledge has long been a driving factor in the success of contemporary Korean culture. Unfortunately, there just isn't enough space in this section to illustrate the many bold young female filmmakers in South Korea, although there is a quick mention of Kim Bora's film, House of Hummingbird.
'Global Groove', charged with hefty energy and a thumping K-pop soundtrack, is destined to draw the crowd to the show. An interactive dance challenge offers you the chance to dance like a K-pop star. You follow the moves created by B.B. Trippin, choreographer for 'That That', and see them become part of an evolving collective dance displayed on a wall created in collaboration with Google Arts & Culture Lab. Watching yourself on the screen dancing with other visitors will make you feel that you've just become a part of a famous K-pop music video.
Visitors enter the gallery through a corridor lined by fan lightsticks, which glow in different colours associated with K-pop fans' favourite bands. G-Dragon, the first K-pop idol and a global style beloved by the late Karl Lagerfeld, looks invincible in Gwon Osang's sculpture, Untitled G-Dragon, A Space of No Name. Look out for new 'Idol' looks created for the V&A show by celebrated K-pop style and visual director Geeeun, who has styled Blackpink and Big Bang, and style director Balko, who has worked with BTS and NCT.
The final section, titled 'Inside Out', presents K-beauty and fashion, underlining their origins whilst showcasing the innovative and experimental approaches that have led to new aesthetic standards. There's a strong focus on how designers are reimagining the silhouette of traditional Korean costumes such as the hanbok, including Beyond Underwear, specially created for the V&A by acclaimed stylist Suh Younghee and a purple cheollik dress by Tchai Kim, who transformed the traditional Korean men's coat into a gorgeous woman's ensemble. Colourful garments by young designers with a link to Britain such as Minju Kim and Miss Sohee are also on display.
If there is a criticism, the show is a bit light on the smart juxtaposition of past and present for which the V&A is known, and doesn't seem to clearly present an overarching theme or storyline as to what brought the success of the Korean wave. Still, it is a delicious and fun amuse bouche to whet the appetite of those keen to immerse themselves in the dynamic new area of K-Style.
INFORMATION
'Hallyu! The Korean Wave', runs from 24 September 2022-25 June 2023 at the V&A South Kensington, vam.ac.uk. (opens in new tab) Supported by the Ministry of Culture, Sports and Tourism - Republic of Korea and Genesis
Fiona Bae is the author of Make Break Remix: The Rise of K-Style (opens in new tab), published by Thames & Hudson. As part of Korean Culture Month at London bookshop Foyles, Bae will be in conversation with Na Kim, lead designer for 'Hallyu! The Korean Wave', on 18 October, foyles.co.uk (opens in new tab)
ADDRESS
Victoria & Albert Museum
Cromwell Rd
London SW7 2RL
VIEW GOOGLE MAPS (opens in new tab)