K-style: understanding the rise of Korea's creative golden age
Spanning music, fashion, design and food, a new book, Make Break Remix explores the global rise and rise of Korean culture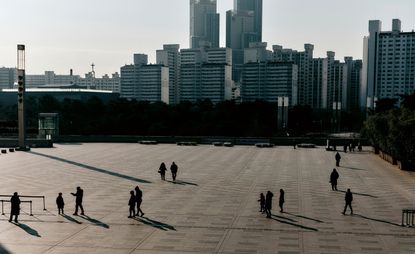 (Image credit: TBC)
From K-pop to K-fashion, there has never been a time when Korean culture has been more enthusiastically consumed and beloved by fans overseas (there's also good reason to visit – see our Seoul tour). Without a doubt, K-culture is in its golden era.
As much as it is being consumed, however, there seems to be a shortage of publications with a credible explanation for the peak popularity of Korean culture. The power of storytelling has been commonly cited as the key to the Korean film and entertainment industry's international success, but that doesn't suffice as an answer when it comes to music, fashion, design and food. Surely there must be something more that is steering the global audience to Korean culture as a whole.
New book Make Break Remix: The Rise of K-Style takes on two major questions: Why has K-style garnered so much attention and popularity globally? And what lies ahead for the Korean cultural trend? To find answers, author Fiona Bae, a long-time publicist who is based in Seoul and London, met with 16 creatives from Korea's diverse cultural fields and gained insight into their lives, work, and mantras. Deep-diving into their creative processes, the book extracts the essence of each creator's distinct identity and their perspective on the rise of K-style.
Raw yet stylish snapshots of these creators and their work environments, taken by the renowned Korean fashion photographer Less (Taekyun Kim), come as a bonus. His photo essays, interspersed with Bae's texts, reflect each of the themes. Devouring the photos may itself be a delight of reading this book.
Interviewees range from celebrated K-pop choreographer Lia Kim to lesser known but highly influential fashion designers who are leading the streetwear scene, such as Bajowoo, Ilse and Mischief. Leading names of high culture – interior designer Teo Yang, craft artist Kwangho Lee, and chef Mingoo Kang – are juxtaposed with subculture's musicians DPR REM, Hwang Soyoon, and Lim Kim. Despite the eclectic mix, the book's main focus is on Korean subculture, specifically street culture creators in the fashion and music scenes.
'My publisher and editors initially wanted to focus on mainstream K-pop and Korean fashion. However, I realised through research that subculture played a critical role in Korea in influencing the mass cultural trend,' Bae tells Wallpaper*. Referencing Danny Chung, one of the commentators she interviewed for the book, Bae points out that 'even the biggest acts in K-pop are in tune with what's happening in the subcultures of Seoul.'
RELATED STORY
Bae's interviewees are creators in the subculture scene who are influencing the wider trends, whom she believes will lead the future of K-style. She deliberately avoided featuring celebrated figures in popular culture who have already received extensive coverage. 'K-pop and K-fashion are the two pillars leading K-style overseas. At the same time, I believe Korean design will also take off and Korean food is increasingly becoming popular as well. So these potential growth sectors were also what I wanted to feature in the book,' says Bae.
To Bae, 'bold and brave attitude by Korean creatives' is what defines K-style. Defying the old order in a suppressive and competitive society and creating something of one's own, something original, is what makes K-style so special, she says.
'There is an energy that comes from this attitude. Koreans like to learn new things, [and] try new things. They are passionate. My interviewees had a common conviction about what they wanted to do and bravely moved forward. They constantly reiterate and re-mix anything cool from various cultures, with no inhibitions. In the process, new authenticity is born. This reflects the spirit of K-style.'
Competition for originality is much more intense in the digital era than ever before. As people have access to the internet, and particularly social media, they now have a better eye and taste. So creators are under constant pressure to come up with something new, something more original than what is already out there.
The four Korean fashion brands introduced at the end of the book, in a separate section written by renowned fashion editor Sukwoo Hong (aka Your Boyhood), may be the epitome of originality for K-fashion in this new era. For those keen to learn about new, fast-growing players in the Korean fashion scene, the fashion directory will be a worthwhile read.
K-style is flying high thanks to digital media, but it is both a blessing and a challenge as creators can struggle to keep up with the speed of society and fast-changing trends. What comes as a result is deeper contemplation and a search for originality. The book has a clear message: Korean culture really started to blossom overseas when creators went back to being true to themselves. In the end, authenticity matters most.
INFORMATION
Make, Break, Remix: The Rise of K-Style will be published by Thames & Hudson on 22 September 2022. thamesandhudson.com
Receive our daily digest of inspiration, escapism and design stories from around the world direct to your inbox