Jameel Prize announces first ever joint winners of the Islamic art and design award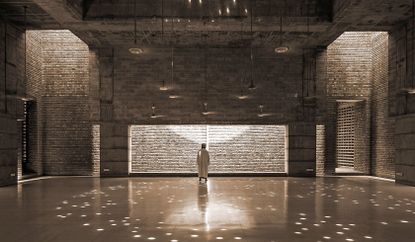 (Image credit: Sandro de Carlo Darsa)
Iraq-born artist Mehdi Moutashar and Bangladeshi architect Marina Tabassum have been announced as joint winners of the Jameel Prize 5. It is the first time two finalists have been awarded the prize, which is aimed at artists and designers who have been inspired by Islamic tradition. Fady Jameel, president of Art Jameel, presented Moutashar and Tabassum with the £25,000 prize during a ceremony at the V&A in London.

Tabassum won the judging panel over with her expressive design for the Bait ur Rouf mosque, built in Dhaka, Bangladesh, in 2012. Inspired by Sultanate mosque architecture, the mosque 'breathes' through perforated brick walls, keeping the prayer hall ventilated and cool while also creating entrancing patterns in light. 'Light is a beautiful material to work with,' says Tabassum. 'If you can use it properly – how you bring in the light, the openings and apertures – I think it can make it spiritual and very contemplative.'
Moutashar, meanwhile, received the award for his minimalist abstract works, which have roots in Islamic geometry. Now based in Arles, the artist left Iraq in the late 1960s and settled in Paris, where he encountered forms of minimalism, including geometric abstraction, which he integrated with the Islamic traditions of his homeland.

Established in 2009 after the renovation of the V&A's Jameel Gallery of Islamic Art, the Jameel Prize is awarded every two years in partnership with Art Jameel. Previous winners include Turkish fashion label Dice Kayek, Pakistani artist Ghulam Mohammad, Algerian sculptor Rachid Koraïchi, and Iran-born artist Afruz Amighi.

An exhibition of work by the Jameel Prize 5 winners and six other shortlisted artists and designers – including Kamrooz Aram, Hayv Kahraman, Hala Kaiksow, Naqsh Collective, Younes Rahmoun and Wardha Shabbir – runs until 25 November at the V&A. The show has been curated by Tim Stanley, senior curator of the V&A's great historical collection from the Islamic Middle East, with Salma Tuqan, the V&A's curator of contemporary art and design from the region.
INFORMATION
An exhibition of work by the Jameel Prize 5 finalists is on view until 25 November. For more information, visit the V&A website
ADDRESS
Victoria and Albert Museum
Cromwell Road
London SW7 2RL
Receive our daily digest of inspiration, escapism and design stories from around the world direct to your inbox