Subversive artist Cosey Fanni Tutti on individuality and annihilating limitations
Following the launch of her new book Re-Sisters, we speak to Cosey Fanni Tutti about conquering fear through action, stepping into the unknown, and the secret to making art that matters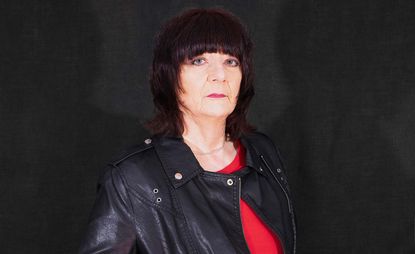 (Image credit: Chris Carter)
It is an unorthodox trinity Cosey Fanni Tutti creates between herself, Delia Derbyshire and Margery Kempe in her new book Re-Sisters.
The book recounts the lives of Derbyshire, one of the 20th century's most innovative, if under-acknowledged, pioneers of electronic music; Kempe, a 15th-century Christian mystic credited with writing the first English language autobiography; and Fanni Tutti, who interweaves stories from her own life throughout. Fanni Tutti's life story is recounted more fully in her breakout 2017 autobiography Art Sex Music, but all of the major plot points are also referred to in this new book – her childhood in post-war Hull, her role as a founding member of the performance art collective COUM Transmissions, a progenitor of industrial music with Throbbing Gristle, post-industrial and synth innovations with Chris & Cosey, and her years spent working in the sex industry as a form of performative investigation and expression.
Fanni Tutti was inspired to write Re-Sisters when Derbyshire and Kempe's stories serendipitously intersected with her own – Derbyshire's when she was approached to write the music for the 2020 film Delia Derbyshire: The Myths and The Legendary Tapes, and Kempe's when she happened upon a biography of the mystic's life in a bookstore. Speaking to Fanni Tutti over the phone from her Norfolk home, where she has lived with her life and creative partner Chris Carter since 1984, she tells me she felt a kinship with these two riotous women and became, 'interested in diving into how they felt about their lives, their experiences – what they had to do in order to be themselves. That's the core thing that brought us together, the connection between the three of us.'
'Selfhood', what that means and how we express it, is the axis around which all of Fanni Tutti's work turns; it's so important that the book is dedicated to 'Selfhood' with the word 'self' italicised throughout. Fanni Tutti's motto, 'My life is my art, my art is my life', is a summation of her belief that there is a porous boundary between our everyday activities and the higher consciousness we label creativity.
COUM, formed in 1969, was the earliest realisation of this idea. It was a forum for its members to freely enact any idea or impulse without judgement in order to, as Fanni Tutti describes in Art Sex Music, 'give free rein to ideas, about not being limited by rules or self-doubt, which lead to some confrontational situations as we challenged and broke established rules and cultural social conventions'. These 'confrontational situations' included performances in which Fanni Tutti whipped another member on an X-shaped cross after covering him in flour paste and chicken feet; and Fanni Tutti swinging across a stage as she peed through a heart-shaped hole on the seat. One performance, in Los Angeles, was so disconcerting that even Chris Burden (who was famously shot in the arm in the name of art) walked out in disgust.
It was during this period that Fanni Tutti began infiltrating the sex industry, posing for magazines, acting in pornographic films and dancing in strip bars. The experience of being in this world was part of her art, as were the photographs and other documents that would go on to become a fundamental aspect of COUM's show 'Prostitution' at London's ICA, which was so controversial it inspired a debate in the House of Commons about the state of 'contemporary art.'
As with everything Fanni Tutti does, her sex industry work was an exercise in self-expansion. She gained a deeper understanding of who she was and what she was capable of by becoming a part of a dissident environment and then pushing herself to the extremes of what she felt comfortable with. At one point in Re-Sisters, she mentions a conversation with Pussy Riot's Maria Alyokhina about the way 'actions break fear'. It was Alyokhina's phrase but it could easily be used to describe Fanni Tutti's work and her belief that fear can be conquered through knowledge, and knowledge can only be gained through experience.
When I ask Fanni Tutti why she feels the urge to throw herself into the unknown, she responds, 'I think it's down to the limitations that are put on me. Like I've said, I don't like limits. So if I'm doing something for a project, I don't just do it to the extent of what I need to do [to get it done]. That won't do. I need to know everything about it. So, like when I was doing the pornography [project] and a situation came up where they wanted to see something that I wasn't sure I wanted to do, I would think, 'Well, why don't I want to do it? And will I ever be in this position again where I can see if I liked it or not?' And it's those situations that are important to me. I have to gather as much information as I can, then assimilate it and I know that I've done it.'
Like Fanni Tutti, Delia Derbyshire and Margery Kempe pushed themselves psychically beyond what was comfortable to understand themselves. They shared a ceaseless drive to, as Fanni Tutti describes it, 'try and find a solution to the restless, unquantifiable passion and emotional expression we call creativity'. For Derbyshire, that meant creating an entirely new form of music using synthesised sounds and compositions structured around mathematical precepts (the Fibonacci sequence, Fourier synthesis), rather than traditional musical scales. While for Kempe, it took the form of an ecstatic devotion to her god, expressed through violent bursts of fitful crying, a vow of abstinence and pilgrimages around Europe and the Middle East.
For Fanni Tutti, the connection between herself, Derbyshire and Kempe 'comes back to the limitations', she tells me. 'Limits are set by other people. The rulebook for Margery was the Bible and for Delia, it was mathematics and classical music training. But then they stepped over the edge and took it elsewhere. It's very similar to me. [It's the idea that] that's someone else's version of that experience, but why did they stop there? Why can't we go somewhere further? That's really important, otherwise we don't move forward.'
One of the most affecting takeaways from Re-Sisters is not so much that all three of these women felt the urge to push themselves to such extremes, but the cost they paid for doing so. The sexism Derbyshire faced as one of the few women working at the BBC's Radiophonic Workshop from 1960 to 1973 meant she routinely had to justify what she was producing to her colleagues and, when successful, fought for recognition in her role. While at the BBC, she also started her own initiatives (Unit Delta Plus and Kaleidophon), but much of her later life was blighted by alcoholism and a series of destructive romantic and professional relationships.
Kempe faced a lifetime of derision and violence after she renounced her status as a noblewoman and devoted her life to Christ. She was arrested numerous times and had to defend herself in court against accusations of heresy. Fanni Tutti, meanwhile, was disowned by her family, villainised in the press, and repeatedly creatively undermined; in Art Sex Music, she alleged she was abused by her former partner, COUM co-founder and Throbbing Gristle bandmate Genesis P.Orridge, allegations the latter denied in The New York Times (9 November 2018).
So, after years of 'breaking fear through action', what has frightened her the most? 'There's fear and then there's intense fear,' she responds, 'and I would say intense fear is something [where] you have to suddenly act to break it and you can't go back. I think [that was strongest] when I was young and I didn't feel that I fitted in and feared that I would never find a place where there were other people like me. And I knew that unless I left the situation I was in, that family unit, I would be stuck there and feel like I was lost for the rest of my life.
'So I just did things I was told not to do until the point where my actions then got me thrown out of home,' she continues. '[I knew] those actions would get rid of the fear I had of being in this family unit where I was going to be positioned in a place in society I just did not want to be.'
Fanni Tutti did of course find like-minded people, and now, she has found widespread acceptance, even acclamation. But she doesn't care. 'I'm not the kind of person that gets accepted and thinks, "Now I've got a formula so I'll stick with that." That's what success is called [and] I'm not interested in that,' she tells me.
If anything, she thinks that our culture's emphasis on acceptance and approval has fractured culture rather than united it. 'There are so many more people now than there were a few years ago who are following trends and not actually listening to themselves,' she says. 'They are almost being someone else and I think that leads to a lot of frustration and possibly even depression. You have to listen to yourself and experience the world in your own way. It is about individuality, and the more we have that, and the more we express it, the world would move forward, we'd be more compatible with one another, rather than like clones.'
But she has hope that things are changing, with more insurgent creatives coming onto the scene; although, she concedes, 'it's terrible that we have to hit rock bottom in this kind of crisis for people to get angry [and expressive] enough'. She notes that some of the projects exciting her at the moment are musicians such as Gazelle Twin, Lucrecia Dalt, Hannah Peel and Squid's performance at Glastonbury this year.
Fanni Tutti isn't one for teaching lessons, but any creative might be wise to adopt her philosophy.
'If you do something with the rule that people will accept it and like it, [and] make it marketable and [then] it doesn't work, the sense of failure is on you,' Fanni Tutti says. 'Whereas if you do your own work the way you want it, then it doesn't matter if anyone else likes it because that's the way it's meant to be. You haven't compromised yourself in any way.'
INFORMATION
Receive our daily digest of inspiration, escapism and design stories from around the world direct to your inbox
Writer and Wallpaper* Contributing Editor
Mary Cleary is a writer based in London and New York. Previously beauty & grooming editor at Wallpaper*, she is now a contributing editor, alongside writing for various publications on all aspects of culture.