Remembering Chris Burden: his dizzying kinetic sculpture and limited edition Wallpaper* cover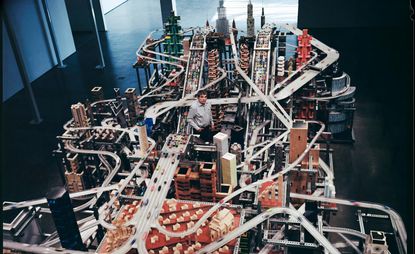 (Image credit: Florian Maier-Aichen)
Wallpaper* Newsletter
Receive our daily digest of inspiration, escapism and design stories from around the world direct to your inbox
Thank you for signing up to Wallpaper. You will receive a verification email shortly.
There was a problem. Please refresh the page and try again.
US artist Chris Burden was renowned, not least, for having himself nailed to a VW Beatle in 1974 – as performance art – thus inspiring David Bowie's 1977 Joe the Lion track ('Nail me to your car and I'll tell you who you are'). The news of the American sculptor and pioneering performance artist's death has come as a shock to many; he passed away in the early hours of Sunday morning at his home in Topanga Canyon, California, having lost his battle with cancer.

While the art world mourns his loss we remember his dizzying kinetic sculpture at the Los Angeles County Museum of Art and the limited-edition cover he created for W* 156…

In 2012, the Los Angeles Museum of Art (LACMA) installed Metropolis II (2010), Chris Burden's large kinetic sculpture, a Gordian knot composed of plastic roadways, toy train tracks, Erector sets, Legos and blocks. More than a thousand miniature toy cars zip through the model city at 240-scale miles per hour.

Three conveyor belts motor the cars into position and then let them fly. As wheels hit the road, the gallery fills with a familiar sound: traffic.

Metropolis II is quiet when Burden walks into the gallery before it opens to the public, like a city asleep before rush hour.

Is Metropolis II LA? Burden is non-committal: 'It could be Dubai or India or China. I think ultimately it's any city.'

The artist greets the Metropolis II operator, a LACMA conservator in a pit-stop jumpsuit. Her job is to make sure traffic runs smoothly. In 2004, when Burden installed a smaller Metropolis in a museum in Japan, the tricked-out Hot Wheels has a tendency to fall off the track. This time Burden has produced his own multi-coloured fleet, each car custom-outfitted with magnets to hold it to the track and tyres with Burden's name on the sidewalls. For our limited-edition cover (pictured here), he played car salesman, lining up the cars in an eternal bumper-to-bumper jam for a dealership portrait.

In LA, because every day brings near-perfect weather, people talk about the traffic instead: back-ups on the Interstate 110, an accident on the 405. Burden's route to LACMA from his home studio – takes an hour on a good day. With a late start, he made it in 40 minutes.

Burden has lived in the Los Angeles area since he moved to Pomona for college in 1965. He's been through smog, riots, earthquakes and fires. Challenging performance art pieces positioned him as a figure in the LA art scene in the early 1970s. He took a .22 rifle bullet in his arm for Shoot (1971) and sat for hours on a ladder above a pool of electrified water for 220 (1971). In 1974, he staged Trans-Fixed from a garage in Venice, California: he had himself crucified to the roof of a VW Beetle, a nail hammered through each palm; the car was pushed into the street, the engine revved, a photo taken, and then the car was uneventfully returned to the garage. 'That was my first car,' Burden says. In 1975 he created B-Car, a go-kart-like vehicle capable of 100 miles per hour that was almost human-sized version of the toy cars in Metropolis II. Burden's obsession with cars, and all modes of transport, has led him to collect dozens of vehicles, including a Lotus, a Gray Line bus, four bulldozers and a crane.
Receive our daily digest of inspiration, escapism and design stories from around the world direct to your inbox