Conrad Shawcross plays with the dimensions of time for Royal Salute
Time Chamber, a new work by Conrad Shawcross for Royal Salute, is the second edition in the brand's Art of Wonder collection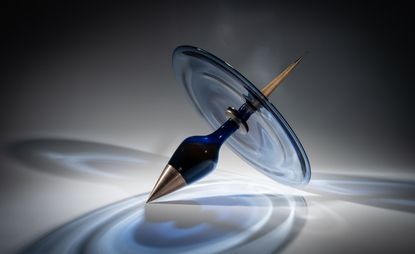 (Image credit: Courtesy of Conrad Shawcross x Royal Salute)
Few would argue that in the amber depths of a special, aged whisky, things can get philosophical. Worlds may unfold, time may even start to bend. This is certainly true when it comes to the Time Chamber, a new work by Conrad Shawcross for Royal Salute. The second edition in the brand's impressive Art of Wonder collection, the Time Chamber – unveiled at Frieze London 2023 – mesmerised guests at an immersive private tasting salon. It's a work that simultaneously showcased the link between the concept of time in the realm of fine art and in luxury whisky, while pushing the boundaries of what a spirits brand artist collaboration can look like.
Royal Salute's Art of Wonder series debuted last year with a mobius strip sculpture by feather artist Kate MccGwire. The programme, which celebrates cutting-edge creativity through partnerships with some of today's most visionary artists, invites them to take inspiration from the craft of whisky blending to create a lasting tribute to the transformative power of creativity. MccGwire's piece, entitled Forces of Nature, was two years in the making and set the tone for a series that is increasingly exciting as it evolves.
For his concept, Conrad Shawcross has developed a body of work under the title 'Beyond the Beginning'. It centres on the Time Chamber, an oblong crystal decanter merged with a sapphire blue, hand-spun glass disc. Together they represent time's many dimensions and hold a bespoke Royal Salute blend. As Shawcross explains: 'The disc reflects the endless star systems in the night sky, while the spindle and decanter form a sort of spike, like an arrow through a target which represents a vector of time, implying strong directionality.' The piece sits alongside a light installation, The Limit of Everything, composed of three articulated arms, casting moving shadows and illumination through the space.

A British artist internationally renowned for his innovative, thought-provoking installations, Shawcross is member of London's prestigious Royal Academy of Arts, and has built his practice around works which blur the boundaries between art, physics, and philosophy. Imbued with the appearance of scientific rationality, his creations explore complex mathematical and scientific concepts through mesmerising mechanical structures, geometric forms, light, and movement.
For this commission, Shawcross was inspired following a visit to Strathisla Distillery in Scotland. 'The most precious Royal Salute blends are safeguarded here. I was struck by the sheer amount of time contained in the age statement of this bespoke blend and wanted to capture this in multiple elements of the art piece,' he says. His sculpture reflects time as both a measure of duration and a force of change. 'Cumulatively, time can transform matter. With enough time, even galaxies and solar systems take shape.'
Each spun piece of glass is symbolic of the galaxy, explains Shawcross. Piercing the glass disc, like an arrow through a target, the spike through the centre speaks to time's dual functions. One half is a turned oak spindle, which pays tribute to the casks that age Royal Salute's ultra-prestige blend, and the other half, in Dartington Crystal, the long-necked decanter that contains it. 'It invokes the idea of a planetary envelope with bubbles inside, as if spinning through the cosmos,' muses the artist. 'Just like those simulations showing Earth and planets revolving around the sun, it zooms out to reveal the sun hurtling through the galaxy, and everything tends towards flatness, much like a school of fish following a whale through space.'
Much of Shawcross' work combines aesthetics with functionality, and beneath that, there's often a minimal, metaphysical, and poetic core. 'I aim to merge the practicality I see with the authority it exudes. It's like putting on the cap of an engineer when designing. We're building systems or modular mechanical objects rationally.' His ideas relate to different scales of time, extending into the realm of time beyond human comprehension.
Time Chamber will be released in a limited quantity of 21 editions, each holding a bespoke 53-year-old blend of Royal Salute whisky – an age that alludes to 1953, the year Queen Elizabeth II was crowned and Royal Salute was born as a gift to the new monarch. For Shawcross, it's about much more than history, however. 'The notion of the 53-year-old whisky connects to the concept of longevity and sustainability, like planting a forest for the next generation,' he says. 'It's about investing in a future beyond one's lifetime, a time frame beyond the scope of a single human existence.'
Time Chamber can be purchased at selected luxury retailers
Receive our daily digest of inspiration, escapism and design stories from around the world direct to your inbox