Artists think inside the box for a charitable selling exhibition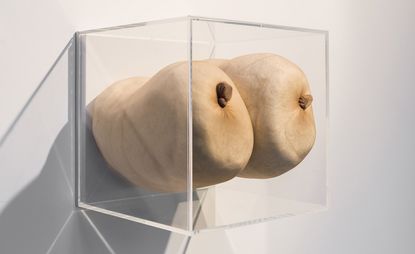 (Image credit: Julian Simmons)
The brief, unusually, was to think not outside but in, on or around the box. And, in the summer of 2016, some 53 internationally renowned artists took up the challenge. The result is Cure3, a selling exhibition of bespoke Perspex cubes containing (or in a few cases supporting) unique new artworks to be sold by Bonhams for The Cure Parkinson's Trust this week.

The project, devised by curatorial collective Artwise, in partnership with Bonhams and the David Ross Foundation, intends to raise awareness and funds for the charity, whose innovative approach funds work which has the capacity to slow, stop or reverse Parkinson's, and in doing so offers renewed hope for some of the 10m people currently living with the degenerative disease.

Artwise has pulled out all the stops, with a phenomenally generous turnout on the part of the artists. Peter Doig, Damien Hirst, Alison Jackson, Ron Arad, Peter Blake, Conrad Shawcross and Sarah Lucas are just a few of the sought after talents who have contributed their work. The aim has been not only to show leading names, however, but to introduce younger artists who Artwise believe are making headway in the art world, and whose works already reside in important collections and museum exhibitions.
For those interested in picking up a box, it's first come first served: Cube3 is not an auction. Each work is priced accordingly by the artist (or their gallery),and range from under £1,000 to £40,000 for a cube. they are all available to buy directly via the Cure3 website (opens in new tab) from 8am on 13 March.

Artwise came up with this concept for Cure3 as it was important to have a project that would work on many levels, says director Susie Allen. 'We wanted it to be inspiring for the invited artists; collectable enough for people to buy in order to raise the vital funds for CPT and, hopefully, a concept that can be built on year upon year.'

Allen adds, 'By giving the artists a "blank space" to work with in the form of a Perspex box, we are allowing a freedom in the commissioning process: the artist is invited to do what they want with the space - it can be wall hung, plinth based, contain a 2D or 3D work either inside, on top of, or on the box. Yet at the same time, by virtue of implementing this consistent format, it creates a unified and unique exhibition.'

According to contributing artist Jonathan Yeo, it was the brief as well as the cause that incited his involvement. 'I get asked to contribute to a vast number of group exhibitions and charity sales, and it's never possible to make work for all of them. This one appealed because it was conceptually interesting and it presented an opportunity to experiment with juxtaposing 2D media and 3D materials, something I don't normally do. Above all though, it's great to be part of this initiative and very worthwhile cause.'
INFORMATION
The Cube3 selling exhibition is on view at Bohams until 15 March. For more information, visit the Cure3 website (opens in new tab), the Artwise website (opens in new tab), Bonhams website (opens in new tab), and The Cure Parkinson's Trust website (opens in new tab)
ADDRESS
Bonhams
101 New Bond Street
London W1S 1SR