Sarah Lucas at Tate Britain: humour, desire, domesticity
'Sarah Lucas: Happy Gas' at Tate Britain spans the four decades the artist's career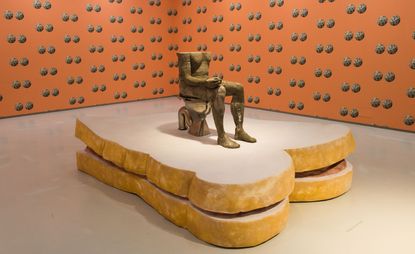 (Image credit: All works and copyright Sarah Lucas. Courtesy the artist and Sadie Coles HQ, London )
Bananas, chairs, cigarettes, lightbulbs, fish: domestic items are mischievously anthropomorphised in 'Sarah Lucas: Happy Gas', the artist's major retrospective at Tate Britain, London. Over 75 pieces, spanning four decades and including new work, juxtapose materials and methodologies while gently distorting human life with Sarah Lucas' characteristic playful panache.
Early works, including pieces made from tabloid newspaper spreads in 1990, join early sculptures and later works in bronze, resin and concrete, such as the concrete Eames Chair, 2015. Large-scale self-portraits throughout the years, nude plaster casts and installations nod to both Lucas' considerations of the objectification of the female body and explorations into materiality.
'Sarah Lucas: Happy Gas' at Tate Britain
'It was decided early on in the process to create a show which focuses as much on her recent and current practice while still retaining radical and humorous works of the 1990s which she is well known for,' say the exhibition's curators, Dominique Heyse-Moore and Amy Emmerson Martin. '"Happy Gas" will not be a traditional retrospective per se as it will not be chronological, so the new works will sit alongside and complement works from different periods of the artist's career. The exhibition tells a fuller story than the 1990s Young British Art scene that Lucas is so often associated with.'
Lucas' fascination with chairs and the seated form is one of the exhibition's central narratives. It nods to the artist's translation of domestic furniture into symbols of sex and desire, from early sculptures, including 1992's The Old Couple, created from two chairs, a set of false teeth and a wax penis, through to Hysterical Attack in 1999 and sculptures made from stuffed tights, such as Mumum in 2012.
'I decided to hang the exhibition mainly on chairs,' explains Lucas in the exhibition's leaflet. 'Much in the same way I hang sculptures onto chairs, which means the chair becomes an integral part of the work. The character of the chair lends mood and meaning to the sculpture. The progression of chair sculptures through the years adds up to a world populated by these characters.'
'Mischievously and honestly, Lucas asks universal questions about our origins, sex, happiness and mortality,' add the curators. 'Lucas has always challenged the conventions of photography, sculpture and collage through her choice of subjects and materials. What might appear rough or casual is in fact a careful manipulation of materials, words and her own image.'
Innuendo and word play, riffing off social issues and constructs, run from Lucas' early works to the ten new pieces exhibited for the first time here. Sugar, 2020, and Cross Doris, 2019, reference the stuffed tights and found objects; others experiment with new materials. 'Brand new works will be a mix of the soft sculpture she is known for, as well as cast works in bronze and resin. The resins introduce more and more colour to her work. The fact that Sarah is now using traditional sculptural media such as bronze is significant, as they are made in collaboration with a foundry. Earlier in her career, her hard/cast works were made of plaster or concrete, which could be made or poured by Lucas personally. Over the decades of her sculptural practice, everyday things and traditional art materials, hard and soft, have been in an ongoing conversation.'
'Sarah Lucas: Happy Gas' is at Tate Britain 28 September 2023 – 14 January 2024
Receive our daily digest of inspiration, escapism and design stories from around the world direct to your inbox
Hannah Silver is the Art, Culture, Watches & Jewellery Editor of Wallpaper*. Since joining in 2019, she has overseen offbeat design trends and in-depth profiles, and written extensively across the worlds of culture and luxury. She enjoys meeting artists and designers, viewing exhibitions and conducting interviews on her frequent travels.