Sarah Lucas' 'Big Women' is a raunchy, raucous celebration of punk femininity
On International Women's Day, we spotlight Sarah Lucas' 'Big Women' at Firstsite Colchester, which unites 20 female heavyweights shaping the British art scene today – a jubilant survey brimming with wit, defiance and fun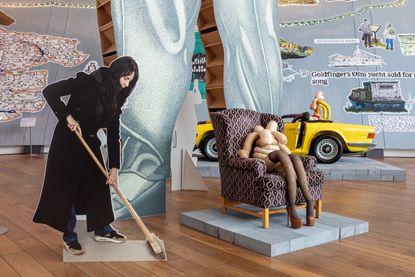 (Image credit: Richard Ivey)
Bulging bellies, dangling boobs, and parachuting placentas – you wouldn't expect anything less from a show curated by Sarah Lucas, the British artist provocateur known for her acerbic humour and trenchant criticism of social mores and gender roles.
Lucas will be the subject of a major survey opening at Tate Britain later this year, but at Firstsite, Colchester (until 18 June 2023) – not far from her home in Suffolk – her work jostles alongside a group of long-time friends, collaborators and peers, some famous and others less known, but all of them female, 'middle-aged' and, according to the show's tongue-in-cheek title, 'BIG WOMEN'.
'Big', is taken physically in some works – there's a giant Claudia Schiffer on a pedestal in Gillian Wearing's performance-sculpture-photograph, Claudia and Me, in which the artist looks up at the 1990s supermodel in awe. This stand-off between Schiffer and Wearing forces the viewer into a game of comparison – something most women now experience on a daily basis as we're bombarded with idealistic and manipulated imagery of bodies.
Also 'big' is Sue Webster's larger-than-life self-portrait, the artist at nine months pregnant at age 52. It's one of the show's most defiant and bold images, that Webster says riles against gender-based ideas around fertility and reproductive freedom, 'an age-old cliché that up until this point had been reserved only for men'.
In conversation with Webster's show-stopping portrait is Renata Adela's striking fabric sculpture, Origins of the World – We Are All Space Sailors, on view for the first time at Firstsite and created for the exhibition. Based on medieval and early 18th-century gynaecological models, its title alludes to the famous Gustave Courbet painting – except it features space sailors parachuting out of a vagina onto a kitchen table. Adela says the work is 'scary and miraculous and a salutary reminder that we have all emerged from the same place'.
Making older women's bodies physically prominent and visible is important throughout 'Big Women' – as Lucas, who is 60, says, 'the older woman is often overlooked, irrelevant, without currency'. But 'big' also underlines the artists' importance in shaping the British arts scene over the decades – from Maggi Hambling, who presents a recent sculpture of her late muse, and a painting of her mother, in homage to a lineage of big women, to YBA contemporaries of Lucas, including Georgina Starr and Fiona Banner, and other key contemporary figures like Polly Morgan, Rachel Howard and Yoko Brown. Moving through different rhythms, from raucous, loud and direct to quieter, softer moments, the exhibition's tone is celebratory and energetic. It is ostensibly an exhibition about age, and what comes with it – but equally, it proves, as artist Vanessa Fristedt puts it, 'age is just a number, especially when it comes to art'.
'In these times dominated by male aggression, politicking, greed, war and pig-headedness', Lucas says, this show is an antidote, revelling in raunchiness, fun and a hard-edged, punk femininity.
There are a few unexpected appearances in 'Big Women' – even for an exhibition put together by Lucas. Princess Julia is better known as a DJ, music writer and tastemaker who emerged out of London's underground club scene in the 1980s, but here she's a painter, presenting a self-portrait in her trademark make-up. It's an image that speaks to agency, to claiming ownership and authority of one's image, no matter what age or phase of life you're in.
'I have always found so many of society's rules annoying on so many levels,' Princess Julia reflects. 'The constructs of what we should and shouldn't be doing at various stages of life and whether one is deemed a successful human by following and falling into place at certain times of our existences. So this show is vital in giving artists a voice and platform.'
'Big Women' runs until 18 June 2023 at Firstsite, Colchester. The Big Women Conference will take place on 23 February 9am-5pm. firstsite.uk (opens in new tab)
Charlotte Jansen is a journalist and the author of two books on photography, Girl on Girl (2017) and Photography Now (2021). She is commissioning editor at Elephant magazine and has written on contemporary art and culture for The Guardian, the Financial Times, ELLE, the British Journal of Photography, Frieze and Artsy. Jansen is also presenter of Dior Talks podcast series, The Female Gaze.