Artists tap into the creative source in the French Riviera
Fondation Carmignac presents an effervescent mix of contemporary art for a group exhibition guest-curated by Chiara Parisi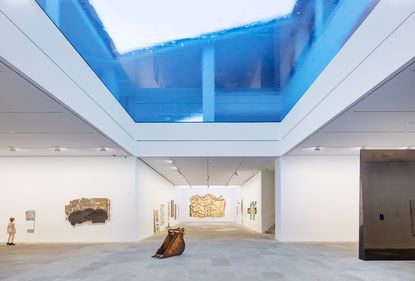 (Image credit: Luc Boegly / David Desrimais Éditeur)
On the French Riviera island of Porquerolles, there's an old fishermen's tale describing a secret spot at the rocky tip of the isle where they drank from a mysterious freshwater spring bubbling up from the sea. Legend or not, the latest show at the Fondation Carmignac – a revamped Provençal villa atop a pine-shaded hill surrounded by vineyards – has been aptly titled 'The Source'.

Now in its second year after drawing 70,000 visitors to this idyllic government-protected site, the museum features an effervescent mix of 60 contemporary artworks, sculptures and installations from financer Édouard Carmignac's ever-expanding private collection as well as works on loan. 'We asked all the participating artists to create their own definition of what "the source" represents – what it means to tap into the vital creative impulses, whether they're sensual or sexual,' says guest curator Chiara Parisi. 'In a group show like this, it was important to create a sense of complicity and empathy, to explore taboos that escape self-censorship.'
It's the Italian curator's first time working with a private collection. In the vast cross-shaped underground exhibition space, bathed in light from the glass and water ceiling, the feminine meets the abstract: portraits of women by Egon Schiele, Pierre Klossowski, Roy Lichtenstein, RB Kitaj and Thomas Ruff hang side by side with Ed Ruscha's enigmatic nightscape Slave/Master Complex (1997), or the dreamy Lapis Lazuli (1986) by Sigmar Polke, painted with true ultramarine pigment.
RELATED STORY
Playfulness abounds in Maurizio Cattelan's white fibreglass head sculpture exploding with rebellious flying thoughts. Elsewhere, Bertrand Lavier's specially commissioned outdoor installation, Cocacollage, is a sly allusion to summertime beach flirtations, rendered as a yellow and a red parasol installed on a blanket of the emerald grass and perfectly framed by the museum's bay window. 'Once you eliminate museum walls, the challenge is choosing works that can co-habit the space intellectually or else provide contrast,' adds Parisi.

The ground floor is devoted to a mise en scène of 15 provocative works by British artist Sarah Lucas – her first solo show in France – that ironise gender stereotypes, where women are conjured as empty bucket heads with hangers and lightbulbs or a faceless figure with a pair of fried egg breasts straddling a washing machine. Visitors are also invited to stop and gaze at thousands of dazzling Swarovski crystals embedded in the stone walls of an inner inaccessible patio, a work by Korean artist Koo Jeong-A.

Now that the Louis Benech-designed wild garden has grown, you can lose your way in Jeppe Hein's Path of Emotions, a shimmering labyrinth of mirrored strips in a bamboo forest, or hear the earth breathe inside the small white shed (immortalised in Godard's Pierrot le Fou) with carved out walls by Portuguese artist Vhils.

Book ahead for this summer's highlight: the Soundwalk collective orchestrates a nocturnal stroll on full-moon nights through the wooded paths of the sculpture gardens, guided by the voices of Patti Smith and Charlotte Gainsbourg.
INFORMATION
'The Source' is on view until 3 November. For more information, visit the Fondation Carmignac website
Receive our daily digest of inspiration, escapism and design stories from around the world direct to your inbox