The contemporary art museum making waves on a French Riviera island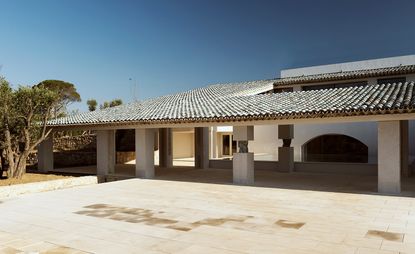 (Image credit: press)
A visit to the newly launched contemporary art museum, the Fondation Carmignac hidden away on the island of Porquerolles along the French Riviera, is somewhat of an odyssey, which is exactly what its founders intended. 'It's a kind of striptease, an invitation to shed your museum-going habits and leave them behind,' says Charles Carmignac, director and rock musician, whose father, art collector and financer, Edouard Carmignac, acquired the 1980s Provençal-style villa and vineyard Domaine de la Courtade in 2013.

After three years of construction, the seven hectare property was transformed into a luminous 2,000 sq m exhibition space that extends 7m underground and includes a Louis Benech-designed wild 'non-garden' with colossal contemporary sculptures. 'My father wanted to share his private art collection, but to get those works to "speak" to the public, we wanted them to be heard in a place that is a world apart,' explains Charles.
After a 15-minute boat ride from Hyères, visitors walk through Porquerolles' government-protected pine forest and enter the museum barefoot, in direct contact with the cool stone floor at the rate of 50 people every 30 minutes. The title of the inaugural show, 'Sea of Desire' (inspired by a billboard-size canvas by Ed Ruscha installed on the former tennis court), begins outside with a monumental bronze sea monster by Miquel Barcelo, whose 16m curved canvas of strange squid-like creatures is another highlight. The aquatic theme abounds, from the shimmering glass and water ceiling projecting ripples on the museum floor to the whooshing fountain of suspended fish by Bruce Nauman.

'It's really a "collection exhibition" – 70 works that follow mysterious connections and a crossover of certain themes,' says curator Dieter Buchhart, who paired Roy Lichtenstein with two Renaissance works by Botticelli to conjure a rebellious break with the traditional representation of feminine beauty. In eight interconnected spaces that range from 'Pop Icons Reloaded' to 'Fallen Angels', major artists including Jean-Michel Basquiat, Andy Warhol and Gerhard Richter are displayed alongside powerful photojournalistic works.
The upper level, entitled 'Brave New World Revisited', refers to the dark prophecies in Aldous Huxley's 1931 novel Brave New World (written in nearby Sanary-sur-Mer) and the author's 1958 essay on how society was evolving in a similar direction. 'The idea was to revisit the same idea, 60 years later after Huxley, to see how quickly our way of communication has changed,' Buchhart explains. 'You see it in a smiling face by Keith Haring, who was a precursor of the emoji culture, and in Brazilian artist Paulo Nimer Pjota's canvas, Anti-Smiley, which represents the emptiness and loneliness of the virtual world.'

In contrast, the visit ends with an uplifting note: in Speed of Silence by French composer Michel Redolfi, visitors step onto a slab integrated with the floor. As sound seeps through the stone and vibrates throughout your body, it triggers a visual mirage of the natural splendour of the outdoor landscape, framed by the window.
INFORMATION
'Sea of Desire' is on view until 4 November. For more information, visit the Fondation Carmignac website (opens in new tab)
ADDRESS
Fondation Carmignac
Villa Carmignac
Porquerolles Island
VIEW GOOGLE MAPS (opens in new tab)