The Weight of Things: Damien Hirst curates his retrospective in Munich
The Weight of Things, at The Museum of Urban and Contemporary Art, Munich (MUCA), was curated by Hirst himself and comprises work spanning four decades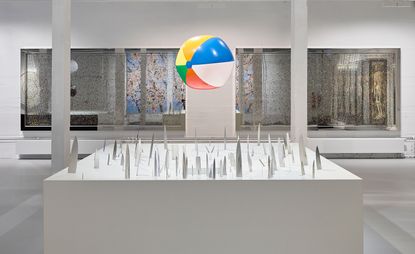 (Image credit: © Damien Hirst and Science Ltd. All rights reserved, DACS/Artimage 2023)
Is Damien Hirst the most famous British artist of our time? He might be. You might have seen his Tate retrospective in 2012, or End of a Century at his own Newport Street Gallery in 2021, but given Hirst's fame and reach, retrospective or survey shows are relatively rare. Given his prolific output, it can be easy to forget to look back at his early work.
Emerging from the late 80s, a time marked politically by greed and a wide gap between the rich and poor in the UK, was what became the Young British Artist movement, in part born out of the iconic 1988 'Freeze' exhibition. Hirst has always been concerned with both death and fear, and these themes run through his art. They manifest as a focus on pharma, self-destruction, anxiety and decay, with a side of mass artistic production and - most recently - the accessibility of projects like The Currency, which saw Hirst make, sell and destroy a huge number of works which were sold at a much lower price point than the artists' other works.
The Weight of Things, at The Museum of Urban and Contemporary Art, Munich (MUCA), was curated by Hirst himself and comprises work spanning four decades. Casting back to the early 1990's, the UK was in recession and coming to the fore was a generation of British artists, gallerists and curators who would alter the art scene in the UK forever and birth a scene which has sent ripples around the world. Hirst, with Sarah Lucas and Tracey Emin, shocked with his work through its directness in addressing the unsayable and the fear that surrounds our relationship with death. These days key contemporaries of Hirst, and the artist himself, headline shows at the world's most prestigious museums and events.
'When Logics Die', 1991, which features a photograph of a suicide alongside a table set with medical grade implements and cleaning products, is still a very shocking work and one rarely discussed when speaking about Hirst's work. You could say he has gradually mellowed over subsequent decades of his career as his focus moved from the actuality of death to the nihilism of smoking in 'Forgotten Dead', 1997 a supersize ashtray filled with real, smoked cigarette butts.
There are many works from the 'Natural History' series, including perhaps his most famous, where Hirst placed dead animals into clear tanks of formaldehyde. The shock factor of these works just doesn't fade as, no matter your feelings on them, they force us to confront our own mortality. These works, as with most of the work Hirst makes, goes to the heart of things. There really is nothing like them.
Alongside a series of impossibly named spin paintings, including 'School - The Excellence of Every Art Must Consist in the Complete Accomplishment of its Purpose', 2006, we see lesser-known works, selected and positioned by Hirst. The juxtaposition of the horror-laced dark humour of 'Jeepster', 1993 a recreation of a severed cow's head and Fear of Death (Full Skull), 2007, a human skull covered in dead flies, with spot painting 'Pargyline', 2005 – a hypertension medication – and the iconic 'Nothing Matters', 1997 a cabinet filled with medicine is dizzying. There is an inescapable bleakness Hirst's early works and, despite ourselves, a humour.
There is a shift around the time of 'For the Love of God' made in 2007, a human skull paved with diamonds, with one huge stone at the pineal eye which we see, alone in a wartime bunker, adjacent to the museum, while we also see work exploring the darker side of humanity such as 'The Fragility of Love', 2000, in which a beach ball hovers above a sea of knives. Hirst has selected butterfly works and several pieces from his smash hit Venice show of 2017, 'Treasures from the Wreck of the Unbelievable', including perhaps his most direct confronting of his own death: a self-portrait in sculpture, 'Bust of the Collector', 2016, in which we see a Roman-esque bust of Hirst covered with coral.
There is something unflinching about Damien Hirst, and this is what we see in this show. He may have mellowed over the years, but his desire to push the boundaries, whether through large numbers of prints distributed through HENI, or burning 1,000 works of art in his project The Currency, show he is hell bent on going against the grain.
The Weight of Things is on at the Museum of Urban and Contemporary Art (MUCA), Munich, from 26 October 2023 until end of January 2024
Receive our daily digest of inspiration, escapism and design stories from around the world direct to your inbox