Conrad Shawcross unveils imposing new sculpture for The Francis Crick Institute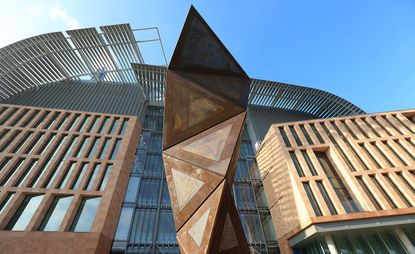 (Image credit: Alex Maguire)
The British artist Conrad Shawcross has unveiled a daring, and rather disconcerting, public sculpture for London's major new centre of science. At an imposing 14m tall, it's a confident and beautiful piece, at once a triumph of engineering and a totem to the limits of knowledge.

Commissioned by Europe's largest biomedical research centre, The Francis Crick Institute, it now stands in front of their brand new glass and steel megalab in St Pancras. The artwork, chosen by the Nobel Prize-winning director of the Crick, Sir Paul Nurse, is called Paradigm – a nod to the scientific philosopher Thomas Kuhn who believed that in order for ideas to progress, old paradigms should be toppled by the new.

Comprised of an angular, twisting stack of tetrahedral blocks made of weathering steel, it's one of London's largest tallest art works. While this is a statement of confidence, Shawcross says he wanted it to point to the fragility of engineering, and the boundaries of science. The base of the work is only one metre wide, and the tetrahedron shapes get 10 per cent bigger as they go up. 'If you added another it would collapse,' Shawcross says, rather ominously.

Shawcross describes the work as, 'a beacon for progress and endeavour but contains fallibility and should serve as a constant reminder of the precariousness of knowledge'. The artist has always been interested in the way artists define themselves in relation to technology; when the National Gallery asked him to produce a work in response to Titian for the Cultural Olympiad in 2012, he presented the institution with a dancing robot.

At 39, Shawcross is the youngest of the artist-elected Royal Academicians. His work has a broad appeal owing to its classical and mathematical rigour – often investigating idealised geometry and proportion – and he currently has a good claim to being London's best-loved public sculptor. Last summer his work Three Perpetual Chords, 'a visual realisation of a particular harmonic ratio', permanently replaced a stolen Barbara Hepworth in Dulwich Park, South London; also in 2015, his work The Dappled Light of the Sun, a five-tonne canopy made from thousands of steel tetrahedrons, was the largest ever sculpture to fill the Royal Academy's courtyard. Later this year, he will unveil a work commissioned for the Low Carbon Energy Centre on the Greenwich Peninsula – all of which will be revealed in our forthcoming issue April issue, out 10 March.