Science and art prove a potent combination in the hands of Conrad Shawcross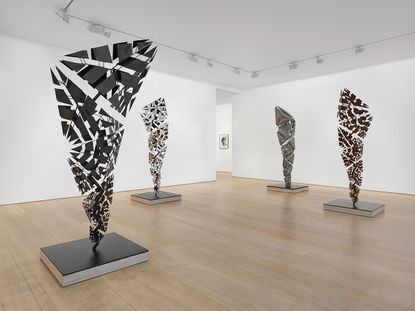 (Image credit: Courtesy of the artist and Victoria Miro, London / Venice)
What do you know about a tetrahedron? For rarely has a shape responded so strangely to growth, and never has it assumed quite so much importance. The Greek philosopher Plato, writing 2,400 years ago, identified the tetrahedron – a pyramid with four triangular sides, made up of identical angles – as the essential building block on which the entire world is composed.

It's a shape, we now evidentially know, that lies at the basis of nature, most obviously in the molecule H2O, which makes up two thirds of the world's surface, while DNA, the very matter of our unique being, comprises of molecular variants of what Buckminster Fuller called the tetrahelix.

When one multiplies a tetrahedron then such a basic form blooms into something contradictory and abstract. Unlike other basic shapes, a tetrahedra cannot tesselate with itself. It cannot, therefore, ever fill a space. Linked together, the shape instead twists and turns in ways that seemed to defy logic, like the blooming of a great plant.

In an essay neatly titled The Simple Made Strange, Patrick Sykes writes 'the initially self-generating quality of the fundamental form gives way to asymmetry, and a space in which the artist can intervene'. The artist to whom he refers is Conrad Shawcross, 41, who, for the Summer Exhibition of 2015, filled the Annenberg Courtyard of London's Royal Academy of Arts with a never-ending structure of conjoining tetrahedrons in The Dappled Light of the Sun.
'Despite their uniformly straight sides,' Sykes writes, 'the tendrils radiating through the courtyard appear to be twisting through the space, expanding at tangents rather than neatly stacking within it, like arcs turning on competing axes. No matter how far they are allowed to expand, they will always meet at imperfect angles and will never consummate their trajectories by closing the loops at which they hint.'

Shawcross' work in the Annenberg Courtyard laid the groundwork for his new solo exhibition at London gallery Victoria Miro. I meet Shawcross on the day of the launch of 'After the Explosion, Before the Collapse', watching him install strange and beautiful sculptures that – using the tetrahedron – obey the same geometric parameters around a central helical stem. Yet each is strikingly distinct, a twisting spine supporting branches which in turn support hundreds of unique fragments. It's as if nature can be fashioned from glass and metal.

'It's been a risky show, with new, uncharted work that hasn't been made before,' he says. 'I was trying to find the rules and systems and logics of how the tetrahedron works, and then obey those rules. But I'm still bamboozled by the way this simple shape can form these tendril like structures that branch out and don't join into themselves again. They're like never-ending, enigmatic rising beanstalks.'

The show comprises of a mix of tetrahelix sculptures in dialogue with each other, in a room called Fractures, alongside a sequence of unique framed photographs. Shawcross' photographs look like the momentary capture of an epic lightening storm over an alien landscape. They were, in fact, created in a darkroom, by the firing of a laser through photographic paper situated behind glass with a crack through it – like, for example, the chink in a wine glass.
'They're the exploding shadows or projections of a crack in a lens,' he says. 'I decided to call them Aberrations, which is the technical term for a fault in a glass or lens. I wanted to use terms that are generally associated with problems. It's like Plato's cave – a genius inferring of things we'll never see, and can only guess at.'

In addition, and perhaps most impressively, the show also exhibits two mechanical works. First, high in the corner of the Fractures room, resides a circular phalanx of conjoining mirrors which, with imperceptible speed, unfolds into a shining shield before closing upon itself, like a Venus Fly Trap.

Shawcross then takes me outside. We stand together on the scaffolding that lines the street, peering through the Mayfair traffic. In the window of the gallery across the road, Shawcross has installed a huge, floating circular sculpture titled Murmuration – the word used to describe the movements of flocks of birds. Two identical metal circles, perforated like a sieve, rotate non-regularly in separate directions. As the circles momentarily align, so mesmerising patterns of light emerge and disappear.

'It's the result of years of investigation into interference and disrupted surfaces,' Shawcross says. 'I hope it will react to the movements of passers by and the changing play of light upon it.' It's artwork as engineering, at first glance an industrial piece of machinery. Yet, if one passes before, it creates the same sense of ephemeral wonder as swirling starlings in the evening flight. Be sure, if you're passing by, to become caught for a moment in its murmuration, heart-stoppingly suspended in the bustling dim of Mayfair.
INFORMATION
'After the Explosion, Before the Collapse' is on view until 27 October. For more information, visit the Victoria Miro website (opens in new tab)
ADDRESS
Victoria Miro Mayfair
14 St George Street
London W1S 1 FE
VIEW GOOGLE MAPS (opens in new tab)