Shigeru Ban's timber-framed Terrace House breaks ground in Vancouver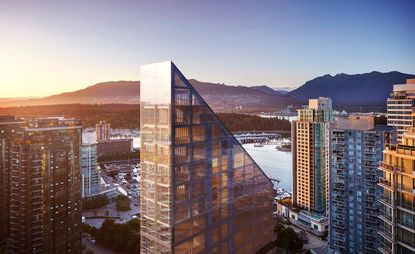 (Image credit: press)
Not only is Shigeru Ban's new Terrace House, a 19-storey mixed use project that broke ground last week in Vancouver, slated to be North America's tallest hybrid timber structure when it completes in 2020, it's also an extraordinary homage to the legacy of Arthur Erickson and his adjacent Evergreen Building.

So symbiotic is the new design that it appears to extrude organically from the 1980 Evergreen, Erickson's post-Robson Square take on office building as urban oasis, with terraced gardens sloping down what was an old railway rampart, towards the ocean.

Mimicking the Evergreen's geometry and extracting its design DNA, there is a sense that Ban's building is born from Erickson's. 'Shigeru completed the Evergreen's arch with his design,' says long-time Erickson collaborator Nick Milkovich, 'He kept the form going and it really melds the two buildings together.'
Ban's design follows the lines of the Evergreen, with its stepped concrete base, and then arcs at a 45-degree angle for the last nine floors, shifting to structural timber. The 19th floor is the northwest facing point of a dramatic isosceles triangle. Interiors will benefit from the commercial height ceilings of the Evergreen, maximising natural light and water views, with the generous balconies offering indoor/outdoor living at its best.

Developer PortLiving brought landscape architect and long time Erickson collaborator Cornelia Oberlander on board to streamline the plantings she worked on four decades ago. Now the Evergreen's long concrete balconies with their hanging ivy extend effortlessly to meet their Terrace House relatives, like a happy architectural mother-and-child reunion.

It's also been a meeting – albeit posthumously – of two like-minded architects. Erickson's deep connection to the Japanese aesthetic (he spent time in Japan and spoke fluent Japanese) is matched by Ban's reverence for the late Canadian architect.

'When Ban came to visit Vancouver,' recounts developer Tobi Reyes, an admirer of both architects who was thrilled when Ban agreed almost immediately to take on the project, 'he spent a lot of time visiting Erickson's buildings and just touching the concrete with a kind of reverence.'

The Pritzker-winning Tokyo-based architect told him, 'Erickson should have also won the prize.' Now Vancouver will be the real winner, with an elegant new building that simultaneously renders respectful homage to the city's architectural heritage and speaks to its future.
INFORMATION
For more information, visit the Shigeru Ban Architects website (opens in new tab)