Tokyo Toilet project gets Marc Newson addition
The Tokyo Toilet project has a new addition, a Marc Newson-designed facility in the heart of the city's Shibuya district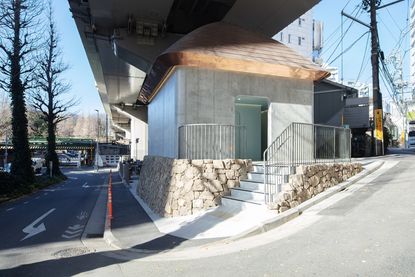 (Image credit: Satoshi Nagare, provided by The Nippon Foundation)
The celebrated Tokyo Toilet project offered prolific designer Marc Newson his first opportunity to create a public facility. It might not come as a surprise that this relatively niche request came from Japan, a country famous and, some might say even obsessed, with its loos. Newson was asked to design a public toilet in the Shibuya ward as part of an initiative launched by the city and the Japan Foundation to revamp 17 of Tokyo's public toilets, which were badly in need of a makeover. He joins an impressive line-up of mostly Japanese architecture and design professionals, such as Shigeru Ban, Tadao Ando, Kengo Kuma and Sou Fujimoto.
Tokyo Toilet: a design by Marc Newson
The location for Newson's toilet couldn't be more quintessentially 'Tokyo' – tucked away below the Tokyo Metropolitan Highway in a tight spot between two roads. The exterior offers nods to traditional Japanese architecture, such as a copper Minoko roof and a natural stone foundation. The walls are made of poured concrete giving the toilet a distinct modern look.
Inside, however, the toilet looks distinctly futuristic – almost like the inside of a UFO or spaceship. The walls, ceiling and floor are all kept in the same blue-green shade and have been illuminated by indirect lighting at the junction between the ceiling and the walls, creating a bright and pleasant environment. Meanwhile, a state-of-the-art Toto toilet provides the necessary equipment for a comfortable experience.
Tokyo Toilet: the full list of designs
Designers from across the country, as well as abroad, have contributed to the Tokyo Toilet project since its inception in 2020. Contributors so far include Tadao Ando, Toyo Ito, Tomohito Ushiro, Masamichi Katayama, Kengo Kuma, Junko Kobayashi, Takenosuke Sakakura, Kashiwa Sato, Kazoo Sato, Nao Tamura, Nigo, Marc Newson, Shigeru Ban (who has designed two), and Fumihiko Maki. More contributions, by Sou Fujimoto and Miles Pennington, are currently underway, with the next instalment set to launch in spring.
tokyotoilet.jp (opens in new tab)
marc-newson.com (opens in new tab)