Peter Marino reveals interiors at The Getty in New York's Chelsea gallery district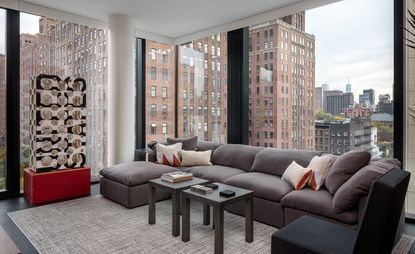 (Image credit: press)
There's Donald Trump luxury, and then there's real luxury. Architect Peter Marino (opens in new tab), who is responsible for the design of practically every luxury retail outlet — Dior (opens in new tab)'s SoHo store, Bvlgari's Rome outpost (opens in new tab) and a number of Chanel boutiques (opens in new tab) around the world are among his projects — went over that idea recently with a group of journalists whom he invited to his New York offices to discuss The Getty, a residential property located in New York's Chelsea neighbourhood.

Located on West 24th Street and 10th Avenue, the building designed by Marino consists of the Lehmann Maupin art gallery on the ground floor (opens in new tab), an art foundation above that, and six unique residences with interior architecture and design, all also designed by Marino.

The genesis of the apartment building started with Marino's obsession with Carlos Scarpa's Fondazione Querini Stampalia in Venice. 'He takes the lines of light and moves them back and forth in front of solids,' says Marino. 'That vertical moving and placement is so great because nothing is the same.'
During the round table, Marino revealed that no two units would be alike, and rather than use the same 'luxury' materials to construct the same apartments, as Trump did with Trump Towers, each residence in the Getty has different, unique materials, like Carrara marble, silver leather walls that use a new technique by Fendi, and lava stone coated with Italian beeswax at the entrance hall.

'We went to Carrara, and we went to the market and we bought blocks of marble where they went, "There's only one or two of those…"' explained Marino. 'I went, "Great." So we were going for uniqueness, not Donald Trump luxury.'

Victor Group, the developer behind the project, wanted the property to be as unique as the works of art sold at the myriad galleries on the street, which include Gagosian (opens in new tab), Mary Boone and Marianne Boesky.
INFORMATION
For more information, visit the Getty website (opens in new tab) and the Peter Marino Architect website (opens in new tab)