Marcio Kogan's modernist rooftop gym in São Paulo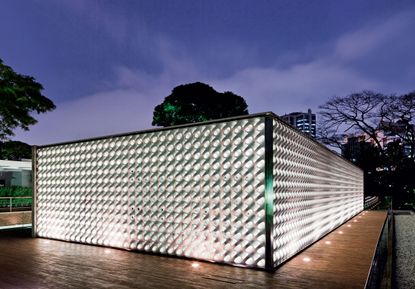 (Image credit: Nelson Kon)
The rooftop gym is the crowning glory of a private house and is clad in a screen that echoes the perforated wall compositions of north-eastern Brazil. These latticework brick façades date back to the 1920s, and became a defining characteristic of the newly created capital of Brasilia in the 1960s.
Close to Ibirapuera Park, in São Paulo's affluent Jardins neighbourhood, Cobogó House sits in a tranquil plot. Designed by celebrated local architect Marcio Kogan, the house features his signature long, low yet dramatic volumes and tastefully appointed rich, warm materials that add sensuality to what could have been a cold study in modernism. Carefully chosen furniture and artworks add another layer of luxury and sophistication, but it is the rooftop that steals the show. Each of Kogan's works has a distinguishing element, and Cobogó is no exception.

In a project like this, one might expect the top floor – and its incredible views – to be allocated to the master suite, or even a private office. In this case, the owner demanded to top the house with a private gym, a room typically tucked away in a basement. The result is a long, minimal box, enclosed in glass behind an intricate screen that filters the daylight, creating an elegant pattern that slowly evolves of the course of the day.
The panels surrounding the rooftop gym diffuse light, creating elegant patterns that evolve during the day – and can be watched whilst resting on a lounge chair by Richard Schultz.

If the screen panels look familiar, they should. The pattern is a classic, designed for interior application by the Austrian-born, Connecticut-based sculptor Erwin Hauer in the 1950s, and it recently featured as a prominent part of the lobby at New York's Standard Hotel. Kogan spent more than a year with Hauer and his design partner Enrique Rosado to adapt the panels, originally fabricated in gypsum, for exposure to the elements. In the end, the pattern was achieved with pour-formed concrete, painted white. The screen recalls the cobogós (perforated wall compositions used as a brise-soleil) of north-eastern Brazil, hence the house's name. The ornate hollowed bricks diffuse light while allowing ventilation, making them perfect for the climate.
The space sports a luxurious bathing area with two saunas.

The gym features everything from a state-of-the-art surround sound system to a luxurious bathing and changing area with two saunas. On the hi-tech, impact-resistant, vinyl-tiled floor sits a collection of Life Fitness machines, adding sporty finesse to an environment peppered with iconic pieces of furniture. A chaise longue by Richard Schultz or a 'Slow' chair by Ronan and Erwan Bouroullec ensure there will always be a stylist place to rest during a difficult training session. On the terrace, Paola Lenti's lounge chairs are best enjoyed when the work out is complete.

As private gyms go, it is hard to match this facility's lofty location and feel. The gym's centre-stage position and simple yet memorable light effect produce a training experience to remember – just enough to get anyone in shape for the nearest Brazilian beach. §

As originally featured in the June 2012 issue of Wallpaper* (W*159)
INFORMATION
For more information, visit the Marcio Kogan website (opens in new tab)