Spanish residence Casa OS is a superb lesson in modernist architecture
Spanish architect Pablo Oriol founded Nolaster in 2005 with colleague Fernando Rodriguez. Working together since 2002, the firm racked up an impressive portfolio of collaborators including Fujikawa, Johnson & Associates and MVRDV. In 2008, Oriol and Rodriguez took the next career step by forming new practice FRPO, a 'natural evolution of their personal experiences.' Prior to this, in 2006 (W*96), Wallpaper* visited Nolaster's Casa OS, a camouflaged modernist residence designed for Oriol's parents.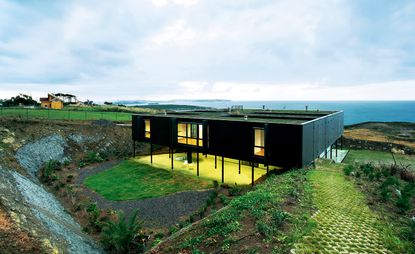 (Image credit: José Hevia)
About 15km east of Santander, in northern Spain, as the suburbs and holiday homes start to give way to rocky cliffs and windswept scrubby bluffs, nestles as neat an exercise in camouflage as you're likely to find in a modernist black box of steel and zinc.

The Casa OS can be hard to find, and first time visitors often find they have to call from the road to ask for fresh directions. Given its striking lines and brooding colouring, this is quite a testament to the architect's sympathy for a wonderfully rugged location.
It was designed primarily by 29-year-old Pablo Oriol, of the young Madrid partnership Nolaster, with assistance from five of his colleagues. The clients, with some demanding requirements, were his parents.

The house is the last plot in a residential sub-section – further east the land is protected and wild. A turf roof ensures the view of the building from behind is much like the grass that surrounds it. 'There is a romantic notion to taking the grass from the land where you build and placing it on the roof,' says Oriol.

The choice of black for the building's zinc shutters and steel posts is also, in its own odd way, a matter of blending into the natural surroundings. 'It's not typical Spanish weather on this north-facing coast,' says Oriol. 'The sky is mostly shades of black and grey.'
The inside of the simple box is much more complex than its delicately framed exterior. Oriol's parents, who are clearly a hospitable pair, requested the house sleep 40. After some negotiation, this dropped to 24, but still took some extensive manipulation of space.

The house is divided into six strips that run parallel to a glass wall. The first strip is the living and dining area, with its large wood-burning fires. The next strip is comprised of bedrooms, accessed directly by sliding doors to minimise the loss of space to high traffic areas like hallways. Then, as you progress deeper into the house, the rooms begin to lose their obvious purpose. White frames attached to the walls house foldout beds, and rooms are accessed by passing through each other. The rooms can be used as playrooms or offices during the day, then revert back to bedrooms at night.
RELATED STORY
Back to black: the best in contemporary black architecture
'The main issue was organising the space to allow for different rates of occupancy,' says Oriol. 'Some rooms you move through to find your path through the house. Some rooms you can access through exterior courtyards that also serve to bring light into the centre of the house. It can be as simple or as complex as the number of people in the house so that, as the house fills up, more of it is used.'
The materials used also bear direct relationship to the house's planned use. The floor is a hard industrial parquet made from oak, which is more normally found in high-traffic public spaces and is designed to be easy to maintain. The perforated zinc shutters, which are the same height as the building's facade and which enclose the windows and courtyards on the side and back, also speak of its changeable status. 'It was important to be able to see from the outside that the house is close off when no one is there,' says Oriol. 'That it is either open or closed can be seen straight away because of the shutters, which is important for a home that is not lived in every day of the year.'
The six partners established Nolaster this year, but have been working together on and off since 2002. All are graduates of Madrid University's Escuela Técnica Superior de Arquitectura and have a background of working with US and European firms such as Fujikawa, Johnson & Associates in Chicago, MVRDV in Rotterdam, and Ábalos & Herreros in Madrid. Disarmingly, when asked his architectural inspirations, Oriol says, 'I could mention a few names, but it wouldn't really be true. This is our first completed building. We are too young to claim-such-and-such as a philosophy. We just use the things we see around us, the things that we like.' Luckily, all the partners at Nolaster seem to like things that are classy and camouflaged, simple and sleek, yet teeming with hidden complexities.
As originally featured in the December 2006 issue of Wallpaper* (W*96)
INFORMATION
For more information, visit the FRPO website (opens in new tab)