A celebration of print: the Archizines exhibition tour comes to a close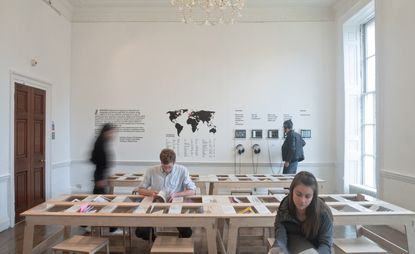 (Image credit: Sue Barr, AA School)
The Archizines exhibition (opens in new tab) currently on display in Moscow at Tsvetnoy Central Market features 100 magazines, fanzines and journals from over 20 countries around the world and is the largest survey of this subject to date. Moscow is also the final destination for the touring exhibition that was originally launched at the Architectural Association in London in November 2011. The exhibition has now visited 34 cities around the world including Tokyo, Los Angeles, Buenos Aires and Shanghai to become one of the most extensive exhibition tours ever, reaching an audience of thousands.

I started collecting these publications (opens in new tab) in 2005 and curated Archizines to celebrate the resurgence I was noticing in publishing that was providing new platforms for architectural commentary, criticism and research. Interestingly this was taking place at a time when the world was going digital and these publications, resolutely passionate about print, were launched against the backdrop of the internet, blogging and social media. 'Against the haze of digital distraction, we crave an object to hold our attention - something to touch, to fold, to tuck in our back pocket, to discard,' said the editors of Another Pamphlet.

The interest in the Archizines exhibition, and the publications included in it, has been phenomenal. Along with the Architectural Association, Storefront for Art and Architecture in New York had originally agreed to host the exhibition. However, as soon as the exhibition launched in London requests came flooding in to tour the show. As the show traveled new bespoke displays were designed by architects and designers such as Emilio Marin in Santiago de Chile and Sibling in Melbourne. Along the way new publications were discovered and added, and different events brought together editors, architects and critics to explore this contemporary relationship between architecture and publishing.

It is now time for me to bring this project to a close. As a legacy for Archizines, the full archive is being transferred to the National Art Library at the Victoria & Albert Museum so the publications captured at this particular moment can be available now and for future generations.