V&A's Tropical Modernism: a vivid look at architecture culture in newly independent Ghana
Subtitled 'Architecture and Power in West Africa', V&A's 'Tropical Modernism' is a richly historical show at the 2023 Venice Biennale, perfectly aligned with the overarching theme of inclusion and exploration of modernism's overlooked cultural impact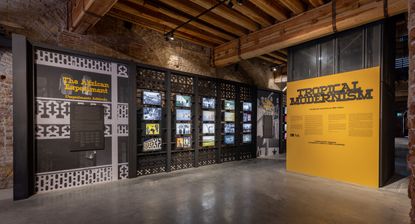 (Image credit: Victoria and Albert Museum, London)
The V&A's 'Tropical Modernism: Architecture and Power in West Africa' is located at the heart of the 18th Venice Architecture Biennale's revolutionary re-framing. Organised by the museum and the Architectural Association (AA) in London, along with the Kwame Nkrumah University of Science and Technology (KNUST), in Kumasi, Ghana, the show focuses on the legacy of the British architects Maxwell Fry and Jane Drew, and the development of what they called 'Tropical Modernism'. It is an exploration of modern architecture in newly independent Ghana, and a fascinating insight into the shape-shifting interplay between modern architecture and colonialism.
V&A's Tropical Modernism
Drew and Fry were archetypal modernists, the power couple of inter-war British architecture. In the UK, Fry had worked with Walter Gropius, and after the war, both moved to India to collaborate with Le Corbusier and Pierre Jeanneret on the plans for Chandigarh. They were also involved in designs for Nigeria and Ghana, then both part of the British Empire (when the latter was known as the Gold Coast).
In 1956, Fry and Drew published Tropical Architecture in the Humid Zone, an influential book that used their considerable experience to show how the Corbusian five point of architecture could be applied to equatorial conditions. So far, so predictable – a classic example of the International Style bulldozing its way towards global cultural hegemony. But Africa was in the throes of massive change, and one of those at heart of the independence movement was Ghana's Kwame Nkrumah.
The structures of colonialism across Africa made modern architecture more of an imposition than a collaboration, but Fry and Drew's experience, as well as the benevolent support of Nkrumah, saw Tropical Modernism briefly flourish as the newly independent state's de facto style, as much a counterpoint to the fortifications and other colonial institutions that were indelibly linked to first the slave trade and then economic subjugation. How these post-Corbusian ideals became a strong symbol of pan-Africanism is the subject of this exhibition, curated by the V&A's Dr Christopher Turner, and Nana Biamah-Ofosu and Bushra Mohamed from the AA.
The show is defined by an exhibition wall shaped like a brise-soleil, a typically Corbusian architectural device that screened and shaded a façade; Fry and Drew used these large-scale screens in many of their Ghanian projects. Into the gaps of this 35m long wall goes a host of archive imagery, tracing the story of this new architecture and its role in the changing political landscape of the country. In the UK, Fry and Drew founded the AA's Department of Tropical Architecture, ostensibly for European architects to learn how to design for the colonies, but also a place for the new generation of post-colonial architects to study.
Here the waters are muddied. Architectural intervention in Ghana was both benevolent and cynical, a way of mollifying a populace that was increasingly agitating against colonial rule. Nkrumah was an instrumental figure, and after his inevitable accession to the country's presidency following independence in 1957, he made full use of funding from London to build educational infrastructure for the country. This quid pro quo arrangement not only involved Fry and Drew, as well as links with the AA's educational programme, but also architects from Eastern Europe and China, driven by Nkrumah's socialist leanings; even Buckminster Fuller, who was invited to contribute to the Ghana International Trade Fair Centre in Accra.
The exhibition culminates in a film installation, three screens showing a mixture of unseen archive footage, contemporary views of the key buildings, and interviews with Samia Nkrumah, politician and Nkrumah's daughter, as well as Ghanaian architects who worked alongside Drew, Fry and the AA's John Lloyd, thanks to Nkrumah's insistence on local involvement at all levels. Through this blend of co-operation and misaligned interests, Tropical Modernism emerged as a symbol of a new Afro-centrism, shaping not just universities and administrative buildings, but also monumental structures that celebrated independence.
The exhibition showcases some of the key buildings of the era, including the Wesley Girls' Senior High School, Cape Coast, the George Padmore Library in Accra and the extensive KNUST campus, a 'Bauhaus city within the forest. In 1966, a military coup overthrew Nkrumah, damaged by the new country's plummeting economic prospects and increasingly autocratic rule ('He was a very good African, but a poor Ghanian', as one of the interviewees notes in the film). It was also the end of Tropical Modernism, and the AA closed its department in 1971.
Ultimately, the imported modernists of all political persuasions never quite grasped the social and spiritual aspects of Ghanian culture, even though Lloyd – a younger generation from Fry and Drew – had a more open and inclusive attitude towards vernacular architecture and tradition.
The UK and Ghana remain intertwined both socially and culturally. The Biennale's curator, Lesley Lokko, is Ghanaian-Scottish, whilst one of the most prominent contemporary architects showing in Venice is Ghanaian-British David Adjaye, whose office is currently working on 100 hospitals in the country, amongst many other projects. The buildings and histories presented in Tropical Modernism are a vivid slice of cross-cultural pollination, a social and political pinch point where, amongst other things, aspects of the Afro-futurist aesthetic took root.
Tropical Modernism: Architecture and Power in West Africa is at the Applied Arts Pavilion, 2023 Venice Architecture Biennale, LaBiennale.org
Jonathan Bell has written for Wallpaper* magazine since 1999, covering everything from architecture and transport design to books, tech and graphic design. He is now the magazine's Transport and Technology Editor. Jonathan has written and edited 15 books, including Concept Car Design, 21st Century House, and The New Modern House. He is also the host of Wallpaper's first podcast.