Jewellery designers to know in 2023, as tipped by Wallpaper's Hannah Silver
Jewellery designers to know in 2023: Wallpaper* watches & jewellery editor Hannah Silver on those set to shine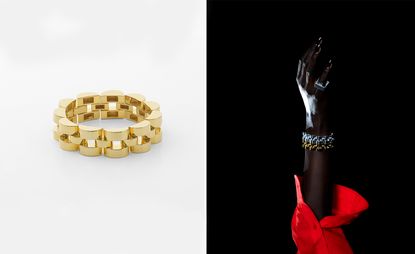 (Image credit: isabelbonnerstudio.com)
From Nayestones' offbeat silhouettes to Isabel Bonner's minimalist forms and Dévé's modernist designs, discover the jewellery designers we'll be seeking out in 2023.
Jewellery designers to know in 2023
01. Isabel Bonner
Isabel Bonner translates a preoccupation with form into statement jewellery in a stylish subversion of traditionally feminine silhouettes. In her new collection, the jewellery designer is inspired by the winding coastlines of southern Italy, playing with her signature half circle for a new range of chunky chains in sterling silver.
READ MORE (opens in new tab)
02. Jiamini
'Jiamini means believe in yourself. I want every woman to believe in herself and focus on her success,' says Jennifer Mulli, creative director and founder of Jiamini, in a joy-filled Zoom call. Her ebullience stems from what can only be described as an extraordinary rise for the sustainable luxury jewellery and accessories brand.
READ MORE (opens in new tab)
03. Dévé
'I've always been fascinated by modernist design – it was a period of groundbreaking change when designers decided to break away from embellished design and to develop something more simple, more refined, which resulted in extraordinary sculptural everyday objects,' says jewellery designer Estelle Dévé, who launched her eponymous brand, Dévé, during lockdown in 2021.
READ MORE (opens in new tab)
04. Maya Magal
Heavy-duty forms are imbued with a light buoyancy in the hands of Maya Magal, who rethinks classic chain forms in new collection, 'Lucid'. 'Handmaking each collection throws up challenges, and "Lucid" was no exception,' Magal says of the pieces, created in sterling silver and solid gold.
READ MORE (opens in new tab)
05. Studio Renn
Bombay-based jewellery designers Studio Renn reinvent traditional jewellery silhouettes, playing with symmetry and forms for jewellery that delight in the seductively subversive.
READ MORE (opens in new tab)
06. Sarah Madeleine Bru
'I do not really define this project as a brand but rather as a personal collection, since I started designing for myself and my friends,' says Sarah Madeleine Bru, who draws on her background in object and jewellery design for her eponymous jewellery brand.
READ MORE (opens in new tab)
07. Jessie Thomas
London-based jewellery designer Jessie Thomas brings a chic modernity to traditional silhouettes with pieces that celebrate quirks, from unexpected stone settings to delectable clusters of diamonds.
READ MORE (opens in new tab)
08. Laud
Awah brings an offbeat sensibility to jewellery design with his brand Laud. Established four years ago, the emerging jewellery brand intertwines a range of influences for pieces that play with geometry and rethink traditional motifs.
READ MORE (opens in new tab)
09. Nayestones
'Not doing something that everybody else has already done is the biggest challenge for me when it comes to designing jewellery,' says Natalie Schayes of Belgian fine jewellery brand Nayestones.
READ MORE (opens in new tab)
10. Moushe
Nabiha Yousuf draws on her roots in Pakistan for jewellery brand Moushe. Vivid colours, sensual shapes and curving silhouettes encapsulate her bold aesthetic, creating versatile pieces which are fun to wear.
READ MORE (opens in new tab)
Hannah Silver joined Wallpaper* in 2019 to work on watches and jewellery. Now, as well as her role as watches and jewellery editor, she writes widely across all areas including on art, architecture, fashion and design. As well as offbeat design trends and in-depth profiles, Hannah is interested in the quirks of what makes for a digital success story.