Jiamini's powerful jewellery pieces celebrate the strength of Kenyan women
Jennifer Mulli, creative director and founder of Jiamini, brings a modern take to Kenyan artisanal jewellery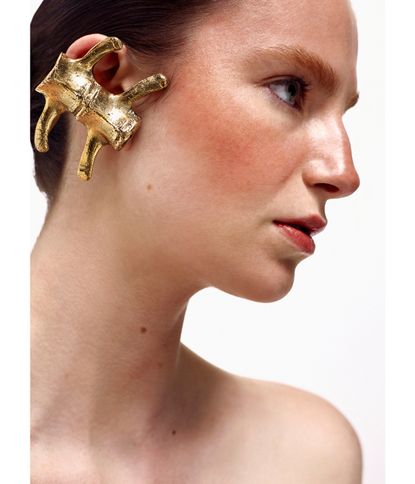 (Image credit: Joanna Wzorek)
'Jiamini means believe in yourself. I want every woman to believe in herself and focus on her success,' says Jennifer Mulli, creative director and founder of Jiamini, in a joy-filled Zoom call. Her ebullience stems from what can only be described as an extraordinary rise for the sustainable luxury jewellery and accessories brand. Selected for the Ethical Fashion Initiative, part of the United Nations Development Programme, and also featured on Beyoncé's 'Black Parade' music video and directory, it has gained a devoted fan base among collectors who have fallen in love with its modern take on Kenyan artisanal jewellery.

For Mulli, this has only reaffirmed her mission to create a luxury brand that is also a social enterprise and an exemplar of sustainable practices for Kenya and beyond. 'I feel I can compete with the Diors of this world,' she says. It's also enabled her to take inspiration from her culture to shift perceptions domestically and internationally.
Beadwork has often been associated with Kenya, and the Maasai people in particular, but that is not the whole story, as Mulli explains. 'Everyone focuses so much on the Maasai, Turkana and the Samburu that we forget that the Kamba also have beads.'
Mulli is Kamba, and items such as the 'Belewa' and 'Pendo' neck pieces, from her inaugural series, 'Mwambililio' (which means 'beginning' in her native Kamba), reflect this reality. However, it is Mulli's explorations of materials that are particularly distinctive. Her sophomore series, 'Mung'ung'uti' (which means 'spine'), explores female strength and resilience. 'I looked at what makes you strong as a woman and it begins with the spine. Even before a child is born, the spine is the foundation for overall development, and afterwards it supports every part of the body. So I was looking at the idea of support and where strength resides.'
The arresting items feature a spine motif, sometimes entirely in brass, and often attached to beaded pieces, in a radical approach for traditional Kenyan jewellery-making. Beading work is done in the village, while the pieces are completed in Mulli's atelier in Nairobi.
The collection has particular poignancy for Mulli: 'I speak from experience because I have had women come through for me and my children, and walk with me in my difficult times.' The jewellery's beauty is only one part of the equation: of equal importance are authenticity, storytelling and sharing the personal yet universal ties that bind us. Mulli also draws heavily on the trust built among her mostly female workforce, many of whom are facing challenging situations that have been alleviated by working with Jiamini. 'I love their collective eye and bringing out their young vision,' she says.
Jiamini is currently stocked in Paris' La Samaritaine as part of a pop-up curated by cult African design retailer Maison Château Rouge. Its pieces are also available at Lausanne's African contemporary art and design mecca, the Foreign Agent gallery. Future plans include a collaboration with avant-garde Los Angeles brand Dylan Lex. But Africa, and in particular Kenya's vibrant jewellery design scene, remains its creative lodestar. Community building is the beating heart of Jiamini, a brand that has placed craftsmanship, innovation and heritage as the raison d'être for its design practice.
Information
A version of this article appears in the March 2022 Style issue of Wallpaper*. Subscribe here